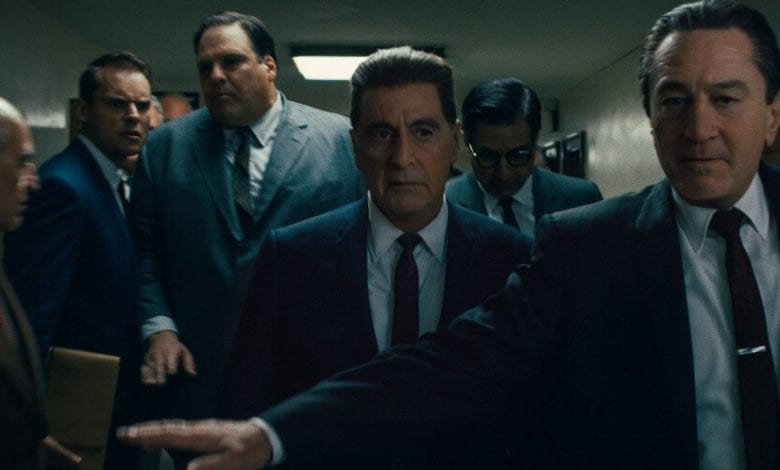 In the introductory moments of "The Irishman," the camera enters the film through a box-like entrance, possibly a camera-like peep hole but more than likely a coffin shaped viewpoint that signifies the story's overlying theme.
Sure enough, the opening is set in a retirement home, as Frank "The Irishman" Sheeran (Robert De Niro) is sitting alone, talking directly to us about the time he worked for the mob. As the story progresses, Sheeran's initial allegiance to Russell Bufalino (Joe Pesci) extends to Jimmy Hoffa (Al Pacino). The friendship that grows between Sheeran and Hoffa would define both of their lives.
The Irishman | Official Trailer | Netflix
Martin Scorsese's master class on 20th century gangsterism is, like most of his masterpieces, a moral cautionary tale about the price of compromising one's soul. It deals with the mafia but is nothing like "Goodfellas" or "Casino" but has a connection to even earlier crime films ("Who's That Knocking at My Door" and "Mean Streets") and is in line with his recent milestones.
The film is neither a comfy companion piece to "Goodfellas" or "Casino," nor the grand slam Netflix would have preferred. Yes, it's as long as you've heard but presented with a brisk momentum. The film captures the ideas that have obsessed Scorsese throughout his career, but it never coasts on his former glories.
Like Ridley Scott returning to the sci-fi genre, Scorsese knows exactly what his audience wants and expects but refuses to oblige. The master filmmaker's willingness for another late-career stretch results in a work that isn't entirely flawless but nevertheless is one of the year's essential film events.
ANOTHER TAKE: Toto's 'The Irishman' Review
The much-discussed de-aging effects, in which extensive CGI is utilized to make the principal cast members look decades younger, runs hot and cold. Initially, the "young" De Niro appears more like a work in progress than a fully realized visual effect. On the other hand, Pesci's first appearance is startling, as he looks like he just walked off the set of "The Public Eye."
Sometimes, the "youthful" rendering of the actors is effective – at best, I forgot about the technique well into the first act, though the work done on De Niro either makes him look like his "Goodfellas" era-self or the Cheshire Cat.
Setting most of the story in flashback and not relying entirely on make-up and wigs to convey the passing of time is just a few of the bold steps Scorsese made here.
THE IRISHMAN Clip - Call (2019) Netflix
"The Irishman" digs deeply into its history lesson, as bootlegging and jazz-age gangsters are passed over but few '50s/'60s-era touchstones aren't referenced. At one point during Pesci's narration, the actor introduces to the very man he played in "JFK." Those who don't know their 20th century American history will likely be overwhelmed, even as the story never loses its grip.
The three and a half hour running time is clearly the biggest obstacle "The Irishman" faces. It can (and probably should) be digested in three installments. Here's the perfect way to watch this: end Part One once Sheeran has his first ever telephone conversation with Hoffa.
Part Two should conclude with the sole scene shared by Pacino and Pesci at the award ceremony for Sheeran. Binge-watching this all the way is preferable but, minus an intermission, it is demanding viewing and plays just fine if watched over the course of three nights.
De Niro and the screenplay itself never apologize for Sheeran; the actor's performance is straight forward, characterizing Sheeran's by need-to-please desperation. De Niro's smart, intuitive choices allow us to see how this lifestyle gradually caused Sheeran to become increasingly violent and immoral.
Using Sheeran's daughter (well played by Lucy Gallino and Anna Paquin) as a witness to his journey and the symbol of his distancing moral center was a wise dramatic choice. Pacino is giving a highly theatrical performance and, despite an accent that never quite takes, gives an enjoyable, distinct portrayal.
Yet, odd as it is to admit, Danny De Vito's "Hoffa" is a better movie about Jimmy Hoffa (but not, to be clear, a better film than "The Irishman").
Hoffa (2/5) Movie CLIP - Labor Riot (1992) HD
Playing a highly intelligent man who is always in control of his emotions, Pesci is remarkable and isn't giving an encore Tommy De Vito performance. During his opening scenes, Pesci has a moment where you expect his character to blow up and possibly get violent, but it never happens.
He's not playing a character remotely like the one's he's played for Scorsese before. This is a stretch for Pesci and his director as well.
While Harvey Keitel's role is tiny, comedian Sebastian Maniscalso is terrific as Frank Gallo (Maniscalco is a big figure in one of the film's best scenes). Also rock solid is Ray Romano, who more than holds his own. Another standout is Robbie Robertson's score.
Daringly, as the story shifts into its third act and portrays Hoffa's final moments, the pacing becomes jarringly slow. Scorsese and the actors linger on all the details of this pivotal day. It puts the viewer into the mindset and unease of De Niro's character, who is forced to make a choice that is downright Shakespearean.
Martin Scorsese, Robert De Niro, Al Pacino & Joe Pesci on The Irishman | NYFF57
Stephen Zaillian's screenplay (from the book "I Hear You Paint Houses" by Charles Brandt) is, at times, as unwieldy and overstuffed as "Gangs of New York," but far more controlled and compelling. Full of golden scene stemming from one-on-one conversations, as casual talks in smoky diners are always marked by the possibility of violence (either a spoken order or a physical outburst).
The extended epilogue is powerful and remorseless, as it should be. The way Scorsese caps this remarkable achievement is not with a bang but a sobering finish that will remind his most attuned fans of "Silence" and his more intimate films wrestling with theology as much as criminal behavior.
The title is another quality that some may overlook. At its core, the moniker is more as reference to John F. Kennedy than Sheeran, a reflection of the changing of the times and how one's stature, no matter how prominent, can change in a single moment.
After all, an early scene of Frank's conversation about the quality of steak is as much a life changing moment for him as meeting Hoffa.
"The Irishman" requires our patience and attention, as all great films do. If the busy CGI effects and crammed to the gills screenplay overreach at times, then fine, as everything else here is finely tuned. At 76 years old, Scorsese' brand of cinema is still the best in town.
---
Four Stars