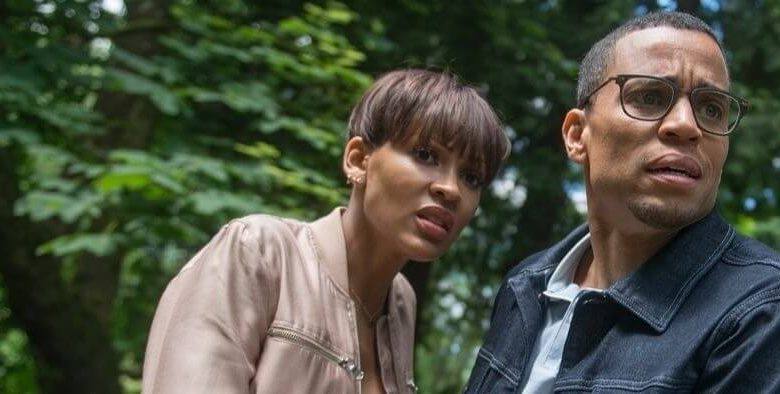 You know from the trailer that the excrement is going to hit the fan – hard – in "The Intruder."
The only real question is, how convincing will the set up be before Dennis Quaid does his version of "The Shining's" "Here's Johnny!" moment?
Pretty darn convincing.
"The Intruder" bear hugs all the tropes of the modern-day thriller.
Bit characters who share far too much.
Head-smacking decisions the audience can't help hissing.
Villains who seem to defy all forms of logic to stalk the heroes.
That doesn't matter. We care plenty about the couple in peril, and in a glossy thriller like "The Intruder" that's matters most.
THE INTRUDER - Official Trailer (HD)
Michael Ealy and Meagan Good star as Scott and Annie, an affluent couple craving an escape from urban sprawl. That leads them to Charlie (Quaid), a widower selling his sprawling country home. Charlie hates to part with it, but he feels Annie would be the perfect person to keep the house full of love.
Only he can't bare to part with it. And that's where the danger lurks.
There's a certifiable "Straw Dogs" vibe attached to "The Intruder," even if the film is no match for that classic's intellectual firepower. Charlie fixes things with his hands. Scott? He'd rather cut a check and be done with it.
On a gut level, Annie admires Charlie's approach, even if she wouldn't dare tell her husband that.
It's a whiff of class envy the film neither embraces nor discards. The focus is on the main couple, and Ealy and Good deliver far more than a grindhouse outing deserves. He's a workaholic dedicated to his wife. She's a doting spouse who craves a conventional family.
The actors get the smaller details right, and the screenplay shrewdly lets them cast a spell.
FAST FACT: Meagan Good says her co-star, Dennis Quaid, asked her to spit on him during one sequence in the movie to heighten the moment's intensity.
There's little mystery about the film's arc. We know from the initial clues Charlie can't keep his temper under control. Once again, we're left waiting for the fan blades to start spinning out of control. Quaid, rarely cast in roles like this, finesses the inevitable transformation as well as any actor might.
It's not Shakespeare, but he's affable enough to convince Annie to give him a second, third and fourteenth chance at being "neighborly."
'The Intruder' EXCLUSIVE Clip: Charlie Isn't So Nice Anymore https://t.co/hYEtH46YdJ

— Hello Beautiful (@HelloBeautiful) April 30, 2019
The rest?
Well, we get a random character popping up to share critical exposition, plus those head-smacking decisions necessary to bring on the crazed third act.
It's silly to nitpick the film's essentials. Yes, Charlie's antics wouldn't fly for most couples. And anyone as unhinged as Charlie wouldn't be able to keep it all in like he does.
That's not the point. This is Thriller 101, and director Deon Taylor sets the pieces in motion with a crispness the genre craves.
HiT or Miss: "The Intruder" delivers the armrest-clutching thrills you crave in a slickly packaged love story.