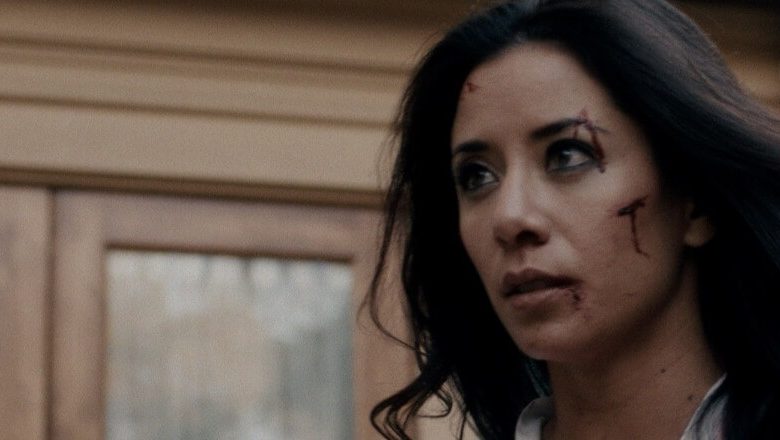 Low-budget movies can cut plenty of corners and still entertain. 
"Intensive Care" falls awkwardly into that camp, with some blockbuster-sized reservations.
It's shrewd enough not to overstay its welcome, clocking in at a modest 80 minutes. It's also blessed with a lively star, stunt woman/actress Tara Macken. What's missing? Well, even genre movies demand narrative consistency. And the line between action and comedy is so blurry here it's like taking your glasses off during a 3D movie.
Intensive Care Trailer #1 (2018) | Movieclips Indie
Macken plays Alex, a former special ops warrior who now cares for an elderly woman ("Police Academy" veteran Leslie Easterbrook). That's how Alex meets the woman's grandson, Danny (Jai Rodriguez), a ne'er do well drowning in debt.
Danny entangles Alex in a scheme to swipe the old woman's estate. Only the bad guys don't know about this caregiver's "particular set of skills."
They'll soon regret their choice of targets.
FAST FACT: Tara Macken has stood in for some very recognizable leading ladies, including Scarlett Johansson, Taraji P. Henson, Eva Longoria and Jessica Alba.
Part of "Intensive Care's" charm is that our heroine is action movie tough without a flowing cape on her back. That's a tightrope many bigger budgeted movies can't maneuver. Remember Vin Diesel walking away from a car careening down a mountain in "Furious 7" without so much as a scratch?
Too bad director/co-writer Jared Bentley drags other problems in front of the camera.
The film opens with a prolonged battle that turns out to be an exercise, nothing more. So why does that same sense of artifice hang over the film's deadly set pieces? Alex is smart enough to know real combat, and the real wounds that come with it. She keeps winning the film's battles but walks away without finishing the job.
That's sloppy for any action film. In "Intensive Care," it plays out like a script that needed a serious second look. That unsteady approach continues with the lighter elements. That action-comedy elixir isn't as simple as it sounds.
"Intensive Care" proves it.
RELATED: Theron's 'Atomic Blonde' Schools Other Action Flicks
The film still throws a few neat twists our way. The final tussle features elements we haven't seen before. And while some of the acting is pedestrian Macken's intensity never wavers. When she's walloping a man twice her size she looks capable of the task at hand.
She's less comfortable with pensive close-ups. The more Macken moves, though, the better, The agile star certainly has the off-screen scars to prove her dedication to getting the stunts just right.
Rodriguez's character is alternately a sad sack and soulless killer, another wobbly story element.
The film wraps with a sorta-kinda sequel tease, a sense of hubris missing from the rest of the movie. There's no need to keep this particular story alive. Another action romp with Macken in charge? Yes, please.
HiT or Miss: Need an efficient action romp sans expectations? Swallow hard and "Intensive Care" may do the trick.