Industry News
Insane Clown Posse – First Amendment Heroes?
New doc shares how Just Dept. dubbed group's Juggalo fans 'hybrid' gang members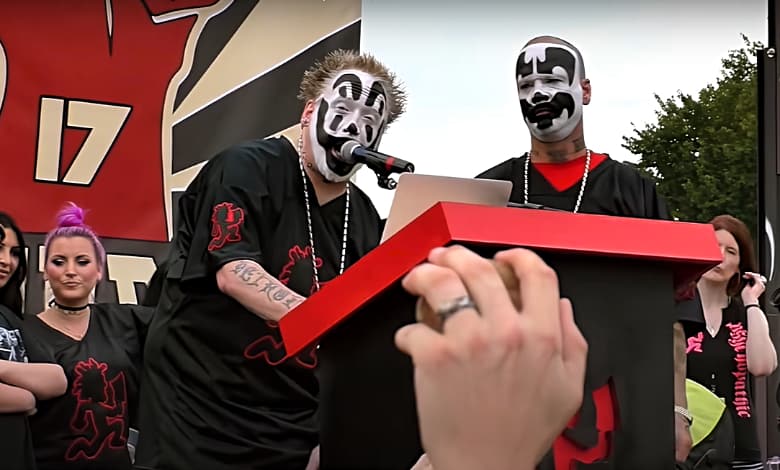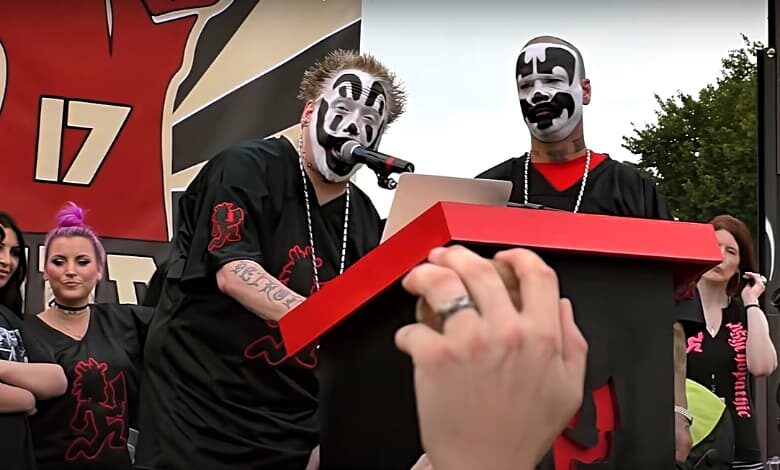 Violent J and Shaggy 2 Dope have something in common with the late Rodney Dangerfield.
They get no respect, at least from the music press.
The duo, known collectively as Insane Clown Posse, deliver a brand of rap dubbed horrorcore. That, and their infantile antics, yield few puff pieces in media circles.
The copious face paint doesn't help, either.
They still have their hardcore fans, dubbed the Juggalos, who follow them wherever they roam. Yet the FBI dubbed said fans "gang members" akin to the "Crips, Bloods and MS-13" a decade ago, suggesting the ICP faithful should be viewed with suspicion … and worse.
A First Amendment battle was born.
It's all captured in the documentary "United States of Insanity," hitting theaters Oct. 26 courtesy of Fathom Events.
The United States of Insanity - Official Trailer (2021)
The documentary's press release says it all:
In the film, ICP, aka "The World's Most Hated Band," find themselves as unwitting warriors for the First Amendment when they, with the help of the ACLU, take on the FBI after they and their one million fans are labeled a gang organization by the FBI.
Directors Tom Putnam and Brenna Sanchez previously delivered the award-winning documentary "Burn." The duo deliver a free speech sermon in "Insanity," one fueled by the ACLU's fight on the rappers' behalf.
In 2014, the free speech organization took ICP's side against the Justice Department which the ACLU says designated Juggalo Nation as a "hybrid" criminal gang in 2011.
"The Juggalos are fighting for the basic American right to freely express who they are, to gather and share their appreciation of music, and to discuss issues that are important to them without fear of being unfairly targeted and harassed by police," said Michael J. Steinberg, ACLU of Michigan legal director. "Branding hundreds of thousands of music fans as gang members based on the acts of a few individuals defies logic and violates our most cherished of constitutional rights…."
The lawsuit was filed on behalf of four Juggalos and the two members of ICP and stems from a 2011 decision by the DOJ to include the fan group in the agency's third National Gang Threat Assessment officially identifying Juggalos as a "hybrid gang." As a result of this unjust designation, "individual Juggalos are suffering improper investigations, detentions and other denials of their personal rights at the hands of government officials" or denied employment.
A 2017 NPR report cited two incidents in which Juggalos lived out the more violent imagery tied to the band.
And, there have been at least two instances where Juggalos have been violent. Earlier this year, a Wisconsin man was sentenced to 3 1/2 years in prison for using a machete to cut off a woman's pinky finger and drinking her blood. This was all to honor a Juggalo who had died. In 2014, two men tried to carve and burn a tattoo from their housemate's arm because they thought he had disrespected the fan group.
The ACLU had ICP's back at the time. In recent years, though, the ACLU has taken a secondary role as other free speech battles erupted across the country.
RELATED: ACLU Silent on Cancel Culture, Ready to Fight for China's TikTok Platform.
ICP, born on the streets of Detroit, routinely leans into its bad boy persona. They're also entrepreneurs, building a fleet of products tied to the ICP brand, from wrestling championships to underground music festivals (The Gathering of the Juggalos).
The latest Gathering, a bit smaller due to pandemic precautions, featured Vanilla Ice, Kid 'n' Play and perennial "Jackass" star Steve-O.
Are they inspiring criminal activities with their high jinks? Is it fair to say any Juggalo member is a felon-in-waiting? It's at the heart of both the ACLU's battle on the band's behalf and the upcoming documentary.