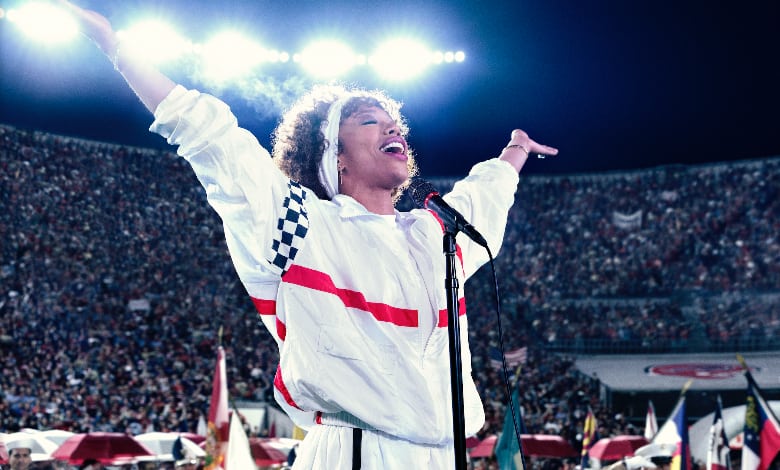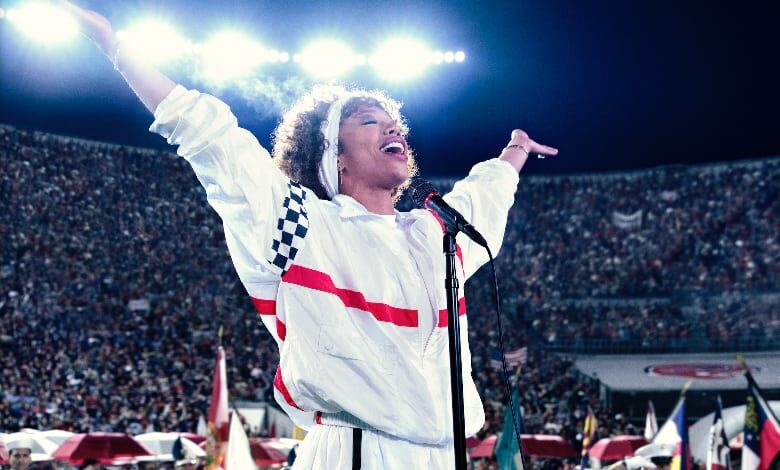 "I Wanna Dance with Somebody" feels like a CliffsNotes version of Whitney Houston's life story.
The film hits all the obligatory notes, from Houston's triumphant Super Bowl performance to her combustible private life, without digging beneath the surface.
Who was Whitney Houston, music superstar? How did she channel that incredible voice to bounce The Beatles from the record books? What made her ripe for such a tragic, yet predictable, downfall?
Rush, rush rush. So why does the biopic clock in at nearly two and a half hours long?
I WANNA DANCE WITH SOMEBODY - Official Trailer #2 (HD)
Naomi Ackie stars as Whitney, a soul singer nudged toward greatness by her singing ma Cissy Houston (Tamara Tunie). That training lasts all of one scene (we're not even given a "Rocky"-like montage!).
Suddenly Whitney is so polished she knocks the socks off of veteran music producer Clive Davis (Stanley Tucci in full avuncular mode). Fame comes swiftly for the young woman, forcing her to nix her lesbian partner Robyn (Nafessa Williams) to appeal to middle America.
The nuances of that sacrifice, like every other aspect of the singer's life, get little scrutiny.
Now, backed by Davis and with her domineering Dad (Clarke Peters) pulling the strings, Whitney becomes a star.
And that's where the picture perfect casting comes in.
Ackie doesn't resemble Whitney Houston as much as we'd like, but she nails the singer's presence, charisma and glamour. It's as good as Austin Butler's "Elvis" impersonation from early this year, the highest possible praise.
You can't imagine another performer better suited to bring Whitney back to life.
View this post on Instagram
Ackie can't do much about the film's nagging flaws, from a comical reliance on Biopic 101 moments (yes, the film shows Whitney hearing herself on the radio for the first time) to the film's overt villain.
That's her Daddy, who sees his daughter as a walking, talking ATM.
The film's producers partially explain why so many punches got pulled. Davis' name is attached, and while he may have been as fatherly to Whitney as seen here, his perfection comes off as phony.
And when Davis implores Whitney to go to rehab it comes as a shock. The film doesn't show a drugged-out Houston at anything close to her worst. Instead, limp news snippets share how she no longer hits all those glorious notes on tour.
Any guess as to why? And, later, she appears tired and sans makeup. That's hardly rock bottom.
Even the notion that Whitney sang for "White America" and ignored her race, comes off as a talking point not worth the screen time.
With "I Wanna Dance With Somebody" arriving soon, here's your reminder that's director Kasi Lemmons as Ardelia Mapp running to Clarice in an iconic sequence in "The Silence of the Lambs." pic.twitter.com/6IRPVQNblr

— Richard Roeper (@RichardERoeper) December 21, 2022
Director Kasi Lemmons ("Harriet") recreates many of the singer's iconic moments, with only a few unnecessary flourishes. Including jets screaming overhead as Houston belts out "The Star Spangled Banner" at the 1991 Super Bowl.
The rest is up to Ackie, and every time the film falls into a predictable rut, which is often, it's saved by the actress bringing another Whitney classic to the fore.
The film's finale strikes a triumphant chord, as opposed to the star's final, tragic moments. It's both wise and wonderful, a better way to reflect on the joy she gave to millions over her short life.
Airbrushing away Whitney's flaws, especially her drug dependency, still feels like a cheat. It's part of the New Hollywood Normal, where the stars (or friends and family) weigh heavily into the creative choices of music biopics and documentaries.
Consider "I Wanna Dance with Somebody" a spiritual cousin to "Miss Americana" (Taylor Swift), "Pink: All I Know So Far" and "Homecoming" (Beyonce).
HiT or Miss: "I Wanna Dance with Somebody" boasts a career-making turn from Naomi Ackie, but the film never explores the nuances of Whitney Houston's life and times.