Reviews
'Human Error' Mocks Liberals, Conservatives in Equal Doses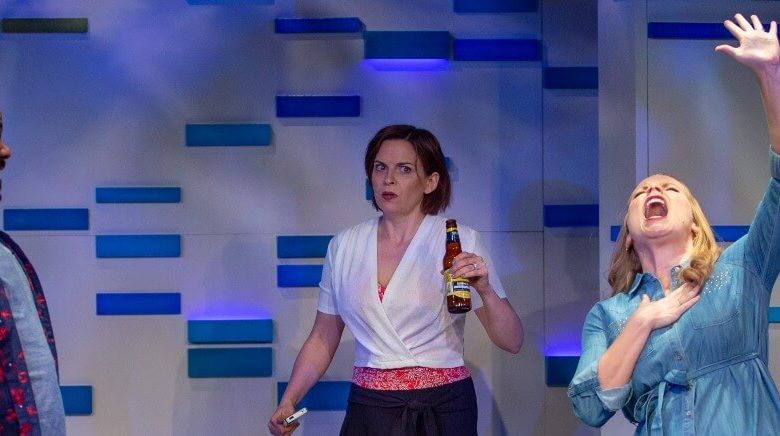 The "Can't We All Just Get Along" genre just grew by one.
The fact that "Human Error" stands virtually alone in this category is sad. It's also a start. A very funny, perceptive start, to be precise.
The play's world premiere at Denver's Garner Galleria Theatre May 25 proved bipartisan humor can click if told from an empathetic point of view. It's almost like discovering a unicorn frolicking with a leprechaun given the tenor of the times.
Conservatives should beware all the same. You might leave the theater wishing writer Eric Pfeffinger‬‬‬‬‬‬‬‬‬‬‬‬‬‬‬ eased up on its toughest liberal caricature.
DCPA Theatre Company's 'Human Error': Don't count your eggs before ...
"Human Error" bursts out of the starting gate, waving its farcical premise in our faces. An urbane couple's embryo has been accidentally implanted in another woman's womb. Shocked and disoriented, Madelyn and Keenan (Kimberly Gilbert, Larry Bates) decide to meet the woman in question.
It turns out Heather (Marissa McGowan) quickly agrees to carry the baby to term and hand it over to the couple.
Problem solved, right? Not exactly.
Heather and her hubby Jim (Joe Coots) aren't like Madelyn and Keenan. At all. They don't listen to NPR, worship at the altar of Al Gore or even heart Bernie Sanders. They're … conservatives. That ideological divide seems small at first, but it grows wider as the birth date draws near.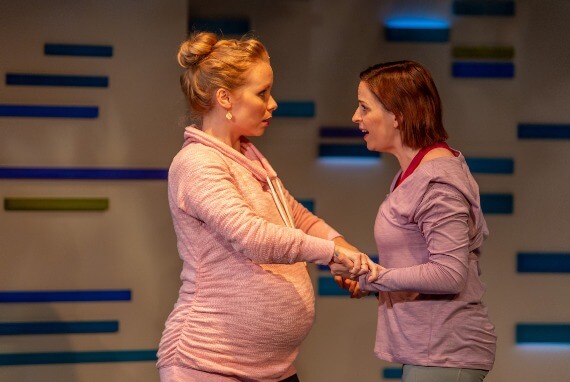 Director Shelley Butler nails the play's irreverant tone from the opening sequence, one of its funniest thanks to scene-stealer Wayne Kennedy as the hapless doctor. That isn't the case with Gilbert. The actress overplays Madelyn in those first frantic minutes, above and beyond what the story's gimmick requires.
Slowly, Gilbert finds her footing, and thank goodness. The play is toughest on her character, emphasizing how the Madelyns of the world talk about tolerance without actually practicing it in their own lives.
The rest of the cast is uniformly stellar, embracing stereotypes while simultaneously crushing them. McGowan is the revelation here. She's a preternaturally sweet Christian who teeters on the edge of blandness before her spirit surfaces.
She's tough and tender, a Christian who can back up her talking points. That's where "Human Error" differs from so many other ideological stories. When the fighting starts, and there's a humdinger of a blowout late in the show, both sides have reasonable arguments to offer.
Compare that to a film like "Miss Sloane," which allowed only one side of the argument a fair shake.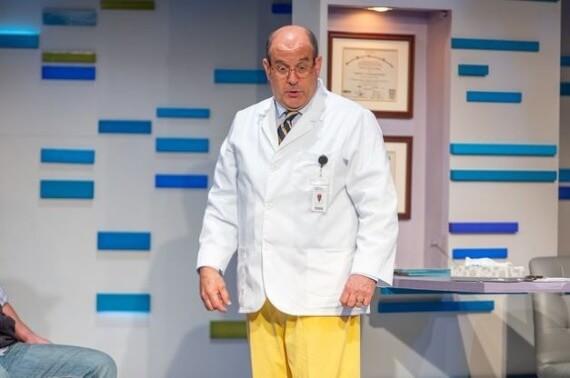 The play suffers from a lack of friction all the same. The two couples endear themselves to one another rather quickly. Their ideological differences play a suprisingly small roll early on.
Just wait, though. A storm is brewing over the unlikely quartet.
The playwright's sole misstep comes mid-production. Jim's passion for Ohio State football, a funny tweak on Red State obsessions, takes a cartoonish turn that leaves reality in the dust. Otherwise the caricatures come close enough to the truth to leave a mark … on both sides.
RELATED: Why Schneider, McConaughey Could Teach Surly Stars a Lesson
"Human Error" even offers insight into the changes people face when they become parents.
"I don't wanna be a parent. I just wanna have kids," Madelyn says, as Heather, a mother of three, can't keep a straight face.
The play's shrewdest move, beyond a bevy of great one-liners and memorable performances? The name Trump never enters the equation.
"Human Error" suggests the healing we've witnessed over 90 minutes might not last. It wraps with a welcome grace note all the same. Pfeffinger and crew don't just stick the landing. They offer a cultural balm that's never been more needed.
"Human Error" plays through June 24 at the Garner Galleria Theatre in Denver.