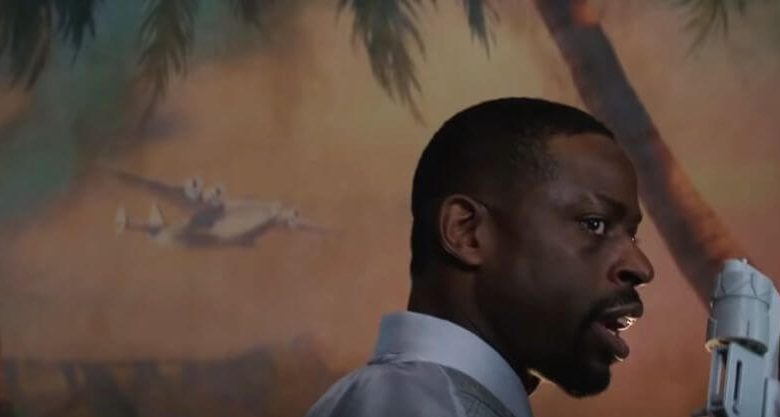 It's not always with eager anticipation that I carve into a film's corpse.
On occasion it can be a title I had either anticipated, or at least hoped, would be a pleasant diversion. By all indications "Hotel Artemis" would be a sharp looking, star-choked enterprise, becoming that rare item in entertainment these days – a bold and original idea.
But hey, Hollywood has a landfill of good intentions. Written and directed by Drew Pearce, "Hotel Artemis" is a neo-noir in the "John Wick" vein, set in the near future inside a private hospital for criminals. The film concerns a single evening therein as riots stretch across Los Angeles.
Audiences refused to be admitted.
This June it flopped out of the gate with a mere $3 million, dropping a massive 70 percent in week two. By the third week it was pulled from over 2,100 screens.
Hotel Artemis | Official Trailer [HD] | Open Road Films
So let's take this DOA hospital thriller and put it under the knife to find out why it was left for dead, with no one around to identify the body.
0:00:55 DRAMATIC ENTRANCE WOUND
We open inside a marble-halled corporate building. Note that 10 years in the future local banks have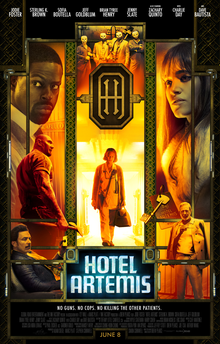 hologram tellers greeting you to conduct business. Seems the Minimum Wage-$15 movement will be affecting lending institutions.
0:01:05 ADVERSE CEREBRAL ACTIVITY
During a bank robbery one crook, Sterling K. Brown, lifts his mask for the audience to say "Three minutes!" to his crew. This was foolhardy given the security cameras, and given his ¾ mask means his mouth is exposed; he could be heard just fine.
0:02:12 IRREGULAR PLOT BEAT
The crew cannot get into the vault, so they turn on the customers to relieve them of valuables. Due to the riots rich citizens sent their maids and gardeners to the bank to deposit expensive goods…because the 1%-ers trust these low-wage workers implicitly with their wealth.
0:02:35 ELEVATED FORESHADOW LEVELS
While collecting booty, Brown's brother removes a ludicrously large ink pen from one customer's lapel. "Believe me, you don't want it," the customer says ominously. It turns out that he does in fact want it, and now our MacGuffin is established!
0:03:45 INVASIVE PATHOS
In an alleyway shootout the brother is wounded, but Brown takes four shots in the back and is unaffected. This must be credited to his bullet-proof vest. Soooo, question — why didn't his brother also have one?
04:30 SEPTIC INTRODUCTION
This is not the Jodie Foster from "The Accused"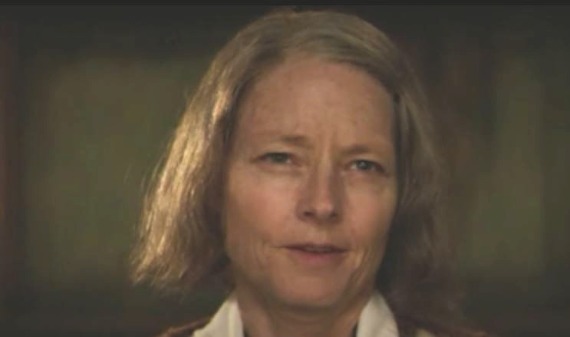 0:06:44 LOCALE ANESTHESIA
Here is the lowdown: The Artemis is a retrofitted hotel. The upper floor has been converted to a hospital with quasi-futuristic gear. The setting is an amalgam of classic art deco architecture and modern tech. So it looks really cool but does not always make sense. Run by a woman named Nurse, this is a members-only hospital for well-connected criminals. Our newly ventilated bank robbers need off-the-books treatment.
0:09:06 ARTIFICIAL NARRATIVE STIMULANT
Off the elevator patients exit to a caged lobby and scan membership implants for admission, dispensing all weapons, which are disallowed. One of the crew is not a member, so a massive orderly named Everest (Dave Bautista) drugs him and hauls him outside.
Curious though, as exclusive as this hospital is, why the need for code names since Nurse recognizes members? She says to Brown, "You should know the way by now." Later is a conversation about him quitting once. They are quite familiar, I'm just saying.
0:10:01 CRANIAL ATROPHY
All the Hotel's rooms are named after famous destinations, with each "member" given that corresponding codename. Thus Brown becomes Waikiki, his brother deemed Honolulu. I am certain this never becomes confusing when, like now, past patients are returning to different rooms.
0:13:24 SCEPTIC INTRODUCTION
After surgery on Honolulu (where she 3-D printed a new liver) Nurse tends to Mr. Acapulco (Charlie Day). He is an obnoxious and boisterous arms dealer, because simply being inside Artemis did not establish his bad-guy credentials.
Hotel Artemis Movie Clip - Hakuna Matata (2018) | Movieclips Coming Soon
0:17:07 INVASIVE PATHOS
Her next patient is named after Nice, France (Sofia Boutella). After having her wound tended she goes to her room and contacts a home office. She informs them she wants more money, due to shooting herself to enter Artemis and get close to her target. We have officially entered the intrigue part of the story.
0:19:25 IRREGULAR PLOTBEAT
Patients wear a metal arm band that delivers nanites to treat maladies. Nurse tends to Waikiki, telling him Honolulu will have trouble accepting the liver due to his heroin addiction. Meanwhile I am still bothered why he never gave this brother, whom he dearly loves, his own Kevlar vest!
0:20:16 BLUNT-FORCE DIALOGUE
Nurse takes a call requesting to reserve a room for someone named Orien Franklin. He is said to own half of Los Angeles, including the Artemis, but Nurse states the rules are she cannot hold a room.
NURSE: "This hotel was built on two things: Man's fundamental avarice, and trust."
And you thought those two items were mutually exclusive.
0:21:12 VISUAL ADRENAL INFUSION
When Everest took the non-member thug outside he gave a command concerning staying silent about the Artemis. The secrecy of the hospital is a major point we are told. Which makes me question — what is the wisdom in having a flashy 30 foot tall neon sign on the roof visible from the other side of L.A.?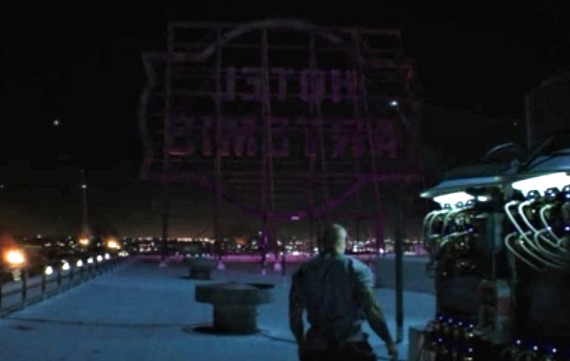 0:25:51 SCRIPT GRAFT
On video they see a security breach. A female cop is wounded outside, but on the feed she is calling out for Mrs. Thomas to help her. This is the real name of Nurse. We are supposed to be gripped with Nurse possibly taking in a cop, as the owner (who goes by the name "The Wolf King of L.A.") is arriving. Just take their word, this is all intriguing.
0:27:15 CONTINUITY FAILURE
In a common game room the three patients interact. Waikiki and Nice already knew each other professionally, except she refers to him by his new code name…which she was not present for when given, and had no way of knowing.
0:28:35 WEAKENED IMPULSE
Everest and Nurse are mulling over the cop, as she ponders bringing her in because she'll die in the riots. Everest asks, since in 20 years she never admitted a non-member, why now? Just minutes earlier she was willing to deny THE OWNER a room, because of "the rules" This is all very irregular!!! (Assuming…)
0:32:57 ARTIFICIAL NARRATIVE STIMULANT
Nurse has severe agoraphobia and has not been outside The Artemis in years, but she ventures out to help the cop. In the alley they encounter more police, but Everest arrives and beats down the three of them. Leaving the cop with the police was apparently not an option?
0:35:47 INVASIVE PATHOS
In a bar Waikiki and Nice rehash their past, until he brandishes the MacGuffin ink pen his brother lifted. Nice sees it and instantly declares he needs to get out, immediately. I suppose this thing is so secretive that everyone in the underworld knows what it is?
0:35:50 IATROGENIC DIRECTION
Ahead of his arrival the Wolf King's son pulls up to the building with goons and decides to seal the doors, to ensure no one is admitted — in turn reserving a room. Criminal executives drive around with welding torches in their SUV, just for these contingencies…I guess…?
0:37:51 SCRIPT GRAFT
Back in the bar Nice has the pen that Waikiki says belongs to the Wolf King and is nearly impossible to crack. In seconds she turns the dials on it so it opens, revealing what she calls yellow "canary" diamonds, declaring they are worth $18 million. With this much innate knowledge she MUST be the scriptwriter.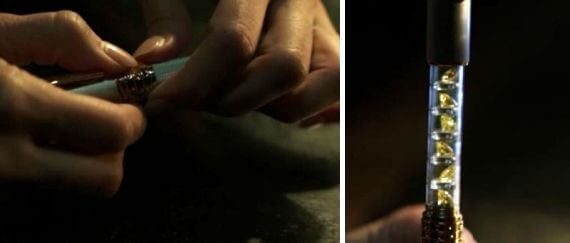 0:44:09 INVASIVE PATHOS
Once the cop recovers from treatment we learn as a young girl she lived next door to Nurse and was good friends with her son, who later died of an overdose, causing all of Nurse's anxieties. This stands as character development in a story taking place inside one evening.
0:47:32 TECHNOLOGICAL THROMBOSIS
Waikiki locates a hidden entrance way because — while the building has pneumatic deadbolts and biometric locks on every entrance — he finds a false door that opens with a hidden push-button release. Seems a security oversight, to me.
0:49:51 IRREGULAR PLOTBEAT
On the roof Acapulco awaits a helicopter to take him to Mexico (the actual country, not another room) and Nice is up there as well, for no reason. They look down and see Wolf King's vehicle and she declares, for no valid reason, he is her target. She then knocks out Acapulco, who really was very annoying.
0:50:00 CAUTERIZED PLOT CAVITY
The Wolf King is supposedly retrieving his property, which Honolulu took off a crook in the bank by accident, while unaware it contained diamonds, and they only went to Hotel Artemis because of the unplanned shootout.
BUT — Nice checked herself in, to get at the Wolf King, well ahead of all of those coincidental acts. Huh???
0:50:49 STUNT CAST
Cutting through his team of henchmen the Wolf King steps off the elevator with a serious neck wound — Jeff Goldblum, in all his exaggerated halting-speech glory. Of course, we need to overlook he arrived with an injury, and NOT to recover his diamonds.
We also can't ask why the man who owns half of L.A. would come to this cut-rate facility instead of a 5-star hospital for the elite. His son, who he detests, is left in the cage with the gang. His gives him a ring, "just in case." I just bet there WILL be a case, for it to be used!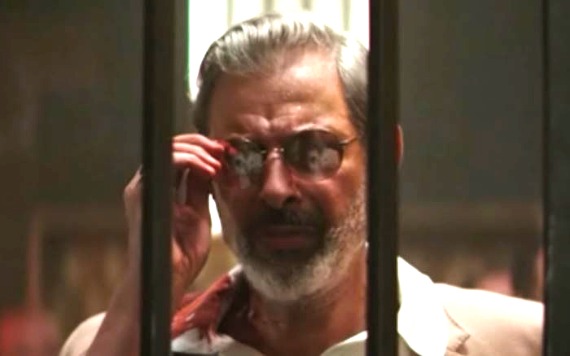 0:54:29 CAUTERIZED PLOT CAVITY
Nice calls in to her headquarters to report that "the trap worked," meaning the script now intends to spackle over all those plot holes needed to bring the Wolf King in by saying, essentially, "I meant to do that".
0:59:49 ARTIFICIAL NARRATIVE STIMULANT
Waikiki is back in the room with Honolulu and wants to get him out, convinced they are dead if they stay, but Honolulu being on life support precludes that from happening. So Waikiki takes a playing card he found in Acapulco's stolen wallet – which is hiding a computer chip – that slides into the computers to operate machinery.
How Waikiki knew the purpose of that card is not explained. How he operates the machinery is not explained. How Acapulco originally programed a card compatible with Artemis computers is not explained.
1:02:20 CRANIAL ATROPHY
Under medication the Wolf King utters something about Nurse's son, and she states she never told him his name. So she ramps up the dosage to get more answers out of him. On a gurney she has Wolf King, who was given the name "Niagra", but still refers to him by his given name Orien. So why all the naming shenanigans anyway?
1:02:55 DEPLETED CHARACTER CONCENTRATION
After all the talk of not being able to leave the female cop outside because of the riots Everest escorts the repaired female cop back outside with no vehicle, nor protection. As such she has now served no purpose at all for this film.
1:03:36 TECHNOLOGICAL THROMBOSIS
We see that Waikiki used that card for the computer to begin 3-D printing parts to assemble a crude handgun for protection. A fine plan…if he can also print out the bullets needed.
1:08:23 INVASIVE PATHOS
Nice set a small bomb on the rooftop generator, taking out the electricity and disabling the power locks on the doors. Nurse leaves Wolf King to race to the room with a crashing Honolulu, allowing Nice to slip in and slash the Wolf King's throat. We are now relieved of his ridiculous Apartments.com line delivery.
1:08:49 ARTIFICIAL NARRATIVE STIMULANT
On the roof Acapulco regained consciousness, but his escape helicopter was chased away by the explosion. So he retrieves his personal bag and pulls out his own previously 3-D printed handgun.
1:11:44 CAUTERIZED PLOT CAVITY\
In another room Waikiki confronts Nice, mad that his brother died when she cut the power. Before he can shoot her Acapulco arrives and shoots Waikiki. (Again, with what bullets?) Then Acapulco is about to kill Nice, but he begins monologuing. This allows Waikiki to get up and tackle him. He shoves Acapulco's head into the 3-D printer and turns it on to kill him.
EXCEPT — his brother died due to the building's power being cut off. The printer would have been inoperational.
1:12:19 CLICHE MALIGNANCY
We witness the "Surprise Malady" trope. Nurse comes in and mentions Waikiki was shot. He waves her off and says he is fine due to the Kevlar, but Nurse points out he has a wound on his hip, just below the vest. Only then does Waikiki feel any pain, and he collapses.
1:17:24 IRREGULAR PLOTBEAT
As the henchmen are still in the caged lobby his son uses the ring. It OF COURSE carries an explosive, which is used to blast a hole in a wall. As they start breaking through Everest and Nice stay behind to allow Nurse and Waikiki to escape. Lengthy fight scenes ensue.
1:20:58 BLUNT-FORCE DIALOGUE
On the main floor the pair gets confronted by Wolf King's son for yet another conflict. After being tempted with the MacGuffin diamonds he is subdued. They try exiting through the locked doors, but Nurse struggles with the key in the lock.
WAIKIKI: "Hey, getting out is always tougher than getting in. Believe me, I know."
Hooray for metaphors!
1:25:15 COLLAPSED CLIMAX
Dodging an impending riot the two make it to a car that Waikiki had stashed blocks away, but then Nurse tells him she'll go on without him. The woman with crippling agoraphobia who could barely step into an alley saunters off into the LA riots hellscape.
1:25:29 GENETIC SEQUEL MUTATION
Blocks away Nurse discovers Everest survived when she sees the Artemis sign on the roof come back on. Nurse, who has shown her entire life is tied up in the hospital walks off contentedly. I'm left wondering why anything has happened.
POST MORTEM
Despite so much talent and effort expended this film was not simply ignored by audiences, it was dispatched. Another rental property-based film, "Hotel Transylvania 3," earned 35 times as much in theaters during a similar summer release window.
There's plenty of professionalism at work here. Pearce builds complex characters in a very detailed environment. His hotel is filled with appointments and touches, even down to all the products like cigarettes and whiskey bearing original graphics. Yet lost in all of the nuance is something approximating a story.
He had plenty to show us but ultimately had nothing to say.