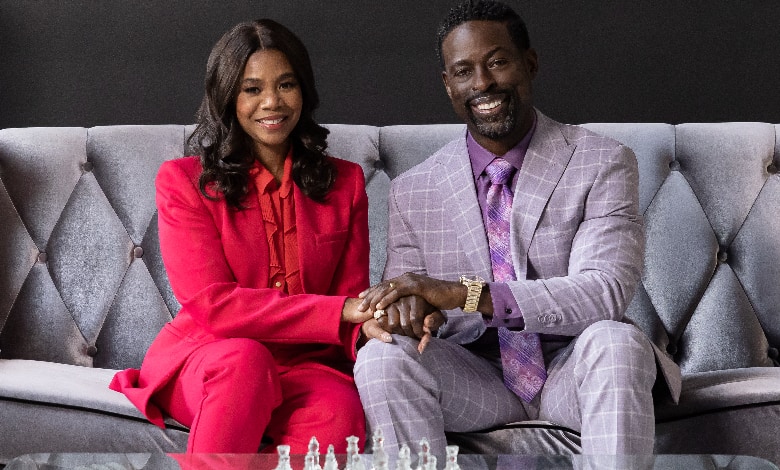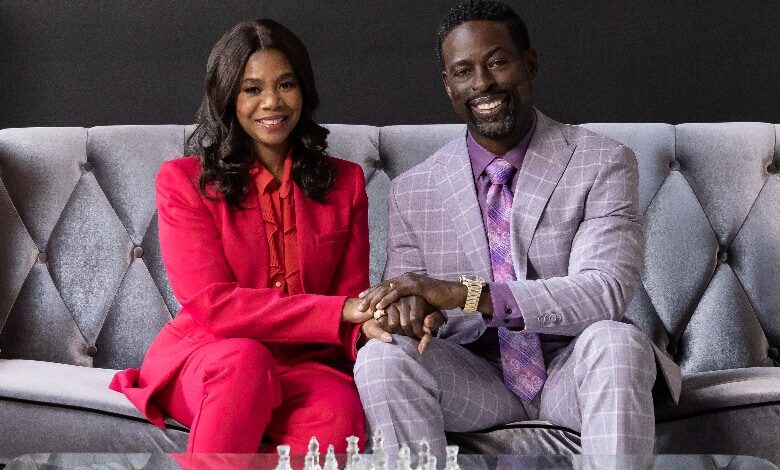 Imagine a satire showing how slimy, unrepentant lawyers are both slimy AND unrepentant.
That's essentially what "Honk for Jesus. Save Your Soul" delivers.
The megachurch satire hits one of the culture's easiest targets, over and again, without sharing much new about them … or the culture that supports them.
HONK FOR JESUS. SAVE YOUR SOUL. - Official Trailer - In Theaters and On Peacock September 2nd
Sterling K. Brown and Regina Hall play Pastor Lee-Curtis Childs and Trinitie Childs, founders of a Southern Baptist megachurch trying to regroup after a sizable scandal.
We don't know what happened at first, but it proved substantial enough to threaten their empire. And oh, what an empire it is!
"P" stands for both Prada and Prosperity Gospel 101.
The duo's fashion budget alone could rival the Kardashians' closet. And they do more than look fabulous.
View this post on Instagram
Brown channels a televangelist's cadence to perfection, from the fire and brimstone sermons to the quieter passages that ensnare his flock.
Only those sermons are cookie-cutter to the core.
Prosperity Gospel-types could be the easiest group to satirize today – second only to straight white males, according to Hollywood, Inc. So teeing off against the Childs feels too safe, too easy. So clearly there's another level to 'Honk for Jesus," a second tier meant to skewer a cultural scourge hiding in plain sight.
So where is it?
"Honk for Jesus" plays the same megachurch riff for more than 90 minutes. And, when you've reached peak exhaustion, we meet the Childs' rivals (Nicole Beharie and Conphidance), an emerging power couple eager to swipe their congregation out from under them.
What's missing? How much time do you have?
In the aftermath of a huge scandal, Trinitie Childs, the first lady of a prominent Southern Baptist Mega Church, attempts to help her pastor-husband, Lee-Curtis Childs, rebuild their congregation⛪
Honk for Jesus. Save your Soul is coming to cinemas 🔜♥️#silverbirdcinemas pic.twitter.com/hXzN1uxHJx

— Silverbird Ghana (@SilverbirdGhana) August 31, 2022
We'll start with laughter. You'll smile, maybe even chuckle at the film's semi-documentary format. (If you can't commit to the approach, don't even bother…).
Otherwise, this is a stone-faced affair despite our gifted leads. Brown is sensational, at least until you realize the screenplay by writer/director Adamma Ebo has nothing new for him to say or share. Hall finds some salvation in processing the couple's fall from grace, letting her face crumble like a building imploding in slow motion.
Those moments hardly make the Wander to Greater Paths Baptist megachurch memorable.
Why did this couple rise to the top? Can we meet some of their congregation members to learn more about them, and why they chose a couple who epitomize Christianity's public sins?
Apparently not.
RELATED: IS 'FATHER STU' THE BEST FAITH-BASED FILM…EVER
Even their comeback attempt shows a complete lack of ingenuity. Surely a couple this successful has some pragmatic wisdom to share, even if their intentions are selfish to the core.
The story hinges on said comeback, but even the occasional title cards (three days til the re-opening, etc.) can't build any proper tension.
Given all of the above, it's not shocking to find the truth behind the scandal. It hits familiar hypocrisy without adding vital context or clarity. It's as surface level as every other element of the film.
"Honk for Jesus" thinks it's hilarious that the couple keeps telling their documentary's director to stop shooting as they begin to behave badly. It's a revealing attempt the first time it happens, but it's hardly the stuff of sublime running gags.
And this film craves some comic relief.
The recent "Eyes of Tammy Faye" similarly failed to broaden its satire, but it featured a superlative turn by Jessica Chastain that humanized the televangelist in play.
"Honk for Jesus" could have taken that film's creative baton and made a rush for it. Instead, it backpedals into the most comfortable zone possible.
HiT or Miss: "Honk for Jesus. Save Your Soul" is as courageous as attacking a teen cashier for messing up your McDonald's order.