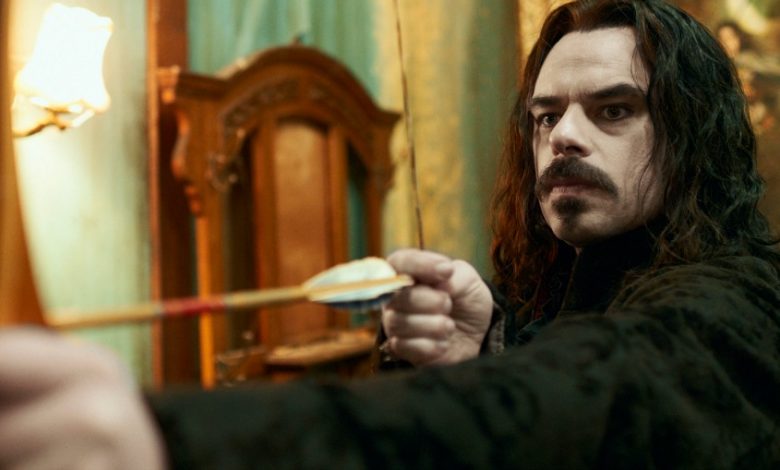 Yet despite some straight-to-video "Twilight" send-ups we haven't seen a bloody good vampire comedy in some time. And no, Mel Brooks' "Dracula: Dead and Loving It" doesn't count.
So who wouldn't greet "What We Do in the Shadows" with open arms? The vampire mockumentary needed a crowdsourcing transfusion to rise from the grave. That's more a sign of the current movie marketplace than any worries over the film's laugh quotient.
"Shadows" lacks those gut-busting moments that the best mockumentaries deliver. It's still a warm-hearted toast to horror movies brimming with visual gags.
What We Do in the Shadows - Official Trailer
"Shadows" stars Jemaine Clement is Vladislav, one of four vampire "roommates" in a creepy old mansion. Taika Waititi, Clement's tag-team partner on HBO's "Flight of the Conchords," is a dandy named Viago who is constantly leaving Post-It notes for the others to clean up their messes.
Together, they bicker and bond and try to make some sense of the modern world. The film's fish out of water concept is teased but never overused. Instead, the comedy flows from the characters' insecurities as well as the wacky scenarios they face.
Clement and Waititi co-wrote and co-directed this farce, one that tweaks zombie films, werewolf tropes and, of course, "The Real World." That could have made for one messy comedy. Putting aside the copious blood spilled, "Shadows" is both spare and solidly constructed despite its improv roots.
It even offers a dose of pathos when a human named Stu (Stu Rutherford) enters the vampires' lives. Suddenly feeding time isn't as important as keeping Stu safe from the other vampires in their midst.
It's rare to point to a modern movie and say, "hey, here's the next cult classic." Who knows how well a movie's jokes will age in 10 years …. or even less.
Still, "Shadows" seems a natural for repeated viewing. The visual jokes rush past as quickly as the sly asides, meaning you may need to pause a time or two to make the most of the experience.
"What We Do in the Shadows" is available in select theaters and VOD outlets.
DID YOU KNOW: Jemaine Clement describing the making of "What We Do in the Shadows" as a month of fun improv and a year of tedious editing.