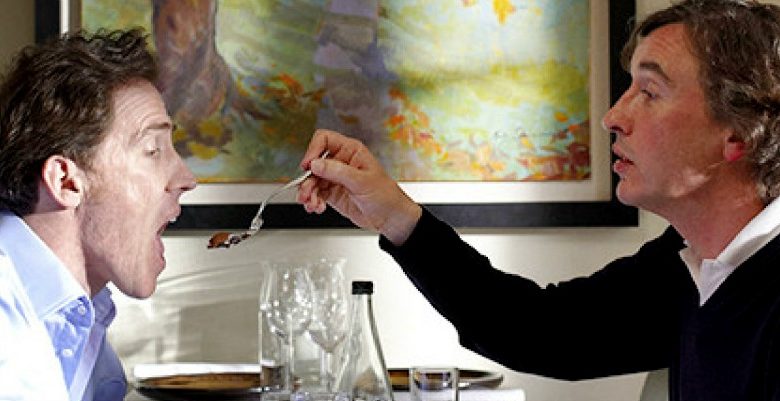 With Steve Coogan and Rob Brydon reprising their roles, The Trip to Italy follows two middle-aged men tasked out with reviewing some of Italy's restaurant offerings.
With both actors playing versions of themselves, "Italy" is a film that could only exist in today's cinema. It's a mix of a podcast, a foodie documentary and a meta road trip about two friends with opposing personalities.
The Trip to Italy - Official Trailer | HD | IFC Films
Coogan and Brydon once more play "Steve" and "Rob." They're two comedic actors and pseudo friends reuniting after a slightly praised trip they took critiquing food in England. In this adventure, they bounce their way from restaurant to restaurant enjoying the Italian countryside. They swap impressions from Michael Caine to Pierce Brosnan while also dealing with the very real struggles of mid-life; everything from infidelity to seeming irrelevance.
"The Trip to Italy" lightly treads in dramatic territory that feels fresh yet familiar. It's mainly an excuse to get two very funny men together so they can swap improvisations and dialogue. While the characters face struggles a regular plot might throw them, "Italy" never seems concerned with actual plot or character arcs too much (much like the first film).
This doesn't end up being a hindrance to the movie because it knows what it is. We get plenty of laughs from conversations shared between Steve and Rob, a few dramatic beats involving their own family struggles and enough appealing photography and food advertising to make us want to book our next vacations.
Admittedly, the movie could have afforded to lose ten to fifteen minutes, losing unnecessary dramatic moments or the long and sometimes drawn-out conversations over lunch.
The Blu-ray edition includes deleted scenes which, of course, are worth checking out because almost any interaction between these two men is worth documenting.
"The Trip to Italy" can't be a great film because its sights are never there. It's the equivalent of a road trip with two of your strange, sometimes miserable but funny – and benevolent – uncles.
DID YOU KNOW: Rob Brydon started his entertainment career as a DJ on Radio Wales and doing voiceover work for Sudafed and Toilet Duck.