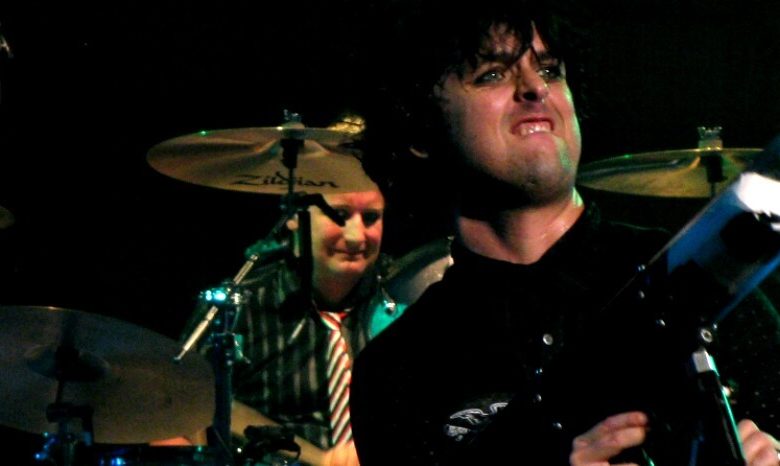 Green Day is making noise again with "Revolution Radio," but it's the kind of punk that comes in bubble wrap.
The Bay Area rockers just hit No. 1 on the Billboard Mainstream Rock Chart with the new song, "Still Breathing." It's a reminder to the power trio members Billie Joe Armstrong, Tre' Cool and Mike Dirnt they are above ground and not below it.
Their torpid catalog over the years would suggest otherwise.
Age Is Just a Number
Green Day isn't old by current rock standards. Metallica may have released its finest album these last few months. Motorhead's best work came during the 2000s. AC/DC's "Black Ice," released in 2008, may have been the best hard rock album it made since Brian Johnson joined the band 30 years prior.
What Green Day may have in reasonable youth and distorted guitar hooks, it lacks with integrity and heart.
The band emerged from the early '90s alternative rock revolution at the forefront of the "new punk movement" alongside The Offspring and Rancid. Green Day scored a monster single with "Basket Case" from their "Dookie" disk. It gave the band members their first mainstream hit and the biggest of their career.
Green Day - Basket Case [Official Music Video]
Follow-up albums were recorded through the late '90s, and the sap started pouring. There was "Minority," a lazy effort accompanied by a video with youths marching in protest of nothing. The concept came together, perhaps, because Armstrong managed to rhyme "minority" with "moral majority."
The solid "Walking Contradiction" brought back some of the introspection from the band's "Dookie" days.
It didn't last long.
Green Day went searching for singles with the acoustic "Good Riddance (Time of Your Life)." In 1994, Armstrong would have vomited if he heard the tune, which became what Skid Row's "I'll Remember You" was to high school graduation video packages.
Green Day - Good Riddance (Time of Your Life) [Official Music Video] [4K UPGRADE]
The faux-punkers' tune was used on episodes of "ER" and "Seinfeld" – not exactly Black Flag or Social Distortion territory.
Despite a disappointing seven years I still listened to the band through the early 2000s. When they had a new album, I may not have scrambled to buy it, but I still followed what they were doing. Why? Mainly because rock was all but gone from the radio.
That ended in 2004 when Green Day took on a certain president.
Idiot's Delight
In 2004 Green Day released its opus "American Idiot." The concept album captured the now requisite disaffected suburban teenager. It wasn't an indictment of the United States invasion of Iraq or political, as Armstrong said during interviews on MTV and other places.
All the while he subtly implied it was. If you're confused, so was everyone else.
The title track refers to "redneck agenda," and the band had no problem voicing their political leanings otherwise. To say the album wasn't political was a cop out, and other musicians took notice.
Green Day - American Idiot [Official Music Video]
Brandon Flowers of The Killers was offended enough to criticize the band and the record, as well as the subsequent concert DVD filmed overseas.
"You have Green Day and 'American Idiot.' Where do they film their DVD? In England," Flowers told The Word, in an interview quoted by NME in 2006. "A bunch of kids screaming 'I don't want to be an American idiot' I saw it as a very negative thing towards Americans. It really lit a fire in me."
Flowers later apologized during a Killers concert at Wembley Stadium in 2013, but didn't recant what he said. That included a belief the concept album was a stunt.
"To go to a place like England or Germany and sing that song – those kids aren't taking it the same way that he meant it," Flowers said. "And [Armstrong] knew it."
Bipartisan Rock
Politics fare little into what I consider listening to these days. I lean liberal after spending several years on the right. That previous stance didn't keep me from obsessing over guitar riffs of godless commie Tom Morello of Rage Against the Machine, or learning all those Neil Young songs.
I don't agree with Toby Keith (or Rage and Young) on every issue, but I can't say I didn't find a little of myself in "How Do You Like Me Now?" or the misunderstood "Courtesy of the Red, White and Blue." That song, featuring one of country music's greatest guitar solos, was all heart and emotion.
Courtesy Of The Red, White And Blue (The Angry American) (Official Music Video)
A son remembering his wounded veteran father put all his pain from the 9/11 attacks into verse and chords. It was anger. It was art. The track upset nearly everyone in the music establishment outside country, which would make Keith more punk rock than Green Day.
Bruce Springsteen is plenty political, but he doesn't lie about it. When he makes statements from the stage, he doesn't use it as a cornerstone of music videos or award show footage like Green Day did recently.
As the most anti-Donald Trump writer I know, Green Day's political gimmick du jour is self-serving and worse, boring. Hearing them trashing Trump is no different than a Kidz Bop album of protest songs. Being anti-Trump is hardly a position of courage or controversy.
Do These Songs Sound Familiar?
"American Idiot's" politics was of less concern later, when other bands began wondering why some of their music sounded similar to Green Day songs.
Members of Oasis openly questioned why "Boulevard of Broken Dreams" was an almost exact match to Oasis' first hit, "Wonderwall." Radio stations began playing the two songs on top of each other for comparison's sake.
In this day and age, where credibility is nothing, nobody cares. In the early '90s, when Milli Vanilli was ruined for not recording their own songs, it led to their death as a mainstream act.
"American Idiot's" title track is eerily similar to a song written and performed by Dillinger Four. The accusations dogged the band past "American Idiot," with other songs sounding like tunes by The Kinks, Neil Young's "Heart of Gold" and others.
Guitar Songs, Explained
Granted, Green Day's three and four-chord songs don't give them much room to experiment. As a guitarist, there are only so many notes and chords to play. That means similarities after 60 years of rock are going to happen, even with chord progressions.
The accusations still dogged Green Day more than most modern bands. What's also hurt them was their pop-punk reputation, which angers many inside the actual punk movement.
Outside some of the structure of their early songs, there hasn't been much punk about Green Day. Seth Mandel of The New York Post recently compared the band to The Sex Pistols and the original punk movement. Mandel derided a music industry canard that Green Day is a torchbearer for the genre.
Sex Pistols - Holidays In The Sun
The Sex Pistols were dangerous – literally, dangerous. Going to a show, you could come out with missing teeth or a missing head, behavior that wouldn't happen today without a SWAT team being called.
Granted being a rebel is hard to do these days. First there's the law enforcement aspect. Things are a little tighter regarding what you can and can't get away with.
On the other side, today's rebels are tomorrow's corporate shills. Metallica's "Seek and Destroy" went 10 years before being played on the radio. ESPN used it a couple years ago in an advertisement for NASCAR. A luxury car company used "My Way" by Sex Pistols bassist Sid Vicious in a commercial.
What was once rebellious is now pop culture catnip.
Green Day MIA on PC Handcuffs
But Mandel made a great point – the Pistols went to war with political correctness on the right or left. The band dug into society's hypocrisies, sometimes even their own, and did so to the point it nearly destroyed them as they became stars.
The band was essentially banned in Britain after "God Save the Queen" was released, a song which blasted the royal family. That was followed by "Holiday in the Sun," with Rotten the troublemaker wanting to jump the Berlin Wall for the hell of it.
The Sex Pistols remained introspective as its popularity soared. The band members were always contemplative of what they were. When the band reunited in the '90s, members openly said they were sick of watching bands rip them off and make money off it, so they were going on tour to make cash.
Punk Rock Then … and Now
Sure, Coke may one day use the Sex Pistols' "Problems" to sell a chocolate version of Sprite. Bands can be still dangerous and punk. The most dangerous way is with words and heart.
Many of the blues standards of the '50s and '60s would be considered "not for air" today. Johnny "Rotten" Lydon has sensed the opposite in Green Day, which is guilty of the worst sin in rock – to be habitually un-dangerous, boring and non-essential.
Lydon let loose on Green Day to the L.A. Times in 2011.
"To me, they're like coat hangers, and haven't earned the right. They haven't had to go through the violence, and the hate, and the animosity that us chaps way back when had to put up with. We had to fight for every single footstep."
Punk Rock RIP?
Can punk survive in a society where Metallica is commercial music on a channel owned by Disney, and Sid Vicious' voice is being used to sell luxury sedans?
Can it survive as political correctness takes some role in every quote, decision and thought made in public?
What's worse? A culture that considers Green Day's paper-thin "revolution" worthy of the punk label.
---
B.J. Bethel is a mainstream media journalist, freelance political columnist and has been a contributor to Christian Toto's site though the years. His Twitter handle is @BJBethelTweets.