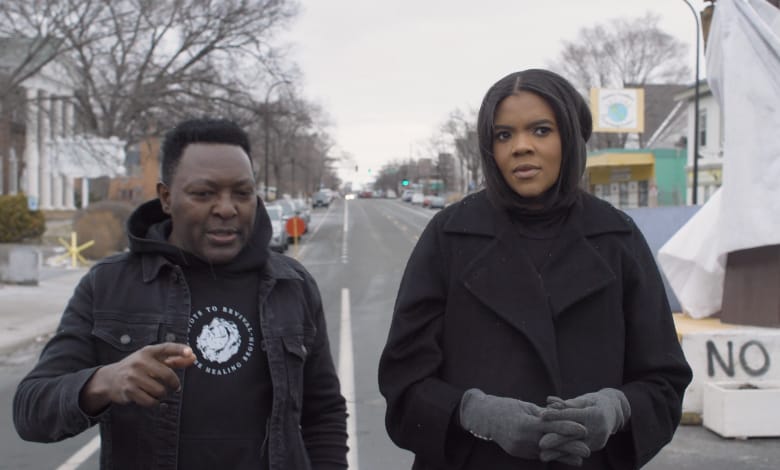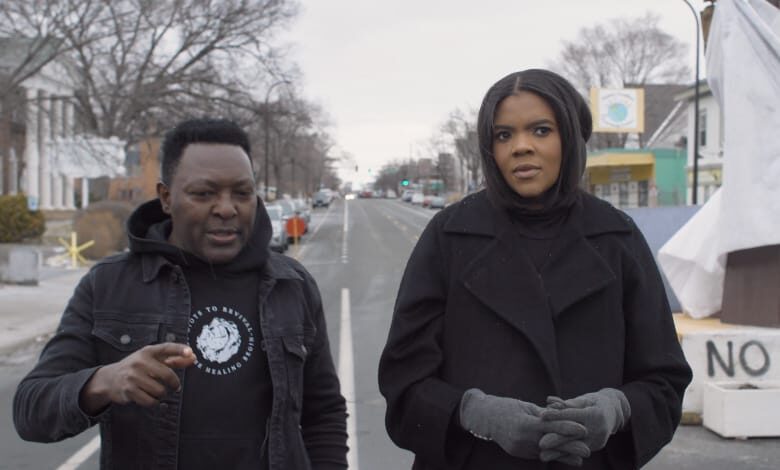 Candace Owens took a page out of Michael Moore's playbook … with a twist.
The far-Left filmmaker makes documentaries where his Everyman presence powers the narrative. He's front and center, an outraged Joe Sixpack supposedly speaking truth to power.
Moore's math rarely adds up, though, and that's being kind.
Owens' "The Greatest Lie Ever Sold" doesn't have that problem. The Daily Wire star skewers the rise of BLM (Black Lives Matter), the mainstream press and the distortions surrounding the aftermath of George Floyd, a black man killed following an altercation with police and the riots his death caused.
She's done her homework in the new documentary, and she happily shows the math.
The result? You won't look at the media the same way again. And you'll likely feel for Sharon Osbourne, a BLM contributor with serious second thoughts about the group's intentions.
The Greatest Lie Ever Sold: George Floyd & the Rise of BLM | OFFICIAL TRAILER
Owens leads us through her personal connection to the summer of worldwide riots tied to the Floyd protests. She rejected the notion that Floyd, an addict and career criminal, deserved martyr status after dying after a confrontation with Minneapolis police. Even church leaders genuflected to the cause, asking few questions in the process.
And she said so while virtually everyone else was genuflecting toward the rising BLM cause.
For that, the media pounced and seized on the black conservative, as did Dave Chappelle. "Lie" features the stand-up comedian slamming Owens in the cruelest way possible without taking her critiques head on.
One wonders what the comic genius might say if he watched "The Greatest Lie Ever Sold?" He'd have a better understanding of how the press manipulates Americans, for starters.
RELATED: WOKE ELITES BULLIED 'BROOKLYN NINE-NINE' TO EMBRACE BLM
Owens shares a fuller look at Floyd, letting his long-time roommates describe someone who routinely read from the Bible to help straighten his life out.
He's not the first addict to fail in that mission, but their memories of Floyd are sincere and powerful. Later, Owens notes that Floyd's family, plastered over the news in the days and weeks following his death, ignored Floyd's apartment and left his car and belongings for others to remove.
Owens details shocking documentary exposing Black Lives Matter funding
Owens digs deeper into Floyd's death, analyzing body cam footage that questioned the media narratives surrounding Police Officer Derek Chauvin's actions during their fatal clash.
A chilling segment focuses on a Minnesota news anchor targeted by BLM protesters for being married to a police union president. BLM activists demanded her resignation and protested at her home, where a local Democrat pummeled pinatas with their likenesses.
She also endured death threats before the Minnesota native lost her job.
Why haven't we heard more about this? What a dereliction of duty by the media. Shouldn't they have rallied to her side?
Liz Collin, Bob Kroll open up on 2020 riots in first joint interview
Owens' "Lie" lacks the subtle humor and sophistication found in The Daily Wire's previous documentary, "What Is a Woman?" And "Lie's" final half hour feels more like a well-produced episode of Owens' podcast, not a feature film.
The documentary deserves more outside sources to break up Owens' narrative and reinforce her arguments. As is, the most powerful moments come when Owens interviews people impacted by Floyd's death.
It's shocking to see an entrepreneur describe what happened when he publicly complained about his stores being repeatedly looted during the 2020 BLM protests. His comments caught the attention of Chrissy Teigen, quasi-canceled last year for her bullying tactics.
Turns out Teigen's bullying didn't end with Courtney Stodden. Teigen harassed the shop owner, as if he were to blame for Floyd's death in some way. It's a gross series of events that deserves greater scrutiny.
Chrissy Teigen Apologizes for Online Bullying | The Daily Show
The film's limitations can't dim its engrossing content. And the information she reveals is nothing short of enraging.
Thousands of well-meaning Americans filled the BLM organization's coffers in 2020, hoping the organization could help black Americans and help heal old, but still raw, racial wounds.
Instead, BLM, Inc. poured millions into trans causes and plenty more into dubious groups that care more about rabble rousing than helping the less fortunate, like black communities impacted by racism's legacy.
A quick trip to the "autonomous zone" dedicated to Floyd's life in Minnesota looks like a dystopian wasteland. Imagine what BLM cash could do for that community.
RELATED: OWENS' 'GREATEST LIES' DOC CANCELED ON COLLEGE CAMPUS
And, of course, Owens exposes how BLM founder Patrisse Cullors used some of that cash to line her own pockets and her closest family members, too.
This might be the first time many learn about this. Why didn't any major news organization cover the story like Owens did here? Were they afraid of what they might find?
Owens caps "The Greatest Lie Ever Sold" with a stunt that would make Moore proud. We won't reveal it here. Just know it's a gimmick that cements her contention that the rise of Black Lives Matter isn't making America a more just country. And just know that Rotten Tomatoes and other sites will have little, if any, coverage of the film. Now, ask yourself why that is…
HiT or Miss: "The Greatest Lie Ever Sold" could use a few nips and tucks, but it's powerful warning about BLM cannot be denied.