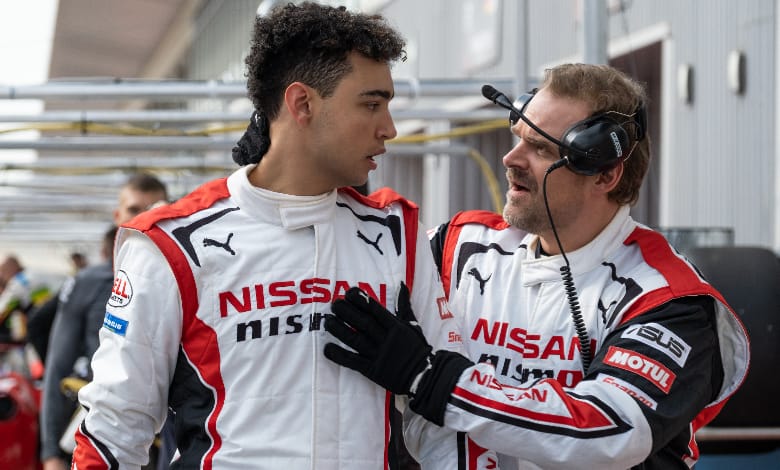 Just because you're a whiz at "Call of Duty" doesn't mean you could mow down enemy soldiers on the battlefield.
That thinking got turned on its head when Nissan gathered a gaggle of gamers to see if their biggest, first-person driving title translated to the race track.
It's the true story behind "Grand Turismo," a rigorously entertaining film spiked with fine performances and killer visuals. Yes, the film has roots in video game culture, but it's how the flesh and blood characters bond that matters more.
GRAN TURISMO - Official Trailer (HD)
Archie Madekwe stars as Jann, a young man who'd rather play video games than kick a soccer ball around with his dad (Djimon Hounsou).
Sound familiar? It should to parents across the globe.
Jann's skills draw the attention of Nissan, the car giant looking to build upon the sim-racing revolution. What if they teamed with Sony and trained the best and brightest gamers to drive actual racing cars?
After all, Sony PlayStation's "Gran Turismo" expertly captures the look and feel of real racing. The promotional perks, if successful, would be astronomical.
There's the whole "dying" part, of course. Racing is an inherently dangerous sport, even for the pros.
Can these gamers conquer the real deal? Will the racing industry let Jann and co. compete at the highest levels of their sport? Will "Gran Turismo" play out like an extended commercial for the PlayStation?
The latter may technically be true, but it's a full-blooded film that deserves your respect. And young Madekwe deserves plenty of the credit.
View this post on Instagram
The actor makes Jann relatable, not sulky or smug. He loses his cool, recoils at his father's advice and stumbles whenever a microphone is put in front of him. He's also steering into manhood, unwilling to take any excuses en route to racing history.
He's got the perfect mentor in "Stranger Things" star David Harbour. His Jack Salter once raced in Le Mans, the most celebrated racing event on the planet. He thinks the odds of Jann becoming a bona fide driving star are insurmountable, but the youngster is ready to challenge that thinking.
Orlando Bloom rounds out the unlikely trio as Nissan's corporate liaison, balancing concern for Jann with a hunger to appease his superiors. The latter borders on cruelty, a fine line "Gran Turismo" walks with care.
This is a product placement jamboree, but the coarse edges are still welcome.
There's formula aplenty in this fact-based story, but it's delivered with heart and humor. The less said about the movie's cardboard-cutout villains, though, the better.
Gran Turismo - the real story behind the movie - Jann Mardenborough's rise & crash
The real star of the movie is director Neill Blomkamp.
The fading auteur behind "Chappie" and "District 9" desperately needed a project to remind us of his potential, and he found it with "Gran Turismo."
Blomkamp doesn't skimp on the emotional beats, although the film's modest love story could have been left in the pit. The director turns every racing sequence into a multi-media affair, blending on-screen graphics, close-ups of the car motor at work and swooping shots of the various race tracks.
It's breathtaking. All of it. Even those with no interest in the sport will come away impressed by the visuals, a heady blend of CGI and practical effects.
"Gran Turismo" is woke-free, a shocking development given Jann's youthful colleagues (and enemies) and gamer trappings. It's a tale of perseverance, talent and the willingness to accept boundaries before shattering them into so many pieces.
HiT or Miss: "Gran Turismo" offers a first-rate retelling of a gamer's biggest dream coming true.