"I wanted to make pictures on it," the future animator says. He admits his social life took a hit, but that computer proved a critical career step.
Today, O'Brien is a long-standing member of Team Pixar, arguably the most influential animation studio in the world. O'Brien joined Pixar Animation Studios in February 2000, working on the company's hit comedy "Monsters, Inc." He's contributed to a number of Pixar gems since then, including "Finding Nemo," "Up" and "The Incredibles."
The Littleton, Colo. native serves as the technical effects lead on "The Good Dinosaur," Pixar's latest animated film opening Nov. 25. The story follows an Apatosaurus (voiced by Raymond Ochoa) who is separated from his family, a common theme in animated fare. The dinosaur must team with a feral child (Jack Bright) to reunite with his clan.
The Good Dinosaur - Official US Trailer
Being the technical effects lead means rendering water, mountains and more with lavish details, yet ensuring what emerges isn't a carbon copy of actual landscapes.
To do that, the "Good Dinosaur" team took a river rafting trip down the Snake River to see surging waters up close. O'Brien also compiled an endless array of photo samples to supplement his imagination.
"My office is stacks of things. If anybody touches them I'm in trouble … it's almost an obsession, according to my wife," he says.
It's O'Brien's job to make the film's lush scenery look as eye-popping as past Pixar features, if not more. After all, every new Pixar production leverages faster computers that can pack more artistic wonders into every frame.
Only "The Good Dinosaur" didn't pack enough wonders for the Pixar high command. The film endured a reboot mid-production, with O'Brien explaining the company's signature storytelling magic simply wasn't in full effect.
"We thought we had a fine movie, but it was not a great, amazing movie. I feel very lucky Pixar recognized that and is willing to spend the money to change that," says O'Brien, who adds that the average Pixar film takes six or seven years from start to finish and can require 600 workers to complete.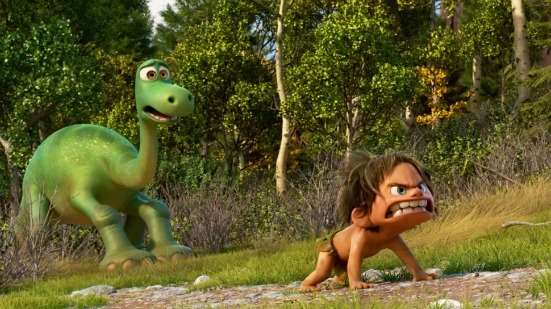 It's a grueling gig that keeps O'Brien away from home, but the Pixar mantra is very much focused on entertainment everyone can enjoy.
"We care very much about making family films. We're presenting stories that are designed for families, and we hope they have universal appeal," the married father of four says. "I can share my work with my parents, my kids, my neighbors."
That doesn't mean Pixar storytellers dumb down their tales. If anything, adults can walk away from a Pixar feature feeling like they've enjoyed far more than eye candy. Just consider the nuanced emotions explored in "Inside Out," Pixar's summer smash.
"I think we do a good job of sneaking [more mature subplots] in," he says.
ALSO CHECK OUT: 'Home' Director Slips in Political Asides for Parents
O'Brien, currently working on "Finding Dorie," routinely visits with school children to share the wonders behind the Pixar movie division. And, if his talks nudge them toward a career in animation, he wouldn't mind a bit.
"Being an artist is a craft, not something you're born with. You work at it every day, all the time. That's a big part of it," he says. "At this point where technology is so prevalent it's not excuse anymore. You can't say you can't afford a camera because you carry one in your pocket. If you wanna be a filmmaker, make films. Find out if it's something you enjoy."
Just don't be discouraged if your sketches don't look like Dorie, Wall-E or even a certain Good Dinosaur just yet.
"You'll see talented people who are really good at the thing you're trying to do, and you're not good at it," he says. "You have to understand they're just further down the road than you are, but you can get there."
DID YOU KNOW: "The Good Dinosaur's" creative team used Wyoming terrain data, along with height field information from the U.S. Geological Survey, to help build the film's virtual landscapes.