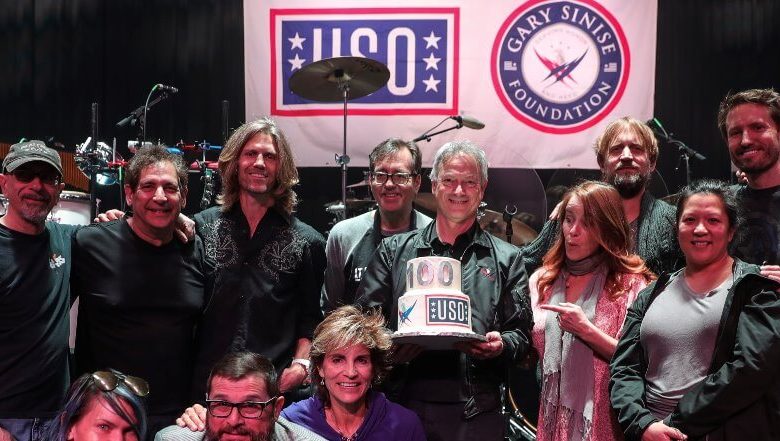 Many connect Gary Sinise's work on behalf of U.S. veterans to his role as Lt. Dan Taylor in "Forrest Gump."
It's understandable given the power of that performance and how he later named his rock group The Lt. Dan Band.
Forrest Gump (5/9) Movie CLIP - First Mate (1994) HD
What fans might not know is the star's dedication to veterans started long before he shared the screen with Tom Hanks.
Sinise began by contributing to Vets Night in the early 1980s. The program provided free dinners and entertainment for Vietnam veterans at Chicago's Steppenwolf Theatre, the arts group he co-founded roughly 45 years ago.
He later helped the Disabled American Veterans organization, a cause he still supports to this day. He was just warming up.
After the Sept. 11 attacks he embarked on a number of USO "handshake tours." His Lt. Dan Band hit the stage for the first time in 2004, entertaining the troops both at home and overseas. The group plays roughly 30 shows a year for charities these days, including military bases and fundraisers tied to wounded veterans, Gold Star families and related causes.
Gary Sinise & Lt. Dan Band to honor first responders, Borderline victims with free concert https://t.co/6GWhzuDuk6 via @vcstar

— Gary Sinise (@GarySinise) April 5, 2019
This year the 64-year-old star hit two milestones. He released his autobiography "Grateful American: A Journey from Self to Service
" Feb. 12.
Here's Sinise talking to Dennis Miller about the new book.
More recently, he completed his 100th USO tour, part of his decades long service to the men and women of the U.S. Military. Few entertainers can match his dedication to those who put their lives on the line for their fellow Americans.
His Hollywood peers recently feted Sinise for his decades of noble work:
Sinise never stopped acting while giving all he could for the troops. His career has thrived in roles large and small, from cameos to leading man turns. He spent nine seasons on CBS's "CSI: NY," among other shows, and appeared in feature films including "The Green Mile" and "Ransom."
He does it all without trumpeting his hard work. The troops come first and foremost. Always.
You can follow the actor on Twitter @GarySinise.