Contributors
See the Military Muscle Tied to a Frank Frazetta Classic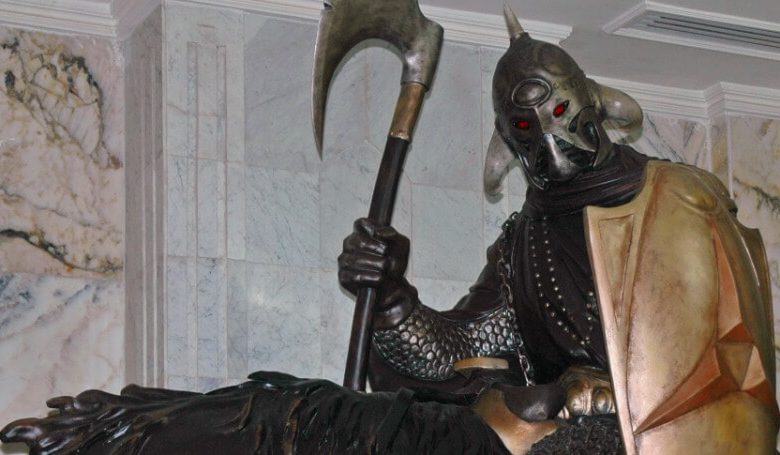 If you've ever admired the cover of a Robert E. Howard Conan book, you're probably familiar with artist Frank Frazetta.
Frazetta died in 2010, but for at least a generation of fantasy fans, his oil paintings defined the aesthetic for sword-and-sorcery novels. Think huge, muscular men; curvaceous, creamy-skinned women and horrific beasts that menace both. From comic books to movie posters to the worlds of Tarzan and John Carter of Mars, his fierce fantasy depictions remain captivating.
His 1973 painting "The Death Dealer" became his most iconic work, used as cover art for music and books, as well as the basis for at least one novel. The piece also has been adapted into an imposing, life-size statue for III Corps, one of the higher echelon units of the U.S. Army.
III Corps took on "The Death Dealer" as a symbol of the unit in the 1980s: horned helmet, battle ax, wild-eyed horse and all. According to an official statement, "In April 1986, LTG Saint concluded an agreement with the artist, Mr. Frank Frazetta which allowed the Corps to use 'The Death Dealer' as a symbol of III Corps, the figure is currently referred to as 'The Phantom Warrior.'"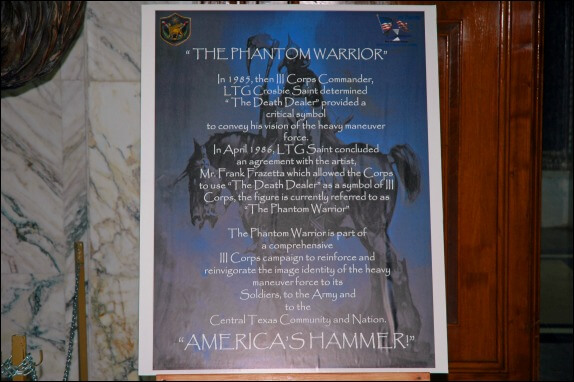 A statue of The Phantom Warrior followed years later (though whether Frazetta actually authorized that piece remains unclear). In fact, there are multiple statues of The Phantom Warrior. And they are impressive, even if they may not be the best use of government money.
The Phantom Warrior is a spectacular figure even at a distance, glaring at you in three dimensions as a "6-foot, 6-inch warrior" atop an "18-hands tall Shire draft horse." He doesn't get any less impressive upon closer inspection.
Indeed, he becomes more so.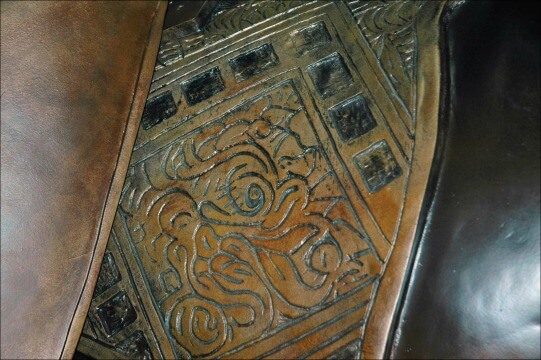 The attention to detail is clear throughout the entire statue. The symbol on the shield is an embossed version of the III Corps insignia. Individual links of the chainmail armor on the warrior are distinct. So is the bridle on the horse. And the mad look that's in the horse's eye in the painting? That's there, too.
If you like "The Death Dealer" painting, you'll enjoy seeing The Phantom Warrior statue. It's a breathtaking interpretation of Frazetta's most popular piece. Beyond that, it demonstrates how culture affects reality—how the painting of a fantasy artist transcended geek culture and became a symbol of the power and destructive capability of a military force.
---
Paul Hair is a fiction and nonfiction author, and a national security/intelligence expert. Connect with him at http://www.liberateliberty.com/. David Dubrow is the author of the Armageddon series of novels. Find him at http://davedauthor.com.