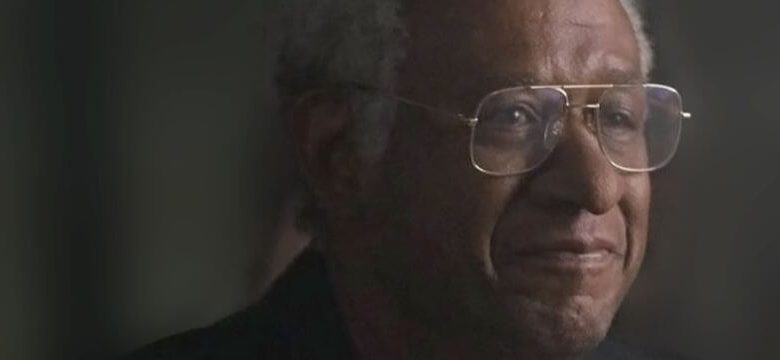 Following the end of Apartheid and the inauguration of Nelson Mandela as President, South African Archbishop Desmond Tutu led the post-Apartheid Truth and Reconciliation Commission.
"The Forgiven" portrays a fictional encounter Tutu, played by Forest Whitaker, has with Blumfield, a composite character played by Eric Bana. Blumfield is a lifelong racist and a murderer, seeking clemency but all too quick to spout racial slurs and express no regret over his past.
The Forgiven Trailer #1 | Movieclips Trailers
A core problem with director Roland Joffe's film is that there's too much historical ground to cover. The limitations of my establishing synopsis are echoed by the film itself. When you're dealing with Africa during Apartheid, then jumping into Mandela's life after imprisonment and setting a story about a country and its leaders in the midst of healing and restoring their people, a two-hour film that is essentially about two people isn't going to cut it.
Audiences familiar with the subject matter will be able to fill in the historical blanks and allow for context the film doesn't have time to offer. Unfortunately, those who are new to the subject may find an overabundance of melodrama and not enough nuggets of information to properly tell this story.
To say the least, the tremendous changes Africa has undergone during the late 20th century is essential human history and allows for rich, true-life storytelling. "The Forgiven" aims for importance but feels less so than prior films that tackled the subject and also managed to come up short.
Mandela: Long Walk To Freedom Official Trailer #1 (2013) - Idris Elba, Naomie Harris Movie HD
Justin Chadwick's "Mandela: Long Walk to Freedom" is terrific film about this deeply troubled period of African history and even that work struggles to cram all the important moments into a reasonable running time.
Seeing Chadwick's film alongside Clint Eastwood's "Invictus" (with Morgan Freeman as Mandela), "Mandela and de Klerk" (with Sidney Poitier and Michael Caine in the lead roles) and the HBO movie "Mandela" (with Danny Glover) feels like a proper way to ingest the complexities of the era depicted.
Due to its limited scope, "The Forgiven" has the same very-mixed and ultimately limited scale of other two-character dramas on Apartheid like "Catch a Fire" and "Cry Freedom." As a history lesson, it's all too truncated. Clearly, a six-hour mini-series on this topic (or a thorough documentary) is needed to fully flesh out the vital figures and incidents of Africa during and post-Apartheid.
FAST FACT: Roland Joffe's first two directorial efforts, "The Mission" and "The Killing Fields," earned seven Oscar nominations each.
Despite a well intentioned but overdone courtroom climax, "The Forgiven" does provide a timely examination on the effect of lifelong anger and racism dwelling inside a man capable of reformation. If only the dialog wasn't so on-the-nose (at one point, Blumfield tells Tutu, "You can't forgive the likes of me").
There's also the title song that plays over the end credits. The wonderful Toni Braxton is tasked with giving life to what sounds like a bad "American Idol" ballad.
…those who are new to the subject may find an overabundance of melodrama and not enough nuggets of information to properly tell this story.
The screenplay by Joffe and Michael Ashton is a combination of two stage plays on the subject, and it truly shows. Their film was always going to work better as a self-contained contrast of two very different men.
This feels like a talky filmed play and sometimes, the approach resonates. When the focus is on the tense give and take between Tutu and Blumfield, the film works. The verbal sparring matches between Whitaker and Bana are the best thing about "The Forgiven."
Whitaker gives a very mannered performance, aided by a fake nose and generous make-up that physically transforms him. As enjoyable as Whitaker is and all the showy quirks in his acting, its Bana who gives the better performance.
Blumfield's inner struggle while imprisoned and testy relationship with the other inmates are far more compelling than any of the scenes of Tutu's domestic or political affairs.
As a director, Joffe's career has taken an intriguing journey.
The Killing Fields (1984) Official Trailer - John Malkovich, Craig T. Nelson Movie HD
His Oscar-winning, 1984 debut, "The Killing Fields," is justly considered one of the best films of its decade. His 1986 epic, "The Mission," is even better, as it shapes a vision of compassion and hell on Earth to equal the work of David Lean.
From there, things got spotty, as the well-intentioned Paul Newman-as Oppenheimer "Fat Man and Little Boy" was followed by the failure of the Patrick Swayze-led "City of Joy."
Later came Joffe's disastrous neo-noir "Goodbye Lover" and, the low point, his "torture porn" horror film "Captivity." With "The Forgiven," it seems he's come full circle, crafting another two-hander story set during a traumatic time in history.
For all the good things here (namely the excellent work of Bana and Whitaker), "The Forgiven" feels like a primer for a far better, worthier film on the topic of healing and surviving the horrors of Apartheid.