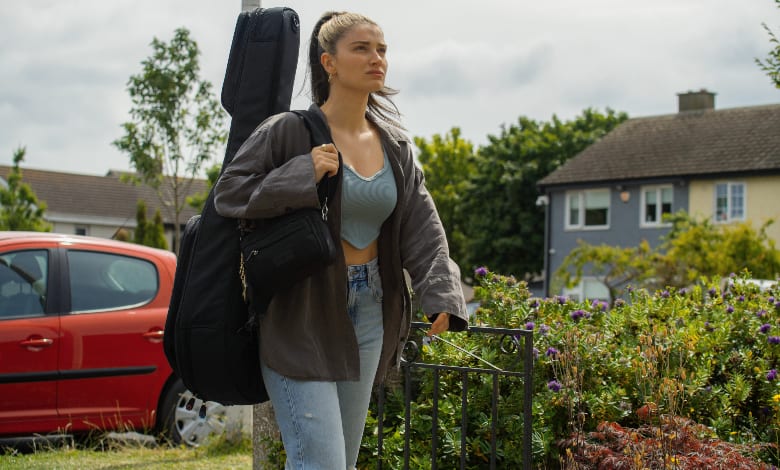 Eve Hewson is no longer "Bono's daughter."
The actress' bravura turn in "Flora and Son," the latest musical drama from director John Carney ("Begin Again"), should squash any "nepo baby" cries.
Permanently.
Hewson's emotionally bruised character shows how music can heal in ways nothing else can. It's a recurring theme in Carney's work, dating back to his 2007 masterpiece, "Once."
Sadly, "Flora and Son" is the weakest of his musically-charged films to date, but it's still a warm, winning look at life's uncertain melodies.
Flora and Son — Official Trailer | Apple TV+
Hewson plays the title character, a single Ma with a wayward son named Max (Orén Kinlan). He's sullen and cranky, and he keeps getting arrested for minor crimes around their Dublin neighborhood.
Flora impulsively buys Max a guitar to give him something to focus on besides his budding crime career. He rejects the gift, convincing her to take a few lessons on her own.
After all, her ex Ian (Jack Reynor, "Sing Street") is a musician. Why not her?
Flora hires an L.A.-based musician named Jeff (Joseph Gordon-Levitt) to teach her via a Zoom-like connection. Their sessions turn into a series of awkward dates, with chord progressions giving way to personal confessions.
Meanwhile, young Max is making music on his own terms, hopefully to woo the heart of a local teen.
View this post on Instagram
Carney's knack for weaving music into the rhythms of modern life remains near-perfect. His films makes us want to grab a paper and pen and start jotting down potential song lyrics.
He makes music accessible, and the hunger to create after seeing his films is almost impossible to resist. It's a dizzying effect and one reason "Flora and Son" wins us over.
Hewson takes over from there.
The actress turns a potentially off-putting character into someone real and vulnerable. Flora's first reaction to men is often sexual, and she's combustible with friends and strangers alike. The film opens with an awkward one-night stand, and the minute she makes a connection with Jeff she turns on the sex appeal in a wildly inappropriate manner.
Why?
Carney's screenplay isn't always sure.
Apple TV+ Flora and Son (2023) musical comedy-drama film with Eve Hewson, Joseph Gordon-Levitt, Oren Kinlan | Soundtrack by Gary Clark, John Carney and Flora and Son Casthttps://t.co/5SLl4Diyjd#FloraAndSon #soundtrack #AppleTV #musical #ST

— Soundtrack Tracklist (@tracklistOST) September 19, 2023
Flora had Max at a tender age, and her life revolves around motherhood. She'd do anything for the lad, but she's also wondering what life has in store for her. What about her needs, her dreams?
Her exchanges with Jeff offer some clues, and the filmmaker's trick of staging their sessions as if Jeff is right next to her is a simple, but effective risk.
"Flora and Son" offers wonderful sequences, small but wise laughs and the sense that music will once again play a starring role in the finale. Yet the third act plays out in such a conventional fashion it's as if another, less sophisticated storyteller took over.
Carney's films marinate in hurt and heartache, and he avoids lazy sentiment at all costs. That makes Flora's attempts to connect with Max matter. The film's final moments feel like a quiet, but necessary betrayal of Carney's instincts.
The director's music background – he played with The Frames in the early 1990s – allows him to pen songs that heighten the emotional brush strokes. His songs here aren't as memorable as in "Sing Street" or the sublime "Begin Again," but they charge select scenes with the appropriate tones.
Now, where's that scratch pad again?
HiT or Miss: "Flora and Son" lacks the emotional grandeur of John Carney's best work, but his latest musical odyssey is still well worth a look.