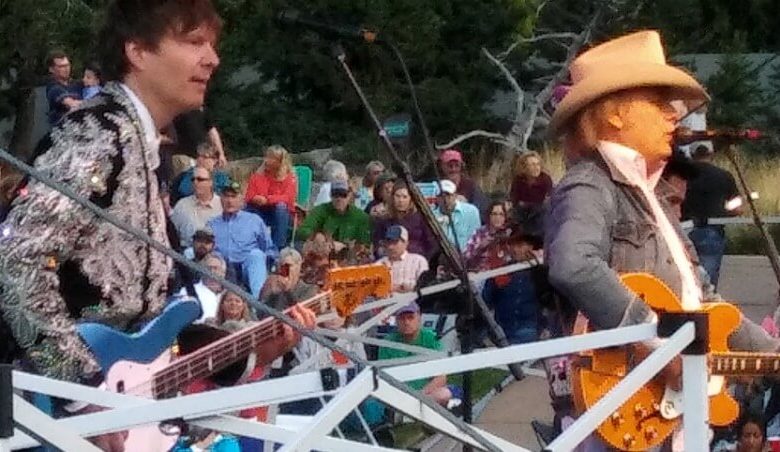 Dwight Yoakam isn't one of those singers whose fans greet their new music with a shrug.
Recent Yoakam releases like "Second Hand Heart" and "3 Pears" capture the same songwriting chops he flexed during in his "Hillbilly Deluxe" days.
He may be 60, but he's hardly washed up as a recording artist.
Yet for one chilly summer night Yoakam couldn't be bothered to play his most recent tunes. He kept going back, back back through his song catalog at Denver's Botanic Gardens Aug. 3. The crowd didn't mind, and Yoakam's sequined support crew tore through the oldies as if it were their first crack at 'em.
"It Only Hurts When I Cry." "Little Ways." "If There Was a Way." The latter song took on a richer emotional hue with Yoakam's voice eclipsing the original recording.
That wasn't the only time it happened on an atypical August night.
<
Dwight Yoakam - A Thousand Miles From Nowhere (Video)
Clad in denim (what else?) Yoakam kept the evening's tempo brisk. The gorgeous garden backdrop didn't have a chance to overwhelm his honkytonk weepies. That high energy took a knee for a quartet of Merle Haggard covers.
He prefaced his spin on the Haggard staple "Okie from Muskogee" by saying the Vietnam War-era song "struck a nerve" with folks between "Nevada and Jersey."
Yoakam generally doesn't cotton to small talk in concert. That's odd, considering his colorful Hollywood career reminds us he could spin a mean story if the mood ever struck. He did share a funny bit about wading through a wall of smoke to chat with fellow legend Willie Nelson one night.
That's as good as he could deliver. Even his attempt at localizing the brief banter felt stiff. The songs were anything but.
RELATED: LA Times Demands Country Stars Push Gun Control
He rampaged across his early career, careening from "A Thousand Miles from Nowhere" to "Guitars, Cadillacs," The latter proved so combustible it rendered the original version tame by comparison.
Yoakam's voice cracked and cratered, yodeled and dipped, in a style that shouldn't work but almost always did. His signature moves, that slippery guitar shift and heel swivels, showed little signs of rust.
One of his best recorded solo moments, the blistering guitar work at the end of "Fast As You," didn't disappoint. It didn't wow, either, nor overstay its welcome.
At times, Yoakam's voice slurred some of the less dramatic lyrics, laying in wait for the big emotional beats.
Dwight Yoakam - Suspicious Minds
On and on it went until the encore. Yoakam started the obligatory return with "Suspicious Minds," and then he and the band hit the road. The musicians had been fighting mic feedback for the latter part of the show. At one point Yoakam mouthed, "what the [bleep]…" to one of the on-stage engineers.
To his credit, he didn't take his frustrations out on the audience.
Opening act Lindi Ortega played the kind of set that made fans check their iPhones for her home page. The Canadian crooner's voice, scratchy but with serious pop, delivered a tasty set that prepped the crowd for the main attraction well as anyone might.
Yoakam chose wisely.