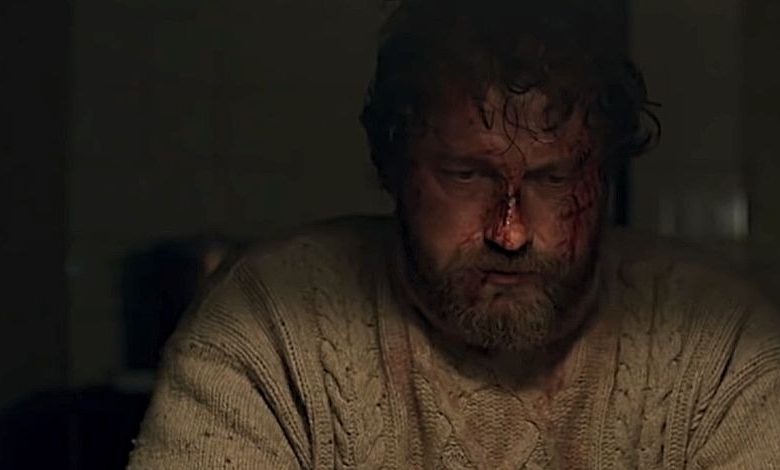 A number of entertainment writers banded together this month to celebrate the career of Scottish thespian Gerard Butler.
(Check out the hashtag #ButlerFest for some of the fun.)
His latest action franchise entry, "Angel Has Fallen," just hit theaters, but earlier this year another unique Butler title hit home video – "The Vanishing."
THE VANISHING Official Trailer (2019) Gerard Butler, Thriller Movie HD
A legend in the Scottish coasts concerns the tale of three lighthouse keepers who all turned up missing without an explanation. "The Vanishing" attempts to explain what may have happened, except it totals more than three missing people, and one of the keepers ends up surviving.
We're sure this title will clarify things.
So let's pull the overhead down and shine a bright light onto this release and see what caused it to end up sunk on the rocks.
0:00:51 GROUP CONSULTATION
A number of companies have their pre-credits shingles on display, including G-BASE Film Productions. This is Butler's production company, which means the film is probably a vanity project in the "Three for them, one for me" style of studios appeasing a star's request.
0:01:21 WEAKENED IMPULSE
Title cards inform us of the Flannan Isle Mystery, in which three lighthouse keepers vanished with no trace. "Inspired" by a true story." This means they don't know what happened and are filling in the blanks.
Uh oh…
0:03:09 SEPTIC INTRODUCTION
At low tide on the docks we see men gathering, including Butler saying goodbye to his family. It's a tight contest here as to which is thickest: the cable knit sweaters, the beards or the Scottish brogues.
0:03:48 RUPTURED OPTICS
Not four minutes into this yarn and we are treated to someone vomiting overboard. Just be grateful we aren't watching this in 3-D.
0:05:40 CHRONICLE SEIZURE
Lots of ponderous boat activity, so I'll take the time to fill in the gaps. Three men are riding out to a remote island circa 1900 to tend to a lighthouse. There is the elderly grey-beard Thomas, middle aged James (Butler), and the fresh young newcomer Donald. Thomas is not much for small talk, and Donald has trouble boating (he was providing the chum). James just smiles a bunch. I'm SURE things with this film will pick up soon.
0:09:34 BLUNT FORCE DIALOGUE
Well … maybe not.
We have gone through long stretches of watching this trio do maintenance work around the lighthouse. The good news is that no one feels the need to break up the monotony with too much dialogue. During dinner they are eating crabs. Donald asks James about it.
DONALD: "What do you call that thing you catch them with?"
JAMES: (pauses) "A hook."
Thomas and James laugh heartily at this. For — some reason.
0:16:40 WEAKENED IMPULSE
Some…thing has finally happened. A storm blew in at night and they discovered the light had gone out! So all three rush up to the tower. They got the light back on. (I may have oversold the dramatics involving this…)
0:19:26 LOCALE ANESTHESIA
The men awaken and discover dozens of dead seagulls about the property. I had assumed the storm caused it, but the grizzled vet Thomas says he has never seen this happen before. Now you may think the filmmakers would have gone so far as to explain this scene, but nope — including it was important for the movie, but detailing as to why not so much.
0:20:19 VISUAL ADRENAL INFUSION
Thomas shoves a dead bird in the back of James' jacket, and he proceeds to throw a carcass at the lad. It may seem odd to have perked up at this very odd scene, but frankly a dead seagull fight is about the only thing of interest to have happened so far.
0:21:41 EXPLORATORY STORY INCISION
While wandering Donald notices a small boat crashed in a ravine, and a body is nearby on the rocks. Once the other two come over Donald is lowered down by rope and they retrieve a wooden chest. Dare I say it, we may have a plot developing!
0:25:19 INVASIVE PATHOS
As the chest is being pulled up the dead man comes alive and attacks Donald. As he is being drowned Donald grabs a large stone and makes the dead man dead again, this time for good. It needs to be pointed out that Thomas and James were very preoccupied with getting the chest hauled up as they watched this transpire.
0:26:07 IRREGULAR PLOTBEAT
As Donald is grappling with what happened James grabs some tools to go at the chest. Thomas tells him "No," they are not opening it, as if there is fear of a plot developing. I swear, if they start cleaning again…
0:31:52 CLICHE MALIGNANCY
Since they aren't opening the chest there is a lot of mulling taking place, and we get some character backstory trucked in. Donald unloads about his sad-bastard upbringing, and Thomas reveals he lost a wife and twins, explaining why he is such a cur. Then there is more mulling.
0:34:38 CRANIAL ATROPHY
In the middle of the night Thomas cracks open the chest and finds a number of large gold bars. The man nearly reacts. He locks it back up and says nothing to the others, because why take the risk of a plot breaking out in this feature?
0:37:25 WEAKENED IMPULSE
There is more mulling, to be sure. The stress of the mystery box and the dead man could be wearing on the men.This is a guess based on the testy exchange we had over the soup that James is preparing.
0:41:41 EXPLORATORY STORY INCISION
When Thomas is away the men crack into the box and discover the gold. Their excitement quickly sours as Thomas lectures about people finding out and their getting caught. He really seems scared to lose out on his exciting life of being stuck out on a rock in the ocean.
0:44:46 INVASIVE PATHOS
Thomas relents and draws up the plan that they can keep the gold but do nothing with it for a year. As they are about to toss the body into the ocean they are scuttled by the arrival of a strange boat. A pair of scraggly men come up to report they have a shipmate missing. It must be a very Scottish way of doing things that what could amount to a 30-second conversation is stretched out to minutes, with all the pausing and glancing going on. But hey, the weather is garbage out there, so what's the hurry?
0:49:56 CRANIAL ATROPHY
The two stevedores want to speak with James and Donald. Some conflict emerges as a result of these three men — stuck on a spit of land with little else to do but focus on this development — being incapable of coordinating their stories.
0:54:09 IATROGENIC DIRECTION
The two men leave and then after a spell their boat turns and returns to the island. For long scenes the boat circles, with our three heroes watching it from the bluff. On it goes, through nightfall. This is what passes for a movie.
00:55:32 PHYSICS DISORDER
While they watched the boat somehow one man managed to sneak into the lighthouse. As Thomas and Donald race up James guards the staircase. But also somehow the second man has snuck up, and he hits James with a board.
Butler Has Fallen!
0:58:55 BLUNT FORCE DIALOGUE
With Butler left outside Thomas and Donald are beaten significantly. The one thug named Locke repeatedly bellows, "Where's my gold?" to the point of tedium, but honestly I am just grateful that something is happening.
1:00:28 TECHNOLOGICAL THROMBOSIS
A bloodied Butler bursts in and proceeds to beat the one thug with the same piece of lumber used on him. Donald eventually recovers, and improbably he loops some rope around Locke's head, and begins to twist it tighter. This was a method Thomas showed him earlier to crack a crab shell, and now it works on a longshoreman's carapace as well.
1:02:33 RUPTURED OPTICS
Points for accuracy: You kill off a couple of thugs, first you slug the scotch, THEN you consider cleaning the blood off of yourself.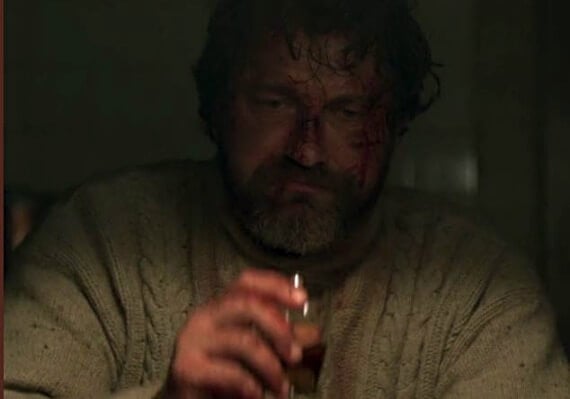 1:05:08 CAUTERIZED PLOT CAVITY
While the bedraggled men are drinking, and mulling, they spot a figure outside in the dark. James grabs his hook and charges into the night. He runs down the figure and lacerates his neck. Only then do the others arrive with lights and they realize it is a younger worker from one of the other keeper teams that work the lighthouse. Ummm…a few questions, here:
How did he travel out to the island?
Why was he creeping around the windows at the place he works?
Why would he not announce who he was?
Why did he run and hide when they all came out?
Why was this film made in the first place?
1:09:11 DEPLETED CHARACTER CONCENTRATION
James is now mostly catatonic, as he is carving up vegetables — though I'd say keeping sharp implements away from him is the smarter call here. Next, they haul all of the bodies on board the thugs' schooner but James is no help, moping against the mast instead. Yeah, we've all worked with that type of guy.
1:10:09 LOCALE ANESTHESIA
We have seen Thomas spending time occasionally in a chapel on the property. Now we get a look at its exterior, and the thing is basically the size of a doghouse?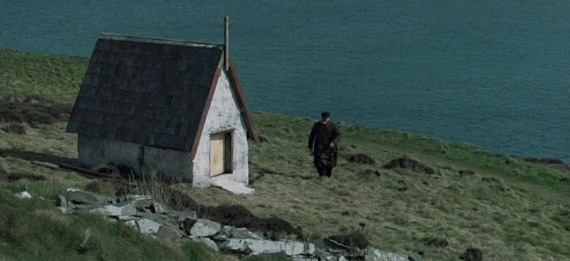 1:19:18 TYMPANIC TRAUMA
James has now gone from catatonia to outward paranoia and aggression. This results in a lot of shouting and barking inside the confined quarters, but frankly it's a refreshing change from all of the sullen mulling we have been treated to all this time.
1:26:42 IATROGENIC DIRECTION
Through a long stretch Thomas and Donald grapple with what to do about the unraveling James. Then he turns up missing, and the men search the island for him. The whole episode ends when they are discussing things, and James walks into the room, with zero explanation.
1:30:05 ARTIFICIAL NARRATIVE STIMULANT
While "celebrating" the return of James he suggests Thomas gets them some whiskey. He then locks Thomas in the pantry, and by the time he breaks out Donald has been killed. While trying to discuss things Thomas slams James in the snotbox with a frying pan. Butler Has Fallen: Chapter 2!
1:36:04 WEAKENED IMPULSE
After some more lengthy mulling they load the gold and the body of Donald onto the boat. James is again unhelpful on board, so Old Man Thomas has to lug the corpse overboard himself.
1:40:04 COLLAPSED CLIMAX
After the deed is done James says, "Now me." Thomas attempts to dissuade the mental wreck of a man, but James climbs into the drink anyway. Thomas acquiesces and he holds his head under. Bubbles rise, and then so do the credits.
POST MORTEM
Considering this Butlerfest entry is a dramatization of a famous Scottish mystery you might think they could have come up with something…I don't know…compelling? So three men with the most boring of lives become granted the chance of a lifetime, however they botched it entirely because nobody could properly speak to each other and end up screwing the Scottish terrier.
Hard to imagine a film based on lighthouse keepers in 1900 could go sideways, but they took a completely boring premise and managed to only make it confusing.
At least we get to see the cinematic magic of a dead seagull fight.