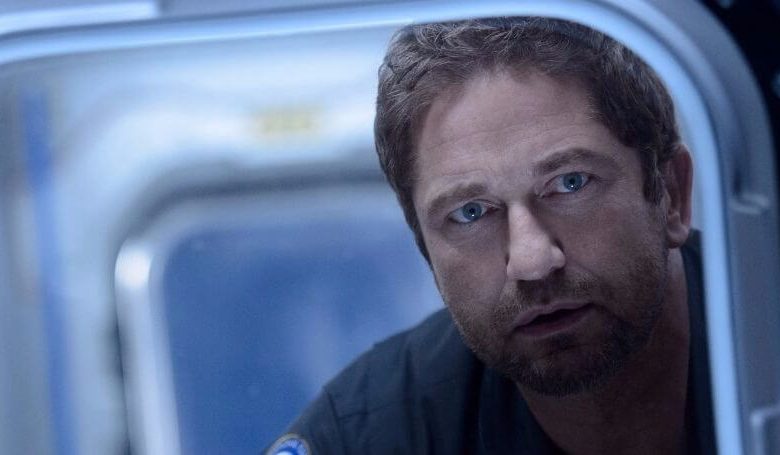 Director Roland Emmerich made a career out of displaying rampant global destruction.
Using the environment – and a ton of computers – Rollie has delivered sucker punches to famous global landmarks for years. One frequent collaborator – writer/producer/director Dean Devlin – decided to strike out on his own with "Geostorm." Devlin ramps up the global threat while relying on Rollie's tendency for ridiculous plotting and leaden dialogue.
GEOSTORM - OFFICIAL TRAILER 2 [HD]
Warner Bros. and Gerard Butler have each had notable bombs the past few years. Here, they combine forces to leave a crater.
A global network of satellites is placed to control the Earth's weather, and Butler is the scientific mind behind it all. What could possibly go wrong? (Ask maybe what would go right, for a shorter list.)
To begin, just take a look at the film's poster. The one sheet displays a father clutching his daughter as they stare down a tidal wave that is 500 feet? 1,000 feet? The measurement is inconsequential, as nowhere in the film does this scene even play out.

Let's toss this overcast and underwarmed disaster onto a waterproof gurney and wheel it into the meteorological lab to forecast why this tempest spiraled out of control.
0:00:08 SCEPTIC INTRODUCTION
We get writer's backstory shorthand via voice-over narration, describing how we decimated our planet due to global warming. Understand we were inundated with floods AND drought, at the same time. This lecture is less than grave, as it is delivered by what sounds like a six year old girl.
0:00:10 RUPTURED OPTICS
A montage of quickly-edited weather events unspools. I'll just say that it is rather distancing and not gripping when opting for stock footage.
0:01:56 CRANIAL ATROPHY
Our first grade life coach intones, "It became clear that no single nation could solve this problem alone." Next, file video plays, indicating the United Nations will run this show? Oh yeah, we're screwed!
0:02:29 WEAKENED IMPULSE
The solution: nations banded together to build a network of thousands of satellites, dubbed "Dutch Boy," that controls the weather. A hurricane is shown being hit with probes that then dissipate the storm. Except, this is shown over a city, when they really should have done so before landfall.
0:03:24 DEPLETED CHARACTER CONCENTRATION
After all the high-minded talk about the world coming together and nations working for the planet we are told "This is what saved us all. It was built by a team — led by one man:

Uh……..Oh…….
0:08:27 ADVERSE CEREBRAL ACTIVITY
That one man is Jake Lawson – or a hungover-looking Butler. He sits before the Senate subcommittee overseeing Dutch Boy before its turned over in a few years to the the UN. Of course, after learning what a success the program is and that Lawson is the one man who operates it, the Senate fires him. Jake's brother Max is put in charge.
0:09:31 PHYSICS DISORDER
A UN military team in a desert approaches a village where a weather anomaly occurred. The village (just the village, mind you) was hit with severe cold, with citizens and donkeys flash-frozen in place. Yet, the soldiers walk among them safely without cold weather gear?
0:10:16 ELEVATED FORESHADOW LEVELS
Max is secretly dating Secret Service agent Abbie Cornish. This seems a relationship that is going to pay off plot wise at another stage.
0:13:08 ARTIFICIAL NARRATIVE STIMULANT
The desert anomaly resulted from a failed satellite in the network — because that is exactly how weather works. In an emergency administration meeting President Andy Garcia declares he won't hand over control of Dutch Boy if in a flawed state. He declares one man to be sent to the space station who reports to them. Ed Harris, as Secretary of State (not Secretary of Space mind you) tells Max to get Jake to do it.
0:16:45 IRREGULAR PLOTBEAT
The flawed satellite is brought to the space station for diagnostics. One worker downloads data and hides the device in a locker. Soon he is walking a hall and the airlocks shut, and walls blow open, spitting him into space. This seems WAY too coincidental to be a mistake!
0:18:13 CLICHE MALIGNANCY
Max visits Jake to bring him in to fix the problem. Like any rogue character great at his job, but having a problem with authority, Jake lives in a trailer.
0:23:35 WEAKENED IMPULSE
In Hong Kong one Dutch Boy office worker goes out for food. As he leaves the streets begin collapsing and bursting forth with plumes of fire. It's so dire that buildings begin collapsing, but he manages to escape all of this carnage — in his Smart Car.
0:27:31 TECHNOLOGICAL THROMBOSIS
Jake pulls up at NASA and watches a shuttle lifting off. There is a massive fleet of shuttles displayed on launch pads. A few problems here.
Shuttles cannot sit idle outdoors in the elements.
The launch pads are comically within any rocket's blast radius.
Jake flies solo. NASA could have saved a few million had he just shown up an hour earlier.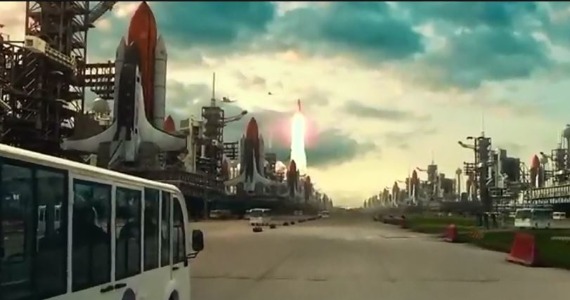 0:32:11 COMEDIC ARREST
On board the station Jake is introduced to the crew. The astronauts don't recognize the man who is the sole force behind this entire project, who earlier was praised by doormen on the street.
0:34:46 EXPLORATORY STORY INCISION
That worker in Hong Kong is a friend of Max, and he notifies him that they're locked out of the entire system. He states if the satellites go down it would trigger a series of meteorological events, culminating in a Geostorm. These satellites were designed to curtail events. Now we hear when satellites fail they actually cause tragic events — because that is exactly how weather works.
0:43:49 CAUTERIZED PLOT CAVITY
The Hong Kong satellite is brought aboard to analyze the circuits, but the loading arm goes haywire, whipping the satellite around and reducing it to rubble. We're told all hard drives were fried in the melee. One tech analyzes video of the worker who was shot into space. He found a wall panel, containing a drive, lodged in a communication tower — which would have NOTHING to do with the drives on the satellite.
0:45:33 INVASIVE PATHOS
A space walk is needed to retrieve the wall panel. Apparently no one is more skilled at this than Jake, who has not been in space in years. While returning, his jet pack malfunctions and shoots him all over the station exterior, causing extensive damage but zero physical maladies after he endures more than half a dozen impacts.
0:47:03 EDITING ARRHYTHMIA
Just before launching into the cosmos Jake grabs a line, then suddenly he is seated safely in the cargo bay. There he informs the Mission Commander he was somehow able to pull out the drive from the panel before all the mayhem…because sure he was.
0:48:26 SCRIPT GRAFT
The drive from the panel reveals the saboteur cleared their log-in. Jake knows of a backdoor channel to the mainframe no one knows about. "When we built Dutch Boy we built a locked off library, something that would track and archive everything." Jake next learns that he has been locked out of the locked off library…that no one knew existed.
0:56:08 ARTIFICIAL NARRATIVE STIMULANT
Max's relationship with Abbie Cornish is about to pay off. After getting a super-secret message from Jake (best you don't ask) Max uses a trusted computer expert from State and together go to his secret Secret Service crush to ask her to break into the White House servers. Damn, that is handy!
1:01:12 BLUNT FORCE DIALOGUE
Jake learned a virus had been planted in the Afghan satellite. Max uncovers someone in the administration who wants to weaponize Dutch Boy, and during the holodeck video conference says to Jake:
MAX: "It's not too late, we can fix this before it happens again. But I can't do it on my own!"
He says this to Jake who is helping with his systems analyst in the room, and after his girlfriend committed treason hacking the White House. But he's "on his own."
1:01:31 TECHNOLOGICAL THROMBOSIS
Jake has the answer to fix things. He will shut down Dutch Boy temporarily.
JAKE: "The reboot will flush out the system, kill the virus, and revert back to the failsafe OS!."
This system which cost tens-of-trillions of dollars — to run thousands of satellites, and is controlled by an international consortium — actually operates like your WiFi router going back to the factory settings.
1:02:52 CRANIAL ATROPHY
Jake declares President Andy Garcia is probably behind this, to forestall handing over control of Dutch Boy. Also, they need his pass codes in order to turn off the WiFi , I mean "shut down the Dutch Boy network!"
1:05:04 PHYSICS DISORDER
A series of satellites begin displaying problems, and one over Tokyo fails entirely. Instantly the city gets hit with soccer ball-sized hail, knocking out citizens and causing car-launching accidents — because that is exactly how weather works!
1:07:22 LOCALE ANESTHESIA
Another satellite fails, leading to an instant cold wave hitting Rio De Janeiro (because that is exactly how weather works). Waves suddenly become icicles. Yet, as people on the beach freeze solid you can apparently run away. We actually get served a chase scene between a woman in a bikini — and cold air.
(Seagulls falling and shattering on the ground were a nice touch.)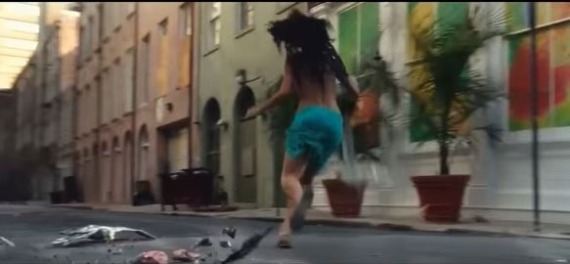 1:08:07 ADVERSE CEREBRAL ACTIVITY
Jake's conjures a plan: he'll seek out the viral satellites and send replacements to collide and destroy them. Now, full disclosure — I'm not an astrophysicist. But I have to ask why not simply switch out failing satellites with the new ones? If bad weather happens instantly then why permanently disable the select satellites?
1:08:20 ARTIFICIAL NARRATIVE STIMULANT
Jake's plan to systematically destroy satellites proves foolhardy — the screen at mission control displays warnings of an impending Geostorm. The Weather Channel cannot tell me if it will rain next week, but here they know a Geostorm happens in exactly an hour and a half.
1:10:04 DEPLETED CHARACTER CONCENTRATION
At the Democratic National Convention in Orlando Max checks his pocket computer and learns there is 90 minutes to the Geostorm. He pulls Ed Harris aside to explain it, and says "You have to believe in me." Taking out his pocket computer and showing him may have saved time here.
1:11:09 IATROGENIC DIRECTION
An alarm on the space station sounds. The hacker has instigated the self-destruct mechanism. This development means we now have TWO countdown timers taking place simultaneously.
1:15:19 CAUTERIZED PLOT CAVITY
Max comes to learn Sec. State Ed Harris is the one behind everything. This now means Harris was the one to select Max and Jake to thwart — his own plan? (The hell?!)
Max flees to Abbie Cornish to explain: Orlando is the next city to fall prey to weather and with President Andy Garcia, and other leaders, in town the order of succession would make The Sec. of State the new President.
EXCEPT
Ed Harris is right there in town as well…so…?
1:17:34 PHYSICS DISORDER
Another satellite failure, and this time India is beset by violent weather. Full disclosure — I am not a meteorologist. But I have to question if it is possible to have 8 tornadoes existing within one city block of each other.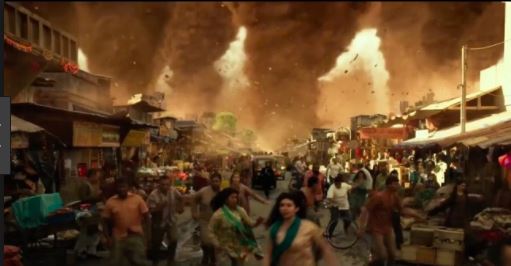 1:18:33 LOCALE ANESTHESIA
In Orlando Abbie Cornish initiates a fake threat so they can kidnap President Andy Garcia to have him shut down Dutch Boy. As they drive away the arena is subjected to repeated lightning strikes — because that is exactly how weather works. As they look back the stadium explodes into a massive fireball, because that is exactly…well hell, I have no explanation for this.
1:21:17 COMEDIC ARREST
As henchmen chase and shoot at the car with Max, Abbey, and President Andy Garcia she whips the car into reverse to shoot the driver, then spins it back around. In the back seat the President turns to Max.
PRESIDENT ANDY GARCIA: "Marry her."
1:23:12 CLICHE MALIGNANCY
Space station workers flood into shuttles to escape, but Jake tells the Commander he is staying behind to enter the codes from his brother. Notably his "Going down with the ship" routine is met with the barest of resistance from her before leaving him behind.
1:24:27 IRREGULAR PLOTBEAT
In a completely realistic scene Ed Harris pulls over on a highway to get the drop on President Andy Garcia. He takes out a rocket launcher, blows up the car, however it was unoccupied as it was a self-driving cab, then the trio sneaks up from 1/4 mile away in moments, manage to arrest Ed Harris, as dozens of state troopers arrive on scene in seconds.
This was all presented as completely normal.
1:27:06 IATROGENIC DIRECTION
Another satellite fails! In true Emmerich fashion Devlin connects a bottle of nitrous oxide to his computer farm and fires them up to have Dubai become buried under a mammoth tsunami.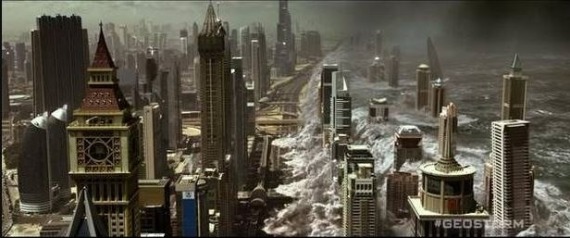 1:30:49 IRREGULAR PLOTBEAT
Jake's daughter is concerned about the explosions taking place on the space station. This is because her local news channel carries live news reports about — space.
1:31:48 EDITING ARRHYTHMIA
On the disintegrating station we watch Jake float through numerous hatches and levels to get to the server room. He has trouble getting a pass code entered, then directly behind him is the commander, who was impossibly out of sight the entire time he was travelling.
1:33:30 CAUTERIZED PLOT CAVITY
While Jake and the Commander shut down the satellite network to reboot the system before, the count down to the start of the Geostorm — BECAUSE WEATHER ALWAYS WORKS ON EXACT TIMETABLES! — I have a question.
If catastrophic weather happens the moment a single satellite shuts down why are they shutting down the entire network to avoid the Geostorm?
1:38:44 PHYSICS DISORDER
With the satellite network back to operational we see the waters in Dubai are receding instantly, as if someone just pulled a drain plug — because that is exactly how……oh, just what the hell with this damned movie?
1:39:35 COLLAPSED CLIMAX
Jake and the Commander escape in a stray satellite, because while intended to stay in a fixed, autonomous position these were also conveniently designed to carry passengers. One shuttle managed to catch up with their pod and rescue them, because it had a docking coupler compatible with shuttles. So…yay, Jake Lives…I guess.
1:41:42 GENETIC SEQUEL MUTATION
At the close we see Jake's daughter (the original narrator) on a dock, watching a rocket taking off in the distance. She intones more lectures about needing to be vigilant about the planet, suggesting more drama may be ahead.
I'd say keeping her father away from Dutch Boy would be Step #1.
POST MORTEM
What is amusing in all of this is the sternly delivered lectures from those telling us about what we are doing to the planet. How exactly can you take a position of authority on the subject while getting so many facts about weather blatantly wrong? It's like being told about a syntax error in a written work by someone functionally illiterate.
Better still is the unintended consequence of showing mankind's folly in these endeavors. It is egotistical to think we can harness the planet's environment — thank you for showing us the disastrous effects in attempting to do so!