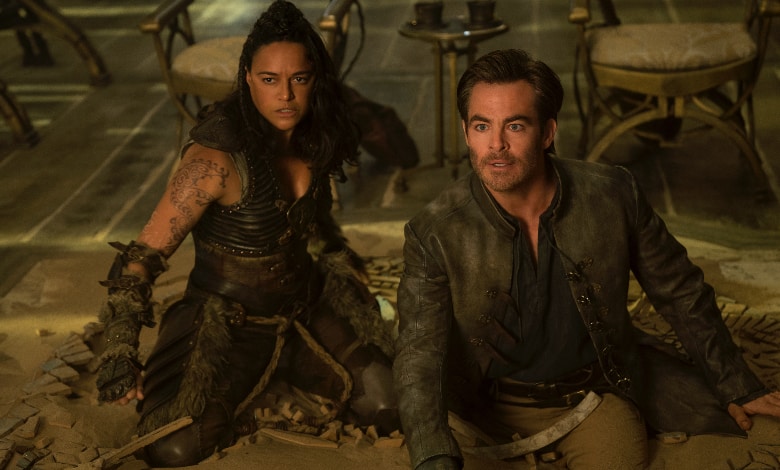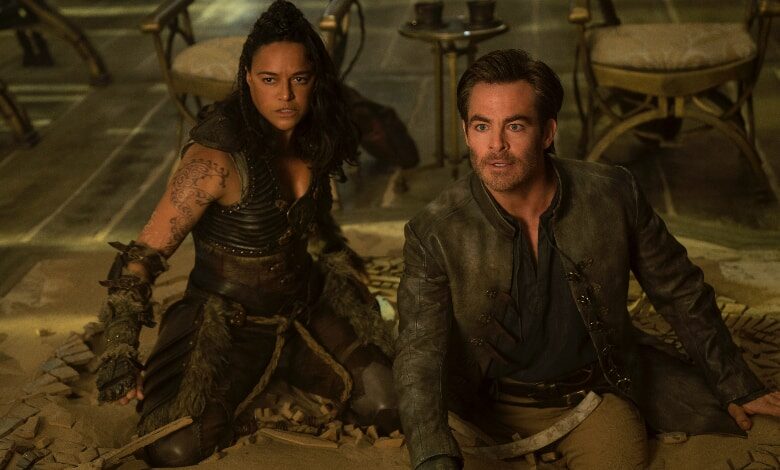 Role-playing games have survived the digital age, so it makes sense to bring the OG version to the big screen.
"Dungeons & Dragons: Honor Among Thieves" would draw a crowd based on name recognition alone. Add Chris Pine and "Furious" regular Michelle Rodriguez, and the box office battle is almost won.
Sound cynical? Sure, but Hollywood made us that way.
The minds behind "Honor Among Thieves" refused to stop there.
Phew.
The film, while way too long, is consistently witty and wise. The story bounces from a fatherly quest to save a child to lessons about the value of persistence. Add a sweet turn from "Bridgerton" alum Rege-Jean Page and Hugh Grant as a villain so conniving you (almost) want him to win, and you know what happens next?
Sequelization, thou art approved!
Dungeons & Dragons: Honor Among Thieves | International Trailer (2023 Movie)
Pine and Rodriquez play Edgin and Holga, a thieving duo stuck in a prison for their misdeeds. They comically escape, eager to reunite with Edgin's pre-teen daughter and their old thieving chums.
They're not hardened criminals, but life threw them one too many curveballs.
Except they learn their old friend Forge (Grant) installed himself as royalty in their absence. He also cared for Edgin's daughter like her own pappy, telling lies about Edgin to alienate the two.
Now, Edgin and Holga must rescue the youngster from Forge's grasp while staying ahead of his sorcerer/bodyguard (given a venomous rage by Daisy Head).
View this post on Instagram
It won't be so easy.
They have some quests to tackle, dead bodies to interrogate and internal bickering to sort out. They also recruit a few curious cohorts, including a meek Elven wizard (Justice Jesse Smith) and a shape-shifting teen ("It" standout Sophia Lillis).
Pine is as charismatic as ever, but this time he's more a schemer than a fighter. Holga picks up that slack, and then some, but she never gives off that aggravating Mary Sue vibe. She's flawed, all right, but relentlessly brave.
Who better than Rodriguez to wrangle that combination?
"Honor Among Thieves" puts plenty of energy into its comic beats, which roll from start to finish with few breaks in between. Silly bits, running gags and more, it's all handled adeptly by the large cast.
The film even sneaks in a killer cameo that won't be spoiled here.
Dungeons & Dragons: Honor Among Thieves | Let the Games Begin Clip (2023 Movie)
So why must the movie push well past the two-hour mark? Several scenes could be clipped without anyone caring, and the film's breezy spirit would get a jolt. This kind of adventure should wrap in a tidy fashion, not make us wonder how much longer the good times must roll.
The saga avoids the woke tease supplied by directors Jonathan M. Goldstein and John Francis Daley, and audiences will savor the positive messaging that never hits us over the head.
Fathers will do anything to protect their daughters, and surrender isn't an option when you're fighting for something that matters.
Game devotees will cheer the visuals, via the semi-state of the art CGI, and the various beasties who inhabit this strange realm.
And who isn't relishing Grant's career revival? He proved a fascinating rogue in the HBO Max saga "The Undoing," brightened Guy Ritchie's "The Gentlemen" and proves a wonderfully nuanced baddie here.
Plus, he was fantastic during that three-second cameo in "Glass Onion!"
Yes, Forge is a monster, but his devotion to Edgin's daughter is absolute. Hate him at your own risk.
"D&D" could have phoned so much in, but the relentlessly clever script means nearly every scene delivers a smile, a laugh or some derring-do of the highest order.
You don't have to be a Dungeon Master to think "Honor Among Thieves" is a can't-miss treat worthy of the franchise treatment.
HiT or Miss: "Dungeons & Dragons: Honor Among Thieves" delivers the year's biggest grins. Now, can we slice and dice 15 minutes out and make it even better?