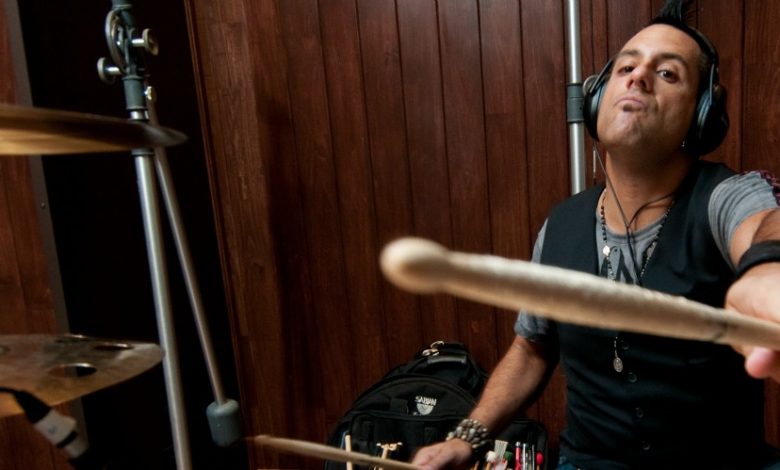 Today, as the drummer for Grammy-nominated Jason Aldean, Redmond has recorded 17 No. 1 singles with more than 7 million albums sold and 13 million single downloads.
His journey to the top required discipline and hunger. It also took reason and smarts. That's why Redmond went to the University of North Texas – a school near Dallas known worldwide for its jazz and classical music programs. His lessons learned along the way are valuable for any musician wanting to make it in the business.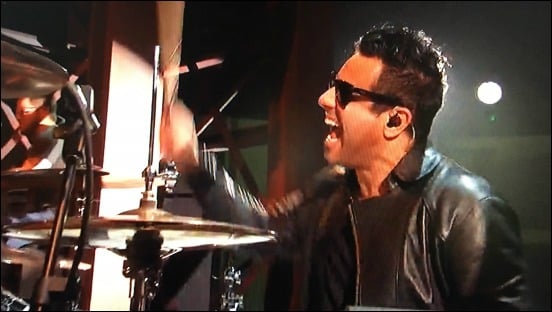 Around the age of 26, Redmond had what he describes as his "John Mayer quarter-life crisis." He knew he needed to move from the greater Dallas area to New York, Los Angeles or Nashville.
Opportunities arose in Nashville to audition for the touring bands of Trisha Yearwood, Deana Carter and Barbara Mandrell. Redmond lost out on all three gigs. The reason? He didn't live in Nashville.
"That's the first thing I tell everybody – you must be present to win," Redmond says. So he moved to Nashville – but success didn't come right away. He didn't know anyone in town, and the people who had encouraged him to move to Music City weren't returning his phone calls.
Rich Redmond performs "The Only Way I Know" with Jason Aldean at UGA's Sanford Stadium, 2013.
Knowing that his journey would be "a marathon, not a sprint," Redmond started building a network. He crashed parties, played at open mike events and auditioned for gigs.
"For the first 10 years in Nashville, I never said 'no' to anything," he says.
BONUS: HiT 'cast Interview with Drummer Nick Ruffini
Listen to "HiT Episode 18 Drummer Nick Ruffini" on Spreaker.
Redmond's networking led him to two influential Nashville drummers, Eddie Bayers and Lonnie Wilson, who listened to his drumming demo tape and helped him to land drumming showcases and small tours.
Now having toured, recorded or performed with artists ranging from Bob Seger to Jewel, Redmond has become a mentor himself.
CRASH Course for Success
Standing for "Commitment," "Relationships," "Attitude," "Skill" and "Hunger," CRASH Course for Success is a 60-minute "power hour" that Redmond gives to corporations, schools and musicians.
"I have always felt that all things in life come down to one's personal relationships and how one navigates and cultivates these relationships," he says. "Attitude is one thing that people will always remember about you, and it is the one thing that will make or break a business venture. Honing skill sets that are crucial to one's business while constantly developing new ones is also a recurring theme. Overtly successful people have a desire for success that burns like a hunger in their belly."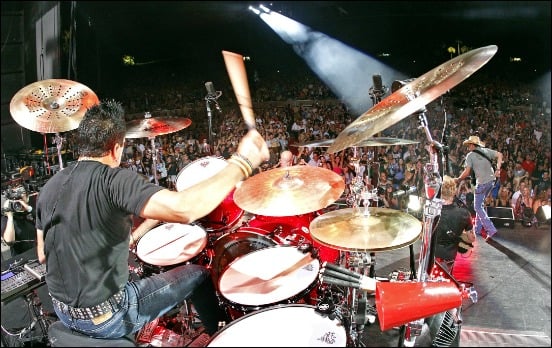 Redmond believes that the lessons he learned in the music business can be followed by anyone chasing success in any field. He encourages CRASH Course for Success attendees to "dice and slice" their dreams into manageable short and long-term goals.
For instance, Redmond learned in the music business the importance of having thick skin. "Fall in love with rejection, because rejection is inevitable," he says.
A Student of Life
Redmond also has expanded his horizons beyond music. He's the coauthor of the book "FUNdamentals of Drumming for Kids." He designed a bass drum beater called The Black Sheep Beater.
FAST FACT: Rich Redmond has performed in all 50 U.S. states as well as 14 countries.
Now Redmond has ventured into acting. He has a role in the upcoming horror film "Reawakened."
"I'm a student of life who tries to keep progressing in all areas," he says. "I'm grateful to be in the creative arts and make a living – I'm having a blast."
For Redmond, hours spent studying drummers from the '80s MTV videos like Kenny Aronoff on John Mellencamp's "Hurts So Good" has paid off.
---
Brant Skogrand writes regularly for the Reflections from the Center and Skogrand PR Solutions blogs. He is the author of three books: "Maynard's Memories," "19 Tips for Successful Public Relations," and "From Fringe Party to Serious Contender."