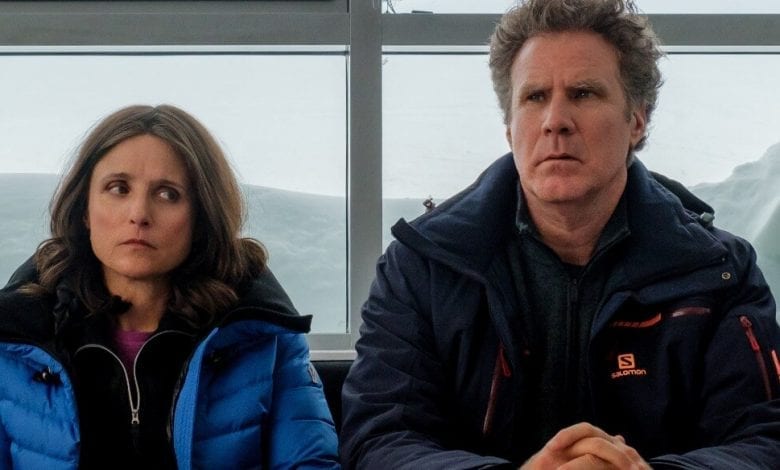 "Downhill" is like Methadone for your "Marriage Story" addiction.
The latter showed a relationship in its death throes. "Downhill," the American remake of 2014's "Force Majeure," X-rays a middle-aged couple teetering toward disaster.
Julia Louis-Dreyfus and Will Ferrell are well cast, but the movie is too short, too eager to smite one half of the couple in question, to fully recommend it.
And in Hollywood's faux obsession with the patriarchy, Ferrell's character wins the Emasculation Olympics, and it's not even close.
DOWNHILL | Official Trailer [HD] | FOX Searchlight
Louis-Dreyfus and Ferrell play Billie and Pete, a couple vacationing in the Alps with their pre-teen boys. All seems well on the surface, but the set of Billie's jaw suggests otherwise. Said jaw clenches harder, and longer, after the family is dusted by a controlled avalanche at their resort. Pete lunges for his phone, not his family.
Billie wonders what kind of a man she's been married to all these years. She has a point.
"Downhill" negotiates her resentment with great care. It's clear the team behind the film understands the nuances of a marriage, for better and worse.
Slowly, painfully, the family's ski vacation becomes a bizarre battle of wills, dragging Pete's best bud (Zach Woods) and his too perfect galpal (Zoe Chao) into the fight.
"Downhill" isn't your standard Ferrell comedy. His partners in crime, Adam McKay and John C. Reilly, are nowhere in sight. The tone is more mature and grounded, a far cry from Ferrell's signature shtick. The shift fits his talents snugly, but the filmmakers sometimes pine for the old Will Ferrell, the guy who tears his shirt off, revealing his dad bod for all to see.
Austria welcomes Will Ferrell and Julia Louis-Dreyfus as principal photography begins on Fox Searchlight's Downhill https://t.co/SRyHfYFpPb pic.twitter.com/TGw0alfa47

— TheLocationGuide (@LocationGuide) January 14, 2019
Consider a sequence where Pete drinks too much in a dance club. You can sense directors Nat Faxon and Jim Rash (the superior "Way, Way Back") itching to let their star loose.
As is, the sequence isn't illuminating or funny. It just sits there, eager for a rewrite.
Other moments offer richer rewards. A critical battle, played out before friends and family, showcases a relationship heading, well, downhill. It doesn't reveal enough, though, something "Downhill's" stingy running time exaggerates.
We need to spend more time with Billie and Pete to see how they fight, and flirt, and collaborate. Is this a doomed marriage, or a case of Pete's ego in self-destruct mode?
More importantly, why does the screenplay shred Pete in no uncertain terms? The aforementioned "Marriage Story" ladled out the blame equally between the main characters. It's one reason the story's through line – staying in love through the worst of circumstances – registered.
Will Ferrell and Julia Louis-Dreyfus head 'Downhill' in new film l GMA
Here, Billie is the saint, the put-upon spouse losing it over Pete's shenanigans. She's a bit distant, but it's obvious who the superior partner is. She even gets a wildly improbable love interest, a false note in a story that can ill afford one.
The male ego is fertile grounds for comedy, of course. And, perhaps, the film's message is some marriages shouldn't be saved. Still, a more compatible union, warts and all, would deliver more tension, more avenues for audiences to explore.
As is, "Downhill" offers a sophisticated look at marriage but can't fully commit to the task at hand.
HiT or Miss: "Downhill" serves up a mature look at monogamy, something too often missing in Hollywood. It's still an exasperating experience.