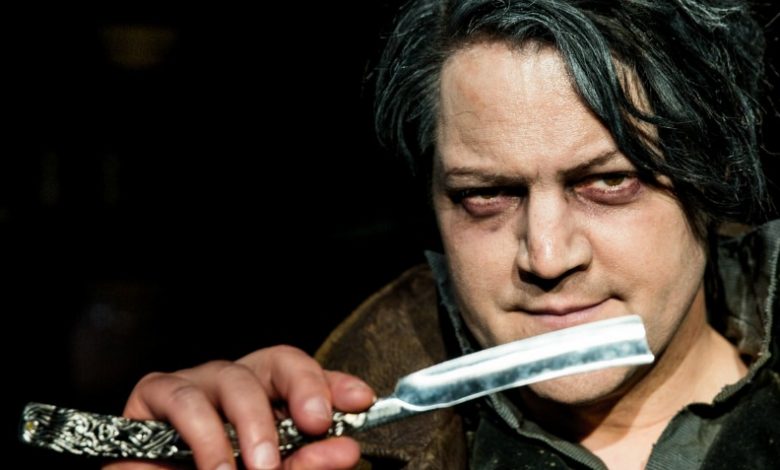 Denver's take on Stephen Sondheim's quasi-opera mines a local resource to glorious effect.
Colorado's own DeVotchKa reinterprets the Tony winning musical, playing through May 15 at Denver's Stage Theatre. The gypsy punk band brings a welcome edge to the production, one of the stage's darkest comedies.
The re-imagined sound is just one of many treats awaiting audiences.
First look at DCPA's 'Sweeney Todd' with DeVotchKa
"Sweeney Todd" presents a tale of vengeance that shows no sign of aging. The title character returns to London after being wrongfully imprisoned by a venal judge. Todd starts his barber business anew and targets the man who tore his life – and family – apart.
But he'll need the help of Mrs. Lovett (scene stealer Linda Mugleston), a baker who craves fresh meat for her pies. And she doesn't care how she gets it.
DID YOU KNOW: DeVotchKa scored the hit indie film "Little Miss Sunshine."
The Denver production boasts some serious New York roots, down to its title performer. Broadway veteran Robert Petkoff is so good as the demon barber you won't want to see anyone else play him for some time. Petkoff's voice hums with beauty and menace, a flexible instrument with more than enough power to carry the show's emotional highs. His interplay with the precocious Mrs. Lovett is priceless.
The production's coal-black humor demands serious chops. The line readings must be precise, the notes song with just the right insouciance. This ensembles delivers time and again, even if the melodramatic story could use a nip and tuck.
FAST FACT The original "Sweeney Todd" Broadway cast included Angela Lansbury, Len Cariou, Victor Garber and Merle Louise. 
"Sweeney Todd" isn't immune to musical tweaks. We've already seen a prog-metal version two years ago courtesy of D.C.'s Landless Theatre Company. A show as sturdy as "Sweeney" can stand up to these revisions, especially when they honor the source material.
The show's songs aren't as melodic as other Broadway staples. Their complexity challenges viewers, though ballads like "Johanna" offer a sumptuous respite.
DeVotchKa doesn't just bring their signature touch to the musical, courtesy of those thumping tuba notes and a steampunk sensibility. The band members sporadically appear on stage, often with instruments in hand. Two even feel the cold touch of the barber's blade.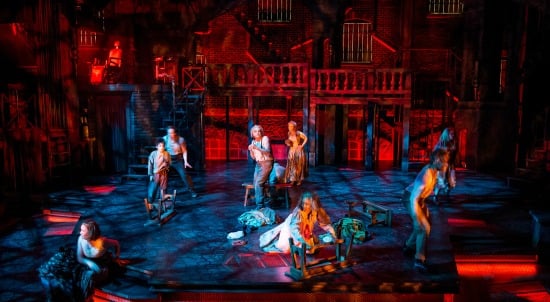 The Denver Center for the Performing Arts excels at maximizing modest stage space. That's particularly true with "Sweeney Todd." The rotating main stage serves a dozen purposes, from the barber's chop shop to the bakery where Mrs. Lovett cranks out her pies.
The set is like an M.C. Escher painting, combining solid staircases and parlors to give the cast everything it could possibly need.
The show doesn't skimp on the bloodshed or the haunting fallout from the barber's blade. The recurring humor keeps the narrative from transforming into a freak show. This is one man's descent into depravity, and we absorb his fall with genuine empathy.
Signing DeVotchKa up to enliven "Sweeney Todd" could have played like a theatrical gimmick. Instead, it feels like it's been a part of the show since 1979.