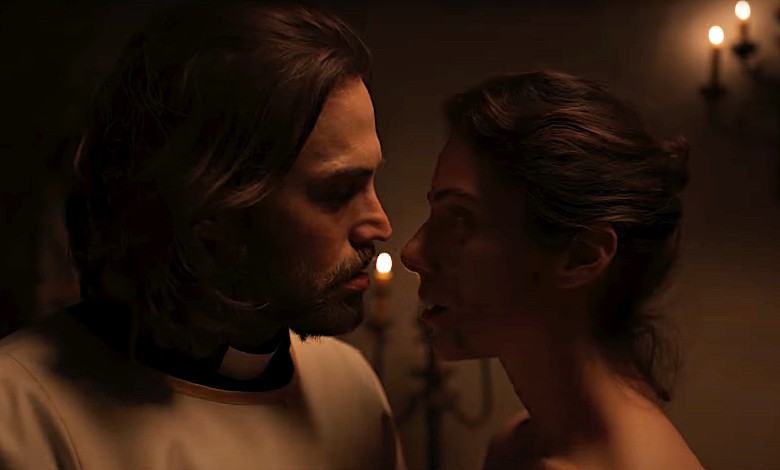 Sister Yulia's belly isn't the first cinematic womb to hold demonic potential.
The key character in "Deliver Us" offers a neat twist on the horror trope. Sister Yulia has not one but two babies on board, and one may be evil incarnate.
Damien, call your agent!
The spiritual shocker serves up a sly twist to the "Omen" template, and it does so with all the bells and whistles of modern horror fare.
Strong performances
Chilling production design
Ominous sounds filling the screen
"Deliver Us" never achieves a full boil, but the elements prove more than enough to recommend it.
Deliver Us - Official Trailer | New Horror Movie | Available Everywhere September 29
Father Fox (Lee Roy Kunz, the co-writer and co-director) is summoned to visit a Russian nun with a curious claim. Sister Yulia (Maria Vera Ratti) says she conceived twins by immaculate conception, but given her struggles with mental illness those claims seem dubious at best.
Plus, she insists the babies are no mere mortals. One is the Antichrist, while the other is the Messiah.
Father Fox is a curious choice for the assignment. He's fallen in love and is essentially on his way out of the priesthood and into the arms of his pregnant girlfriend (Jaune Kimmel).
Sister Yulia demands his presence, tying into the film's collection of spiritual prophecies. Was this birth predicted many years ago? How does one character's art collection tie into the big picture? And why do we shudder whenever a one-eyed priest (an ominous Thomas Kretschmann) enters the frame?
"Deliver Us" starts with enough old-school gore to make Art the Clown blush. The film's overall aesthetic isn't torture-porn adjacent, but when the narrative calls for it, the filmmakers don't skimp on the body horror.
One good. One evil. @MagnoliaPics The mind-bending new horror film #DeliverUs is available everywhere September 29th https://t.co/gQdn0LB1ia pic.twitter.com/itglkt5aMn

— Lee Roy Kunz (@leeroykunz) September 22, 2023
Kunz and co-director Cru Ennis toy with dream sequences that double as cheap scares, but we there's more to these moments than we suspect. The duo otherwise turns ordinary elements into nightmare factories, like the way they shoot long corridors, investing them with a supernatural patina.
The story, which begins with an audacious prologue, slows mid-film but finds its footing when the due date approaches.
The film's most audacious element isn't its shocking slabs of gore, but an abortion angle sure to anger some and lead to feisty, post-film debates.
Kunz's character has plenty on his plate before meeting Sister Yulia and her complicated motherhood plans. He's eager to explore his personal faith beyond the boundaries of the church, one reason he accepts a final assignment from his superiors.
Stalwart character actor Alexander Siddig classes things up as Cardinal Russo, a man torn between prophecy and tending to the single mother's brood.
RELATED: WHY HORROR MOVIES ARE HAVING A MOMENT
Some subplots cry out for more depth. For example, Father Fox's beloved runs a small but profitable factory, a company under fire as Sister Yulia's babies near their birth date. We're also told society is starting to unravel, an element suggesting, at least for once, that a longer running time wouldn't hurt.
"Deliver Us" circles back to some "Omen"-esque themes about good, evil and the measures mankind might take to stop the latter from entering the human realm. The screenplay doesn't belabor the point, nor does the story insult the faithful or diminish its place on this mortal coil.
Nuance abounds, and even characters you suspect offer a one-dimensional morality may surprise you.
HiT or Miss: "Deliver Us" loses narrative momentum mid-film, but a strong cast and powerful themes keep us engaged through the intriguing final act.