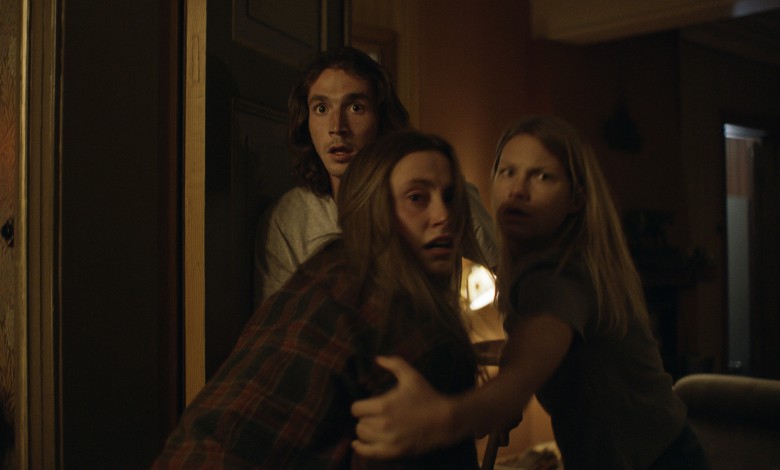 Regrets, the teens at the heart of "Dark Windows" have a few.
A tragedy sends three friends to a neglected estate (don't call it a cabin!) where a masked stranger stalks the property. We've seen this story before, but the filmmakers take pains to sketch out the backstories with more vigor than expected.
The genre goodies finally arrive, but when they do they run headfirst into dopey decisions, head-scratchers that even horror fans may find too hard to swallow.
Dark Windows - Official Trailer (2023) - In Theaters & On Demand August 18
A car crash sets the story in motion, but screenwriter Ulvrik Kraft keeps key details purposely out of reach. Tilly (Anna Bullard) attends the funeral for a friend who died in the accident.
Our heroine has a deeply personal stake in the matter.
Tilly was behind the wheel, and from the jump the film suggests her negligence played a role in the accident.
So Tilly's loyal friends Monica (Annie Hamilton) and Peter (Rory Alexander) convince her to spend a weekend at a sprawling, if underused estate where they can reconnect and start living their lives again.
Tilly can't put their friend's death out of her head, and that's before she senses they aren't alone at the vacation spot.
The friends are happy to drink their troubles away, except Peter may be hurtling toward full-blown alcoholism. The female characters are less defined, but both offer enough relatable tics to move the story forward.
Slowly.
This triller is in no hurry, and we're immersed in the inter-group dynamics before the horror aspects arrive.
"Dark Windows" boasts a small budget and an unfamiliar cast, but its greatest strength lies in its rough edges. The characters don't always act like most horror film teens do. The screenplay isn't inspired, but it doesn't fall back on cookie-cutter exchanges.
The interplay is clumsy at times, just like in the real world, and the performers offer credible turns to sell that authenticity. The horror tropes line up for our inspection, eventually, though some nagging plot holes will drive some to distraction.
[Warning: Adult language in clip]
Dark Windows (2023) Official Clip - "This Isn't Just A Prank"
The third act finally picks up the pace, and the thrills are executed with extreme efficiency. So is the camera work, which takes far more care than a genre exercise ordinarily might. Even the earlier, quiet scenes boast a tranquility that lulls us into a false sense of security.
That's smart.
There's still a mystery afoot, but you don't have to be Columbo to suss out the suspects. The waning minutes could still deliver the genre thrills without a first-class detective story, but "Dark Windows" settles for a morality lesson with too little bite.
HiT or Miss: "Dark Windows" fuses teen angst with horror, and the results are watchable but less than thrilling.