Interviews
'Dark Arts' Play Peeks Behind Spin Machine Curtain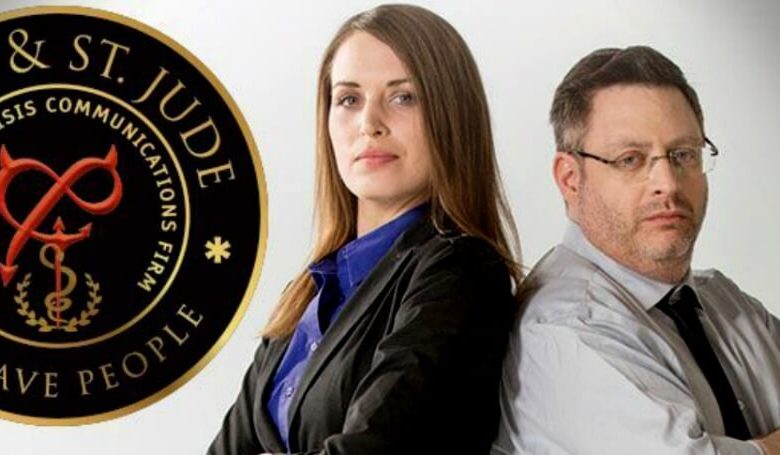 Got a problem you just can't untangle? Lawrence Meyers has just the play for you.
Meyers, who created the award-winning "Porn Rock" featured at last year's Hollywood Fringe Festival, returns to the event with "Dark Arts."
The immersive theatrical show revolves around corporate "fixers" paid big bucks to make problems vanish. Only the assembled actors will interact with audiences at the "offices" of Andrew St. Jude (Meyers) and Lyndsey Klein (Stephanie Hyden, "The Tension Experience").
Confused? Then you haven't seen immersive theater before. The emerging art form allows audiences to directly engage with the performers.
Ask questions
Share personal information.
Become part of the performance.
It takes the theatrical experience to a whole new level. Heck, you might leave the venue with a solution to a nagging problem.
Write What You Know
Meyers drew on his personal experiences in crisis PR to tell the story. Only he made sure to emphasize the satire over dark drama.
"These PR people, or handlers if you will, are responsible for a lot of the media narrative that you see," says Meyers, a former episodic television writer-producer. Turns out "fake news" has been around far longer than a single election cycle.
The show's debut is fortuitous given how consumers are seeing some crisis PR in real time. Just think about how United bungled its bumped passenger imbroglio.
"What we're seeing is unintentional glimpses behind the sausage factory," Meyers says. "People are starting to realize there's so much more to the story than we're getting."
The Most Unconventional Audition?
Meyers "met" Hyden when he attended "The Tension Experience," an immersive theatrical show in California.
"It's the reason I cast her in this show. We had several interactions. I realized after the fact she had an extraordinary gift for connecting," he says. "I can't do ['Dark Arts'] unless I have someone really tuned in."
RELATED: 'Circus 1903' Dazzles with Populist Whimsy
One might think immersive theatrical acting is more challenging for the performers. That's not how Hyden sees it.
"For me, it's easier. My background is listening, reaction-based on what the other person is giving me," Hyden says. "It's just listening and reacting honestly. If you're able to react honestly it's the easiest job in the world."
'Tension' Casting Coup
Meyers saw "The Tension Experience" four times. He ended up hiring five of the show's stars for his "Dark Arts" production – Hyden, Damien Gerard, Terence Leclere, Toni Perrotta and Erika Quintana,
He also emerged from that experience creatively reborn. "To heck with television. To heck with film … immersive is the place for me."
Hyden is on a similar page.
"It's really humbling being an actor in an immersive theater show," she says. "You really see the humanity [of the audience]."
"Dark Arts" is also the first production to book-end a traditional proscenium show with short immersive pieces in the days before and after the proscenium run.
---
"Dark Arts" debuts at the Hollywood Fringe Festival at the following times/dates at The Ruby Theater, 6476 Santa Monica Blvd, Hollywood, Calif. — 8:30 p.m. June 3, 5:30 p.m. June 10, 10 p.m. June 17, 8:30 p.m. June 21 and 10 p.m. June 23. Tickets for all three shows are available at DarkArtsPlay.com.