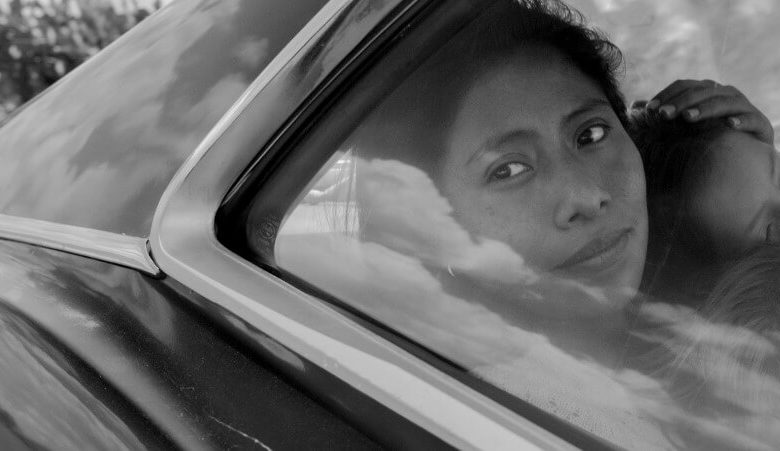 Few films hit Oscar season with the buzz and high expectations "Roma" enjoys.
Director Alfonso Cuaron's deeply personal film follows Cleo (Yalitza Aparicio), a young domestic worker for a wealthy, loving family. The black and white feature already snared 3 Golden Globe nominations and 8 Critics' Choice noms. (Note: This critic is a voting member of the latter group)
ROMA | Official Trailer | Netflix
Oscar glory seems the next logical step, but is it worthy some, if not all, of the hype? To find out I contacted fellow critic Dave Taylor. He reviews film for both ScienceFiction.com and GoFatherhood.com.
Christian Toto: This critic was shocked after seeing "Roma" given all the pre-release hoopla. I saw a slog of a first half, followed by a moderately diverting second hour. There's nothing necessarily wrong with the film. It's well acted, the production design is excellent and the cinematography often lush and inviting.
The story? Moderately engaging at best. There's precious little dramatic tension for much of the movie. Cuaron doesn't make "Roma" political in nature. Observers can snuff out some class tension here, although Cleo is treated wonderfully by her employers and their children. She's part of the family. The interesting through line? Men from the era (the early 1970s, Mexico City) treated their romantic partners poorly. That's an interesting observation. Is that all there is?
I've seen dozens of films this year far more engaging. So why all the praise?
Dave Taylor: Oh, Christian, you apparently don't know a good movie when it appears on the screen in front of you! Actually, there's a specific genre that "Roma" represents, and it's a long way from modern Hollywood. Cinema Verité endeavors to show a "slice of life" and "Roma" is an extraordinary accomplishment in that sense. It's beautifully shot – the black & white was an inspiration – perfectly acted and leisurely paced, as is life itself.
You do have to realize that the film is about Cleo, the maid and housecleaner for the Sofia family, not about the family or era. Cuarón, in what is apparently a highly autobiographical film, is represented by one of the two constantly fighting boys in the household, a household shakily managed by Señora Sofia (a touching, if frazzled Marina De Tavira).
FAST FACT: 'Roma' star Yalitza Aparicio had never acted in a film prior to her leading role in Alfonso Cuaron's Netflix feature.
There are no great narrative breakthroughs, no epiphanies, no mysterious stranger who changes everything. It's just… life. With all its joys and sadness, frustrations and moments of happiness.
I concur that the first half did seem to drag a bit, but part of that was that I believe Cuarón left us a bit adrift, trying to figure out the narrative focus. It's well worth sticking it out, though, because the second half is breathtaking with its portrayal of the 70's Mexico City student uprising and Cleo's personal health journey.
There's also a consistent undercurrent of class separation, where in one moment Sra. Sofia will be holding Cleo's hand and telling her that she's a part of the family, and then next yelling at her to clean up the endless dog poop in the parking area. Or when they're shopping for furniture even as a violent protest occurs just outside the window. If you ignore it, will it go away?
Christian Toto: Great films don't have first halves that drag. Let's start there. I easily embraced the film's slice of life perspective, but at some point you need something compelling to emerge. Starting a film in that fashion is a wonderful device, a way to set the stage for what's to come. Having to wait an hour for that stage? Unforgivable.
'Roma' Producer Gabriela Rodriguez on Netflix Distribution & Alfonso Cuaron | Close Up
Cleo is treated magnificently by the family in question. The one time Sofia snaps at her could represent how any family member snaps at someone. The uprisings and protest do offer excellent texture to the film, but once again the main story is less than compelling.
The class distinctions are blurred, and happily so. To see yet another film deplore the haves and have nots be celebrated by Hollywood, the ultimate community of "haves," would sicken me. So kudos for Cuaron for not hammering us with that cultural observation. Only what remains is not the stuff of great drama. Competent storytelling? Perhaps.
RELATED: Critic v Critic: 'The Hateful Eight'
Here's the most damning thing for me about 'Roma." With good, let alone great, movies I think about them long after the end credits. I saw "Green Book" recently and it stuck with me for days. I still mull that film's marvelous characters and insights today, weeks after I saw it. With "Roma," the only time I've thought about it is by engaging in this debate.
Dave Taylor: I'm surprised that you think the family treats Cleo "magnificently". To me, there were precious few moments in the film where it wasn't quite clear that she was the help, albeit a well loved staff member. Her closeness to the children also spoke less about her being a warm, loving human being then about the failings of the mother (a facet of the story I would have liked to see explored more).
ROMA | #MyROMA: A message from Alfonso Cuarón | Netflix
ROMA is very much focused on the life of Cleo, the live-in maid both as an individual and as a representative of the indigenous members of the class-conscious Mexican society of the 1970s. We learn through almost incidental comments how she is from an impoverished village and how her mother becomes displaced by the government without recourse, then wince at Cleo's naive approach to romance, a moral mirror of the sad journey of Señora Sofia. Blurred class distinctions?
Did we see the same movie?
Finally, I admit that there are elements of "Roma" I would have treated differently, including the pacing of the narrative. Heck, even a masterpiece like "2001: A Space Odyssey" could do with some judicious editing to clean the pacing up, too.
But I think that Cuarón's absolute mastery of the language of cinema, the visual, aural and narrative elements, have helped him produce an oft-startling and unquestionably visually stunning ode to an era and a culture, a film that actually asks the viewer to step into the story and pay attention rather than just feed us action and snappy dialog every 72.3 seconds.
Is it a film for the ages? Perhaps. But it's definitely worth watching, and even more so on a big screen while it's in the theaters.