Reviews
CreepLA's 'The Willows' Will Burrow Deep Under Your Skin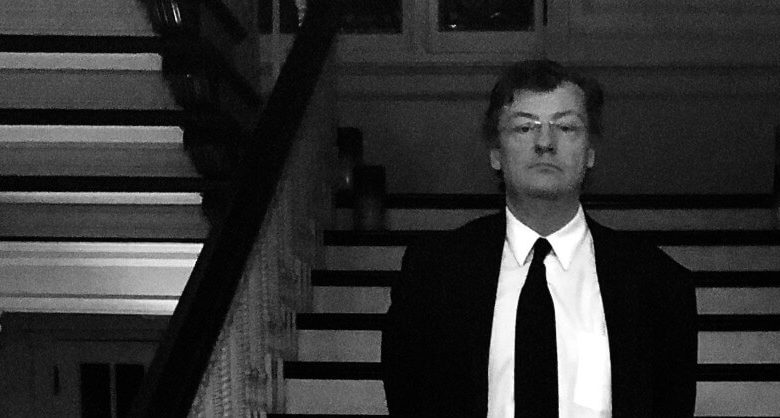 One of the advantages to immersive theater is its ability to transform an everyday location or event into something extraordinary — or extraordinarily weird, as is the case with CreepLA's "The Willows."
As described in the show's advertisement, "The Willows have invited you to a mysterious celebration. You are one of the few to be welcomed by this eccentric family to their home, only to find yourself deep within a modern – day psychological mystery. As night closes in upon the house, you will discover true identities, motives and loyalties. Have you earned your place at the table?"
My Haunt Life Podcast - Episode 50 - Justin Fix & Daniel Montgomery (Creep LA and The Willows)
The evening begins normally enough. Eighteeen guests are welcomed into this beautiful 10,000 sq. ft. mansion, located just south of Koreatown in Los Angeles. It is a piece of exquisite architecture, tastefully furnished, and lit with care. Lindsay the Butler (Damien Gerard, alternating with Guy Picot) welcomes guests, and escorts them to the salon for a drink from the open bar.
Guests are given glimpses of a few family members. There is Claudia (Aly Trasher, Misha Reeves) who appears to have been drunk since early morning and is fond of ridiculous puns tinged with innuendo. She finds every word spoken to be hilarious.
There is Angela (Dasha Kittredge, Sophie Cooper, Noelle Urbano), who despite her appearance of being a grown woman, behaves like a child. Cousin Conrad (Mason Conrad, Jacob Miller) is apparently some kind of idiot savant, who is eerily charming in his own way.
After a brief cocktail hour, everyone is almost-too-carefully positioned in the foyer as Mrs. Rosemarie Willows (an imperious Melinda deKay) descends the grand staircase. After a brief welcome, guests are escorted into the dining room for a light dinner.
Beware … Dinner is Served
Everyone is seated so they are in close proximity to at least one family member, giving guests an opportunity to chat with different members and get a feel for the clan.
This is where things begin to get a little strange, and they only get stranger as the evening unfolds.
During dinner, certain guests may be spirited away by various family members into little side scenes, providing guests with increasing insight into the unsettling family dynamic.
Each character begins to exhibit increasingly alarming behavior. It becomes apparent that the dinner party is steeped as heavily in Modern Gothic as Claudia is in her booze.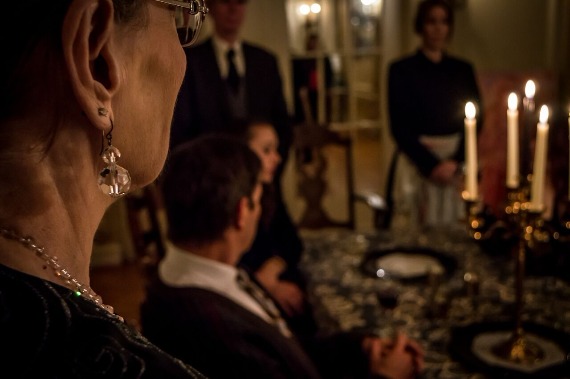 It soon becomes clear that the entire family is terrified of the domineering Mrs. Willows, who would run roughshod over Gloria Swanson. There is a great deal of repression going on here — much of it surrounding the apparent suicide of Rosemarie's son, Jonathan Willows.
Over the course of the evening, depending upon which track each guest is on, various details of the suicide, and other…quirks…of the family are made known.
As the evening catapults towards its conclusion, the mood becomes increasingly creepy, as characters behave in thoroughly unexpected and unsettling ways.
Meet 'The Willows' Unexpected Character
"The Willows" offers an opportunity to experience an immersive piece in which the location not only serves the story, but is itself a character. Writer Daniel Montgomery and director Justin Fix make terrific use of the space. It is difficult to imagine the piece being done in something other than a house like this, in the sense that every room in this house holds a secret.
A show must have more than a house, of course. In this case, the brooding domicile is inhabited by bizarre characters played to perfection by exceptional actors, each of whom delivers performances that are more challenging than meets the eye.
It may seem like a performer's dream to play someone crazy or unstable, but the instinct to go big can shatter the reality of the piece. Instead, each of these fine actors – many of them immersive veterans — crafts a carefully nuanced performance that remains true to their character's particular psychology.
Both creators and participants should take note of both the writing and directing. Gothic pieces can be deceptive when it comes to execution. The creep factor can lead the best artists astray, tempting them to focus too much on the spooky. The other tricky element of the genre is not to reveal too much or too little, but just enough to give audiences just enough of a taste of the multitude of secrets.
In that regard, there's much to study in Montgomery's writing, Fix's direction, and what each actor brings to their character, offering just enough to tantalize our curiosity without heaping exposition on us.
The Creep Factor
The thrill of immersive theater, for me, is wondering what my authentic emotional responses will be at any given moment. The two strongest responses I had were of dread and, oddly, empathy.
The moment I entered this magnificent house, I immediately felt that my every behavior was being scrutinized, and that I'd better be on my best behavior. At dinner, Conrad reminded me to put my napkin in my lap, and I gasped, for Mrs. Willows was but a few seats away. I cast a quick eye over to her, grateful she hadn't witnessed the faux pas. Even though she'd barely said more than a few words, her presence alone unnerved me.
Even the initial inklings of strange behavior were enough to raise the hair on the back of my neck. Something was definitely very wrong in this house, but it had not completely manifested yet. Even a simple parlor version of "Simon Says," run by Mrs. Willows herself, forced me into heightened attention.
I was genuinely worried about messing up.
Creep LA Creator Justin Fix Interview 2016
This speaks to the ability of a production to establish a mood in the subtlest of ways. This darn place got under my skin, to the extent that the provocateur within me dared not appear.
Yet this was also as much a result of my own projections as the production itself. The intimacy of immersive theatre relies a great deal on what the audience projects onto the characters and situation.
This was particularly notable as I learned more of Conrad's story. I was seated next to him at dinner on my first visit, and visited with him in his room on my second. I felt a kinship with this strange young fellow – who reminded me of my awkward teenage years, grateful I'd grown into my vintage self, while sadly realizing he would always be this way. His particular secret was both terrifying and genuinely heartbreaking.
Poor Claudia was drowning her own pain in drink. I only saw her twice, but what I saw spoke of a woman desperately hurting. Then there was Angela, who seemed to have retreated from the familial insanity into a strange fantasy world – to the point where at times she left our world entirely.
Getting to Know You
The family may be nuts, but that didn't stop me from caring about their plight…although I confess that I didn't want to get close enough to any of them to offer a supportive hug.
Gothic stories are ultimately rooted in fractured psychology and emotional tumult. "The Willows" delivers the underlying aesthetic necessary to highlight internal turmoil without explaining it.
Finally, should you be wise enough to attend dinner, be warned that Mrs. Willows has gathered these 18 guests for a very specific reason. It wouldn't be a Gothic tale otherwise.
---
"The Willows" currently runs through April 22, and may extend. Tickets are available at http://www.thewillowsla.com.
Mind your manners!