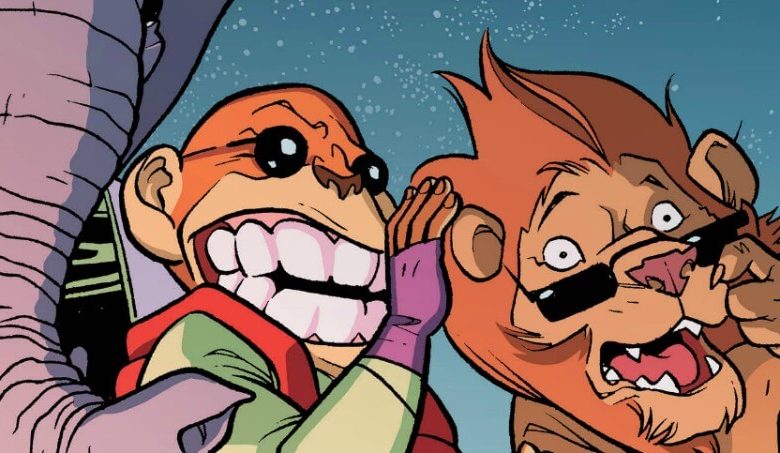 Batman vs. Superman. Captain America vs. Iron Man. Suicide Squad vs … The Banana Splits???
That's right, true believers. Harley Quinn and co. recently teamed up with Fleegle, Bingo, Drooper and Snorky from the old Saturday morning TV show. Not the crossover you were expecting? Well get used to it.
More are on the way.
Cross-promotions have always been part of these heroes' journeys. (Think Spider-Man promoting Hostess baked goods or Captain America vs Iron Man Skittles.) It's a natural promotional tactic designed to boost both brands.
Batman (1/5) Movie CLIP - You Can Call Me Joker (1989) HD
The best example is probably 1989's "Batman" by director Tim Burton. While the Michael Keaton movie became a blockbuster, it marked the beginning of cross-promotional frenzy for DC and its parent, Warner Bros. DC owned Batman, its corporate parent was a film studio and a sister company was a record label. The latter meant it could promote Prince's Bat songs as well.
It changed the way movies were marketed. And that was before superhero fever gripped pop culture.
RELATED: Could Marvel, DC Comics Changes Go Too Far?
But this most recent marketing gimmick may be more lasting. Buoyed by the critical and commercial success of its comics after last year's Rebirth breathed new life into the aging heroes, DC last week also gave us Booster Gold and the Flintstones, Green Lantern and Space Ghost as well as Adam Strange and Future Quest.
These crossovers are even leaving a mark on the small screen. Just consider the recent "Flash/Supergirl" crossover musical.
FLASH & SUPERGIRL: Musical Crossover + POWERLESS w/ Danny Pudi & Ron Funches
The publisher plans to follow up with those one-shot issues in June with some more familiar crossovers like; Martian Manhunter and Marvin the Martian, Wonder Woman and Taz, and Jonah Hex vs. Yosemite Sam.
And don't think these are being pawned off to the publisher's B team. Regular Dark Knight writer Tom King will write the Batman and Elmer Fudd issue, which will be drawn by well-known artist Lee Weeks.
Even DC co-publisher Jim Lee has gotten into the act. He drew the cover for the modern retelling of Scooby-Doo, which has received critical acclaim. (That title, "Scooby Apocalypse," doesn't feature characters from its other universes. At least not yet.)
But DC has made considerable waves in mixing two universes that were once thought completely separate – its regular world and that of the Watchmen. Rebirth changed that, with Batman searching the Batcave and finding a pin belonging to the Watchmen character Comedian, an anti-hero killed at the beginning of that seminal 1986 series.
While follow-up details have been light in the past year, the Batman/Flash crossover event, The Button, should answer some fans' questions about the seemed universal merger.
Will it be enough to satisfy readers' curiosity? Don't bet on it. But there's always more crossovers for that.