Industry News
Opinion
Colbert, Kimmel Make Hamas Terrorism All About … Trump
Late-night propagandists ignore Biden's silence on Americans held hostage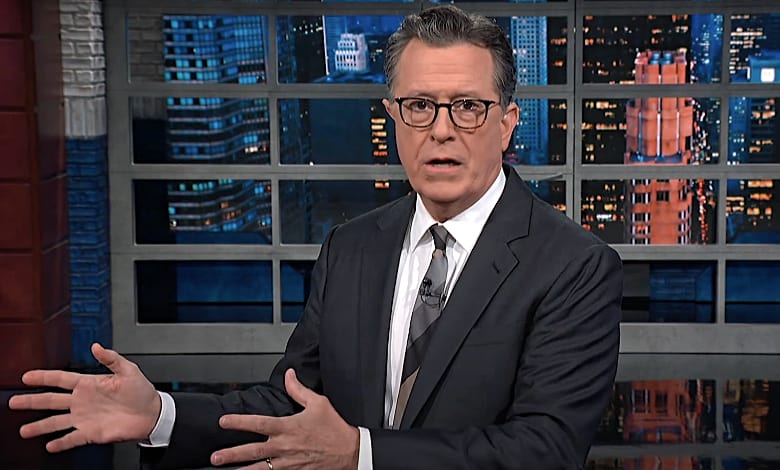 Late-night clowns refuse to lay a glove on President Joe Biden.
Not even a finger.
That was true before the strike, and it's even more striking now given Biden's horrible poll numbers and overall lethargy.
Hamas' terrorist attacks over the weekend would surely change that, right?
Colbert and co. can't joke about the torture, the rape, the mass killings at a musical festival aimed at peace, of course. What about President Biden's complete absence of leadership in the days following the most horrific terrorist attacks of the past 20 years?
What about Biden opting to host a BBQ rather than make a public statement on behalf of America's crucial ally, Israel?
'This is f***ing infuriating': Biden roasted for hosting BBQ, enjoying concert as Americans were killed by Hamas https://t.co/yGzu40nKVs

— TheBlaze (@theblaze) October 9, 2023
What about Team Biden calling a lid at NOON on Monday, once again taking no questions regarding the attacks.
Hamas announced they're going to execute hostages on live TV. There are multiple American hostages. Biden is nowhere to be found because the White House called a lid today before noon. Abhorrent pic.twitter.com/BNQamVwAjK

— Libs of TikTok (@libsoftiktok) October 9, 2023
What about Secretary of State Antony Blinken sharing, and then deleting, a Tweet calling for a ceasefire in the hours after the monstrous attacks, as if Israel should simply take it?
What about Team Biden freeing $6 billion to Iran weeks before the savage attacks?
Oh, and Americans are among the dead and some may be being held as hostages, while Hamas promises to execute them on live television.
They couldn't ignore all of that and attack Donald Trump, again, could they?
Yup.
Trump Blabbed Nuclear Secrets at Mar-a-Lago | Election Lies Bring Down Mike Lindell
Stephen Colbert of "The Late Show" fame mentioned it's impossible to joke about the terrorist attacks, although he didn't use the word "terrorism." He then permitted himself to poke fun at politicians for how they reacted to the devastating attacks.
Which, of course, let to Trump.
Colbert cherry picked a tiny portion of a Trump speech made hours after the attacks in which he mentioned the fictional character Hannibal Lecter, alleging the actor who portrays the movie fiend is a fan.
That's debatable.
That led to a lengthy bit where Colbert's Trump trumpets how other movie villains love him, too.
Colbert also mentioned allegations that Trump shared nuclear secrets, a story already being debunked by CBS News.
Trump isn't the president. Biden is. Our 80-year-old Commander in Chief is doing nothing while Americans are being killed and held hostage in a foreign land by terrorists.
Colbert also made no mention of Palestinian sympathizers protesting en masse in New York City, where "The Late Show" is recorded, praising the terrorist attacks.
Jimmy Kimmel wasn't any better.
Trump Makes Horrifying Israel Attacks All About Himself
The "Jimmy Kimmel Live" host also broached the subject by calling Hamas a "terrorist organization." He quickly segued to you know who.
"He immediately made it about himself," Kimmel cracked, en route to a series of gags mocking both Trump and his supporters.
It's like President Biden doesn't exist in their world.
"The Tonight Show with Jimmy Fallon" ignored the Hamas terrorists in his opening monologue, focusing on Taylor Swift and product recall news.
Truth to power. It doesn't exist on late-night TV. Propaganda? Five days a week.
For some moral clarity, consider how "The Ruthless Variety Progrum" handled the news.
Israel Attacked And Biden Is Nowhere To Be Found