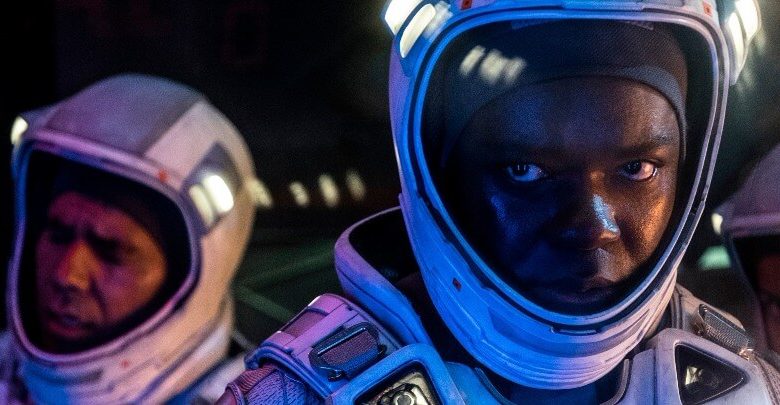 Marketing and the "Cloverfield" franchise go hand in hand.
The first film arrived with an aura most studio films would kill to generate, all expertly goosed by producer J.J. Abrams. The trailer for the second film, "10 Cloverfield Lane," dropped literally out of the blue. Few knew the film even knew it existed until that teaser appeared.
Cool.
So far, the sci-fi series has had the artistic chops to live up to the hype. That streak stops cold with "The Cloverfield Paradox," the film shared unexpectedly on Netflix following Super Bowl XXII's final play.
Clunky from the opening sequence, "The Cloverfield Paradox" is a mashup of genre tropes straining for purpose. Strip away the "Cloverfield" brand, and you've got, well, not very much at all.
THE CLOVERFIELD PARADOX | WATCH NOW | NETFLIX
Reluctant astronaut Hamilton (Gugu Mbatha-Raw) heads into space on a last-ditch effort to solve the world's energy crisis. See what happens when you ban fracking?
She's joined by a team of quality character actors, er, experts who understand the stakes at play.
Back on earth wars are breaking out over depleted energy reserves. If the crew fails they may return home to find a planet rocked by death and destruction. Their mission succeeds initially, but at what cost?
Enter Donal Logue. He gets a silly cameo as a TV talking head who doubles as Exposition Man. He spells out the film's big gimmick, one of a dozen ways "Paradox" talks down to its audience.
The opening alone is a smack your head jamboree. News clips tell us about the raging energy crisis, a reliably hokey way to impart information. Then, Mbatha-Raw reiterates the situation as if she was in the bathroom for the film's first five minutes.
Huh?
The first "Cloverfield" featured unknown players, a must for the found footage format. Here, we're treated to name stars, including David Oyelowo, Daniel Bruhl, Chris O'Dowd and Zhang Ziyi.
FAST FACT: The 2008 film "Cloverfield" hauled in $80 million at the U.S. box office.
The film alternates between the space station's crew and Hamilton's husband Michael (Roger Davies). He's still on earth, dodging catastrophes as his neighborhood erupts in violence.
Those segments have little, if any, heft. Emotionally, they're by-the-numbers bland. Big picture wise, the film's modest budget can't allow for anything that captures the scope of the battles.
Once we're treated to the film's big reveal it's all downhill, wishing we had re-watched "Alien" instead. The stakes shrink, in part thanks a generic script that leans too heavily on past sci-fi classics. One sequence feels like it was traced from the outline of John Hurt's epic "Alien" exit.
O'Dowd snares a few laugh lines. It's his Monkey Trick, and we're glad it's deployed here. Otherwise, we'd have to wait for the action-deprived finale and more questions than answers.
Mbatha-Raw can handle the film's dramatic close-ups. She cries on demand so often you'll look for a Gatorade handler in the credits. To say she's no Ellen Ripley is being kind.
"Cloverfield Paradox" is no "Cloverfield." It's just a brand extension we could easily live without.
HiT or Miss: The "Cloverfield" franchise hits rock bottom with "Cloverfield Paradox," a limp collection of science fiction themes we've seen handled better countless times before.