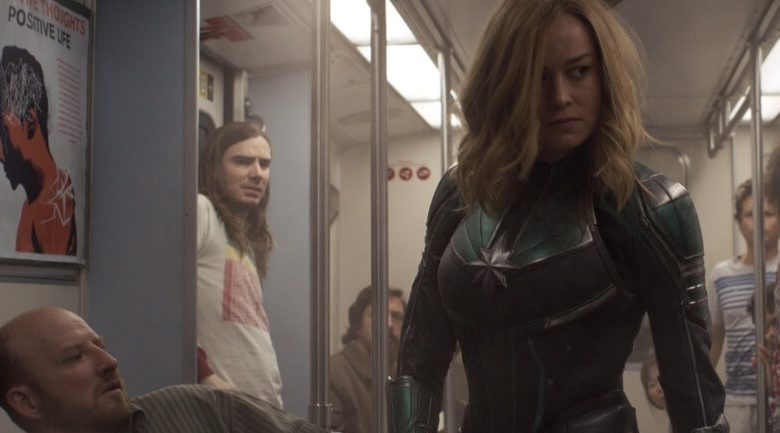 Brie Larson's promotional push for "Captain Marvel" couldn't be more woke.
The Oscar winner railed against too many white male reporters, trumpeted the film's feminist agenda and dictated which under-represented writers could pen her glossy magazine profiles.
Super chutzpah!
Captain Marvel star Brie Larson: I don't need a white dude to tell me what didn't work. It wasn't made for him! I want to know what it meant for women of colorpic.twitter.com/gBJuAvTRhF

— Israel & USA forever (@IsraelUSAforevr) March 5, 2019
Surely Team Disney, the studio behind the massively successful MCU, wouldn't inject her intersectional shtick into a four-quadrant crowd pleaser?
Actually, the Mouse House did. Only it's not the only maddening aspect of this super-letdown.
"Captain Marvel" suffers from anemic characters, lame comic relief and, worst of all, a talented actress who's all wrong to play a superheroine.
Marvel Studios' Captain Marvel - Trailer 2
We're introduced to Vers (Larson), a super-powered warrior honing her skills with her fellow Krees. They're a humanoid race dedicated to battling back the wicked Skrulls. Only Vers isn't a seasoned fighter … yet.
Why?
She lets her emotions get in the way, warns her mentor Yon-Rogg (Jude Law). Or "mansplains," to use the film's native tongue.
Before she can finish her training, a series of awkwardly assembled scenes send her to earth circa 1995. She crash lands in a Blockbuster store – hey, it is the '90s! – and attracts the attention of young S.H.I.E.L.D. agent Nick Fury (Samuel L. Jackson).
Together, the future Captain Marvel and Fury must track down some rogue Skrulls led by Talos (the great Ben Mendelsohn buried in green latex).
RELATED: How Brie Larson Can Truly Bring Diversity to Journalism
The film mostly avoids the "fish out of water" routine that "Wonder Woman" nailed when Vers leaves the rubble that was a Blockbuster outlet. It also attempts a buddy comedy connection between Vers and Fury, which feels like a pale imitation of what actual screen chemistry looks like.
The screenplay, credited to Anna Boden, Ryan Fleck (the film's directors) and Geneva Robertson-Dworet, doesn't help. It's B-level funny at best, and the best bits involve a kitty who may not be as gentle as it seems.
Yeah, that's a spoiler, but it's so obvious it hardly counts.
RELATED: What You Don't Know About Marvel Comics' Captain Marvel
And oh, does "Captain Marvel" wear its feminism on its glittery sleeve. The bulk of the '90s songs featured here hail from female artists. We see flashbacks of Vers' childhood, and at every turn a man is there to tell her she can't do this or that.
Captain Victimhood? It gets worse.
Law's nebulous character is always around the corner, telling Vers she's too hysterical to make an impact. How did Alexandria Ocasio-Cortez not score a cameo?
Maria (Lashana Lynch) arrives mid-film as Vers' old pilot buddy to flesh out our hero's back story and, of course, add even more Female EmpowermentTM. Naturally, Maria is a single mom with a young daughter who exists to serve up even more Female EmpowermentTM lectures.
Lynch even snaps at someone who tries to address her in a cordial manner.
"Call me young lady again!" she snarls, as if the character had insulted her maternal grandparents.
FAST FACT: RottenTomatoes.com ended its policy of letting users share their level of anticipation for a given film after users trashed "Captain Marvel" prior to its release.
A train sequence mid-film delivers a truly memorable experience. It's shot in daylight, so we can see all the glorious stunt work and our hero's grit. The other action sequences occur in dim lighting, a problem that previously impacted the inferior DC romp "Suicide Squad."
For most of "Captain Marvel" it's the female characters who save the day (fine!), while the male figures are either dressed down or neutered. It's odd to see Jackson's Fury have so little to do when the third act arrives.
What a waste of natural screen resources.
All Things 'Captain Marvel' with Brie Larson: Fight Sequences, Superpowers, Goose The Cat | THR
The villains in "Captain Marvel" offer more shades than your standard MCU film. That's a minor blessing and a serious curse. Just expect some narrative twists as the story heads toward its gloomy finale.
And then there's Larson, a fine actress woefully miscast as an MCU hero. Her predecessors, from Chris Evans to Scarlett Johansson, have made it look easy. Even the actors cast in Netflix's Marvel shows, including Krysten Ritter (Jessica Jones) and Mike Colter (Luke Cage), nailed the swagger of the material.
Not Larson. She looks like she's faking it, trying too hard to be funny, heroic and brave. She's more than fine in her action sequences. She's tough and ready to rumble, a key marker for any star playing a super figure.
It's the rest of the time that's "problematic."
She lacks a larger than life aura that the best actors bring to their colorfully clad roles. It's most obvious when she's sharing the screen with Jackson, Law and even Annette Bening, bringing life to a small but essential role.
Movies like "Wonder Woman," "The Terminator" and "Aliens" showcased powerful women. They packed a feminist punch without ever suggesting a lecture. They entertained first and foremost. The culture absorbed their subtle messages on their own.
"Captain Marvel," down to the eye-rolling musical choice of No Doubt's "Just a Girl," cares far more about lecturing audiences than entertaining them.
And boy, does it show.
HiT or Miss: "Captain Marvel" is a serious misstep for the MCU, a film series that set the bar so high a mediocre entry just can't cut it.