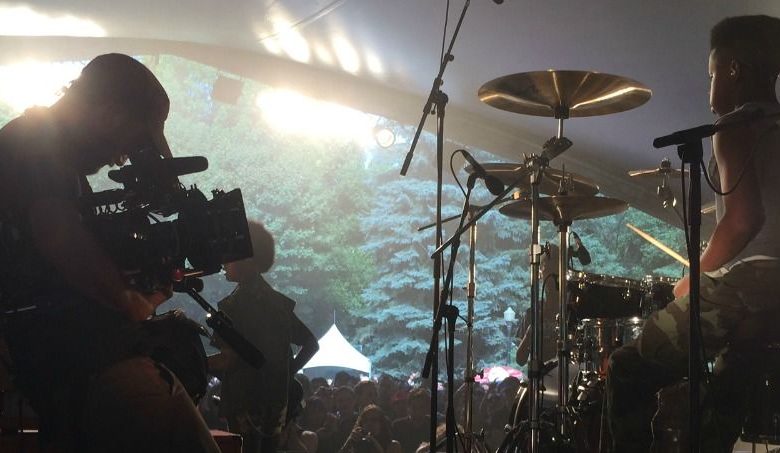 A YouTube video of the band playing in the streets of New York was picked up by most major music publications. A band playing in the street may not seem remarkable. The fact that the band was a trio of middle-school aged black kids caught the press' attention.
Unlocking The Truth last performance in Times Square. 6/23/13
Not a day goes by that a blog doesn't post a video of a Japanese kid nailing all the notes to a Randy Rhoads' solo or a Herman Li facemelter.
The Truth buzz was bigger.
Unlocking the Truth seemed like a fully-formed band playing metalcore breakdowns in the skilled, controlled manner that metal demands.
I initially dismissed it as a passing novelty. There was no way children playing metal could produce interesting music in the genre, outside of being a bizarre crossover gimmick like Japan's increasingly popular Babymetal.
Yet Unlocking the Truth kept popping up in the news.
They signed a $1.8 million dollar deal with Sony!
They became the youngest band to play Coachella!
They did appearances on TV!
Like Justin Bieber, Unlocking the Truth used their viral video juice to move on to bigger and better things.
Breaking a Monster Official Trailer 1 (2016) - Music Documentary HD
The band's experiences during this time are chronicled in Luke Meyer's new documentary, "Breaking a Monster." The film provides a personal look into the trials faced by children when they're suddenly thrust into the spotlight with big-dollar deals behind them.
The band is made up of Malcolm Brickhouse on vocals and guitar, Jarad Dawkins on drums and Alec Atkins on bass. Most metal bands offer up groups like Black Sabbath, Iron Maiden and Slayer as influences. Given the age of these kids, they got into playing metal riffs through pro-wrestling and anime while their peers grooved on hip-hop and pop.
At one point, you can hear the kids singing "Sweet Dreams (Are Made of This)" by the Eurythmics, however given the slow pace and vocal fry the kids sing it with, it's clear the only version they know is the Marilyn Manson cover.
Marilyn Manson - Sweet Dreams (Are Made Of This) (Alt. Version)
What's disturbing about "Breaking a Monster" is the way it depicts these talented kids who are suddenly thrust into a very adult business world. The band is taken from their viral YouTube fame and into the record industry under the wing of Alan Sacks, an industry veteran with a long history of producing made-for-TV Disney movies.
Sacks also helped turn The Jonas Brothers into heartthrob megastars. Sacks wastes no time, getting Unlocking the Truth a lucrative deal with Sony and setting them on the path to stardom.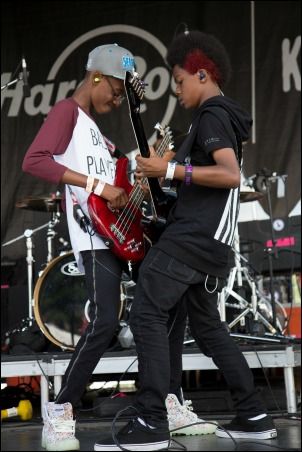 However, problems immediately become apparent when the band's lack of understanding of the business creates problems. There is a scene where the band is being interviewed for a TED Talk, and Atkins announces their deal with Sony before the press release about the event is sent out.
Sacks then explains to a distraught Atkins why his announcement could jeopardize their new deal.
It's an easy mistake for an excitable boy to make. But the movie is full of Sacks trying to wrangle and corral the young band, trying to keep hyperactive children in an adult, career-focused mindset.
Brickhouse is the band member who gets the brunt of the pressure. Being the frontman, he is expected to write songs, play guitar, and, the scariest part, sing. Metal is a genre known for a variety of vocal styles, from soaring air-raid siren wails to guttural cookie-monster growls.
Coming up with a vocal style that fits the genre is a tall order for a kid to fill out.
Brickhouse articulates his frustration by comparing himself to Hanna Montana, Miley Cyrus' Disney character who lives a double life as a regular girl and a pop star.
At one point in the documentary, Dawkins watches kids in his neighborhood play basketball. "I just laugh at them," he says, reflecting on the pressures he feels, as opposed to the carefree lives he sees his classmates living.
RELATED: 'Popstar: Never Stop Never Stopping Review'
It's these moments that make "Breaking a Monster" so revealing. It puts the inherent problems with getting kids who aren't ready for the baggage that comes with fame into the grown-up, cutthroat world that is the entertainment industry.
The documentary doesn't feel like it is complete, narratively speaking, it doesn't go on long enough to cover the band fighting to break out of their contract with Sony, let alone the recent release of their first album, Chaos.
FAST FACT: Luke Meyer previously co-directed the 2009 documentary "New World Order," which tracked Alex Jones and fellow anti-globalist activists.
Yet "Monster's" aim doesn't seem to be to simply tell the story of the genesis of a young band. Rather, it gives insight into what it's like to be a child entertainer, burdened with the expectations that seem too intense for a kid to handle.
In this sense, it's one of the most revealing rock docs since Metallica's "Some Kind of Monster." At one point, Sacks warns the kids they're going to "end up like Bieber" if they don't listen to him.
Looking at the lives of entertainers who got too famous too young, maybe this group missing out on success at this point wouldn't be such a bad thing.
"Breaking a Monster" opens in New York June 24 at the Landmark Sunshine and in Los Angeles on July 1. The documentary will expand to theaters across the country throughout July.