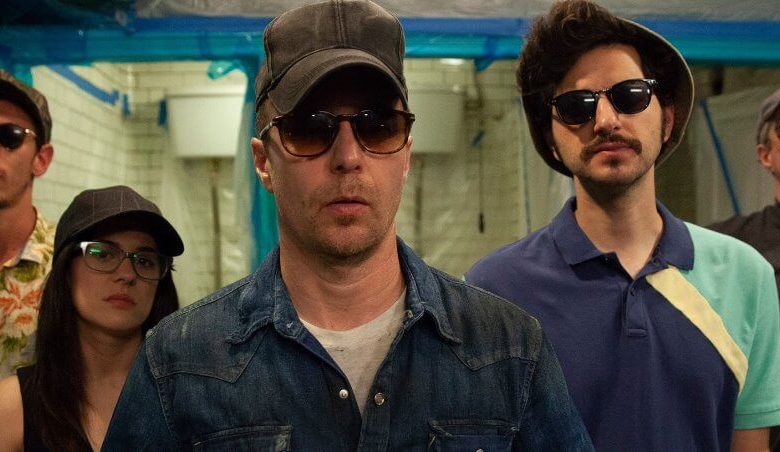 "Blue Iguana" is an odd film, to put it mildly.
It's a quirky crime caper in the Guy Ritchie or Quentin Tarantino mold. Ultimately it falls more into the Ritchie camp and not just because it's mostly set in England.
BLUE IGUANA Official Trailer (2018) Sam Rockwell, Ben Schwartz Comedy Movie HD
This little film is a comedy with criminals, not a comedy about criminals. Like Ritchie's gangster laugh fests the humor isn't complex. The script doesn't satirize anything or try to make a nuanced point about human nature. "Blue Iguana" is funny because its characters are just plain weird.
In fact, they're the meat of the film. There isn't much of a plot to speak of, otherwise.
It starts out in America. Ex-cons Eddie and Paul (Sam Rockwell and Ben Schwartz) are trying to maintain the conditions of their parole by laying low as wait staff in a greasy spoon. Phoebe Fox's Katherine enters their nondescript restaurant and offers an ambiguous con job in London. Katherine is an awkward but shrewd lawyer with a constant hankering for junk food.
FAST FACT: Sam Rockwell plays President George W. Bush in the forthcoming political drama "Backseat" about Vice President Dick Cheney (Christian Bale).
They go off to London where high jinks ensue. None of which seems particularly well connected. It's all tied to a general retrieval job concerning a monetary MacGuffin that changes throughout the film.
None of that ever feels particularly pressing.
The focus is on the three weirdos at the heart of "Blue Iguana." Other characters get thrown into the mix, but we rarely leave the core trinity for long.
Good thing the casting is darn near perfect. Schwartz feels a bit out a place, but that seems to be his main purpose within the movie: to be out of place. He's an oddly funny actor evidenced by his hilariously annoying "Parks and Rec" character.
What's missing? Any Jean-Ralphio types, the kind who are funny for being utterly clueless. It's the classic Don Quixote trope. The exterior reality doesn't match the character's inner vision of himself.
Schwartz's Paul is a cowardly convict. The joke stems from the contradiction between line of work and personality. Someone who breaks the law for a living should be tough. Paul is sniveling.
One of the film's best recurring gags is his preoccupation with a tampon. He carries an opened tampon around with him at all times.
Why?
It might save his life someday. Tampons are designed to absorb blood. What better way to plug up a bullet hole than a tampon? It's a perfect bandage! Or so he thinks.
I don't want to spoil it, but the payoff for this character quirk is pretty great.
Yaay!! The popcorn machine is on and we're ready to go. 🍿 'Blue Iguana' is finally out! Go watch it! #trailer #movie #film #movienight

Watch the trailer https://t.co/M6lOY9HkDr pic.twitter.com/4e9nBeFOj2

— Trailer Nite (@trailernite) August 23, 2018
Fox really steals the show throughout. She's a petitie lady who can't stop eating. The juxtaposition between these realities is off putting at first. What really makes it funny is her tendency to leave crumbs on her delicate face.
Her character is very intelligent and feminine, but for some reason she doesn't care about what she stuffs in her face (or what remains afterward).
Ritchie fans in particular should definitely check out "Blue Iguana." Fox, Schwartz, and Rockwell carry the film, a talented trio most indie films lack. They take the weak story's bright spots and make them shine.
---
A.C. Gleason is a proud Biola University alum, where he met his wonderful wife. He earned his MA in philosophy of religion from Talbot. You can find more of his writings on Medium and ricochet.com. Follow him on Twitter @ac_gleason.