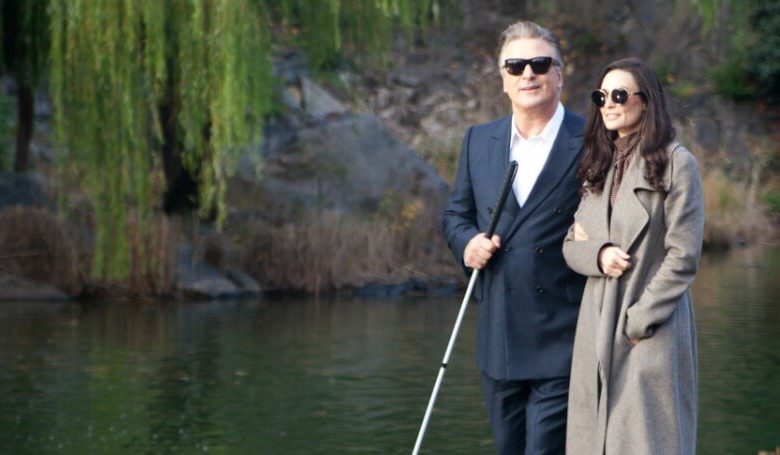 Video on Demand gives titles that lack marketing muscle a fighting chance.
That's critical at a time when mid-budget movies are on the endangered list. VOD also is where fading stars and sloppy storytelling await unsuspecting viewers.
"Blind" hardly falls in the former category. Alec Baldwin's career is red hot thanks to his zeitgeist-grabbing turn as President Donald Trump on "Saturday Night Live." He's the only reason to endure "Blind," a movie romance with a passion for film clichés.
It's set in NYC
Our protagonist is a writer AND a college professor – a twofer!
The leads long to run away to … Paris, zee City of Lights!
Not one but two hoary plot devices stop the movie cold.
Classic literature plays a small but critical element in the third act.
A novelist who retreated from the spotlight has a new manuscript in his hands, but he's too afraid to share it with the world.
When that manuscript is discovered the writer attempts to literally burn it so no one will ever read it.
If none of that sounds familiar, then maybe "Blind" is worth a look.
Blind Trailer #1 (2017) | Movieclips Trailers
Baldwin stars as Bill Oakland, a writing professor left blind by a car accident. He's cantankerous and cold, chasing away a series of volunteers tasked with reading his students' essays to him.
He's just as crabby with Suzanne Dutchman (Demi Moore), the well-coiffed wife of a Wall Street power broker. Mark Dutchman (Dylan McDermott in full sleaze mode) is jailed on insider trading charges, and Suzanne is forced to do community service for her role in her husband's chicanery.
Bill insults Suzanne the moment they meet, but she can't renege on the gig unless she, too, wants to sport prison stripes.
Slowly, Bill and Suzanne come to appreciate each other. In fact, there might even be a love connection in play.
We say "might" since the screenplay offers little in the way of an honest, "falling in love" sequence. One minute she's stiffly reading another boring short story to Bill. The next? She's shaving him with a straight razor like a "Fifty Shades of Grey" outtake.
FAST FACT: Even the legally blind will spot the bald product placement mid-film. It could drive viewers to drink … Pabst Blue Ribbon, of course!
Baldwin puts his charisma on full blast as Bill, turning the stock professor role into someone of consequence. He's devouring scene after scene, deploying his husky voice to tease nuance out of a barren script.
There's not much to like about Suzanne. She seems like a pleasant enough type, and she certainly doesn't deserve a cad like Mark. She's also rather fond of all the nice things her crooked hubby provides. Watch her luxuriate in his private office with a view 99.9 percent of workers would kill to call their own.
He may be a jerk … but he's a jerk with impeccable taste.
RELATED: Baldwin, Fellow 'SNL' Mates Tell All to The Hollywood Reporter
Suzanne even shows up for her court-appointed work dressed like Mrs. Howell from "Gilligan's Island." Doesn't she own a sensible pair of jeans?
A better screenplay might dig into those contrasting character tics. Not here. It's all about predictable plot twists, primary color emotions and Baldwin enjoying himself too much to notice all of the film's flaws.
What's worse? This love triangle barely has a third side. Wouldn't it be more interesting to paint Mark as a rapacious tycoon who truly loves his wife? Instead, we're meant to hiss and boo his every screen appearance.
You can imagine what Baldwin saw in the movie (no pun intended). It's that rare, mid-life romance for a character with a complicated back story.
Too bad we see where "Blind" is headed every step of the way.
HiT or Miss: "Blind" squanders a rich performance by Alec Baldwin to remind us why some movies take the Video on Demand path.