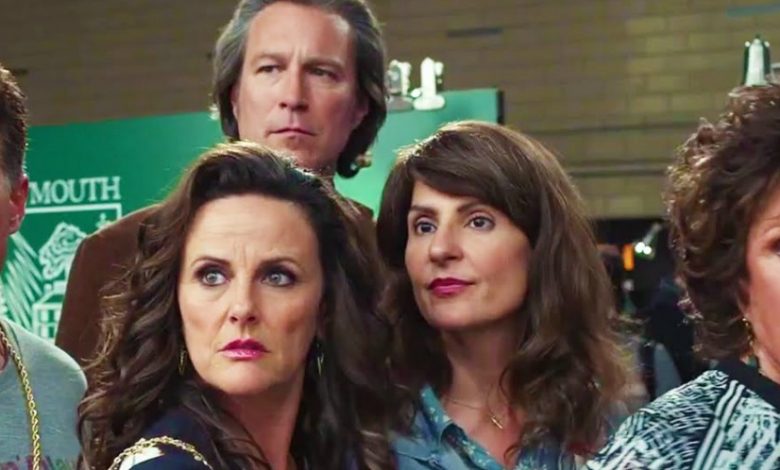 It was loud, unabashedly pro family and bursting with stereotypes.
Yet the idea of a new "Greek Wedding" hardly seems wise. Desperate? More likely.
And yet it's hard to get "Zoolander"-level mad at this second helping of "Greek Wedding" cake. The characters remain lovable to the core. The film nearly topples over with so many tributes to family, marriage and helping one another out.
It still makes paying full price for "My Big Fat Greek Wedding 2" hurt so much even Windex won't ease the pain.
My Big Fat Greek Wedding 2 - Official Trailer (HD)
The sequel finds Toula and Ian (franchise creator Nia Vardalos and John Corbett) struggling with their daughter (Elena Kampouris). Sure, many teens rebel against their parents.How many can't take a step without hitting roughly four family members at a given time?
This big fat Greek family smothers until it hurts. That's the whole comedy conceit, and darned if Vardalos isn't going to milk it for 90-plus minutes (that feels like 120).
DID YOU KNOW: 'My Big Fat Greek Wedding' began as a one-woman play by Nia Vardalos. It caught the eyes of Rita Wilson and Tom Hanks, who helped turn it into a smash indie hit.
That isn't the only conflict keeping family members up at night. Turns out Maria and Gus (Lainie Kazan and Michael Constantine) were never officially married. But when Gus wants to make if official at long last, Maria refuses. She wants to be romanced. And she's a bit sick of his grouchy ways anyway.
Will this second Greek wedding happen? What about Toula and Ian's marriage, which looks as stale as month-old baklava?
As a dramatist Vardalos is a fine Greek tourist agent. She sets up some mini-conflicts that either resolve themselves with little effort or simply fade at the end of a single conversation. There's so little dramatic tension you wait for the laughs to bubble up as they did 14 years ago.
Keep waiting.
We don't need a serious, reflective "Greek" sequel. But wouldn't it be nice if the movie dug a wee bit into what it's really like to live with such a ripe clan?
My Big Fat Greek Wedding 2: Nia Vardalos & John Corbett Official Movie Interview | ScreenSlam
One character has an unlikely sexual revelation, but even it can't scurry up a furrowed brow or another resembling tension.
Andrea Martin, the cast's most natural comic performer, pilfers her scenes outright.
And then there's Bess Meisler as Grandma, who rarely says a word but snares some laughs with her precise mugging. In this loud comedy landscape her silence is undeniably welcome.
"My Big Fat Greek Wedding 2" is wholesome enough for the whole family. That alone makes is more welcome than we expected. Still, if you're going to wait more than a decade to continue a story, you'd better be sure to bring something special to the reunion.
New Windex jokes simply don't count.