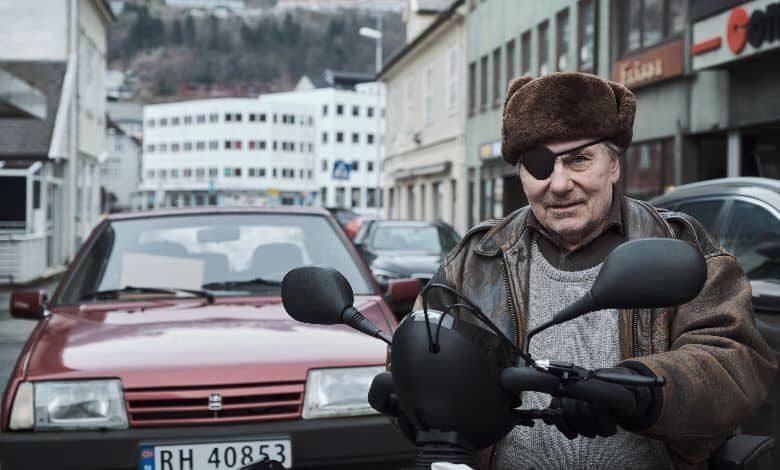 You're going to read this listicle and think, "All this dude did was watch TV in 2020!"
And that wouldn't be far from the truth.
I caught Covid-19 in mid March and was down for the count until late September. What's a long-hauler supposed to do but watch a lot of TV? Thankfully there was plenty of killer shows out there; very minor spoilers ahead…
The 10 Best TV Shows of 2020
#1 Best In Show: "Babylon Berlin" (Netflix) — I watched this show in February (and then again in November) and it hasn't budged from the top spot. It's a detective series set in 1920s Berlin.
Babylon Berlin - Trailer l Netflix
The exterior shots are simply amazing ("Babylon Berlin" is the most expensive show ever produced in Germany) and the mysteries the detectives solve are engaging. It's a show with great acting, interesting characters and the absolute horror of the rise of Nazi Germany looming around every corner.
It's an understatement to say this show has something to say about our current political and social climate. This is the best television show of the year by miles.
#2 Runner Up: "Ragnarök" (Netflix) — This quirky little show about teenagers stands out from a plethora of quirky little shows about teenagers ("End of the F*%#ing World," "Teenage Bounty Hunters," "Wayne," "Sex Education," "I'm Not Okay With This," "Hanna," "Big Mouth," "Warrior Nun"…
(Wait! Are all shows now about quirky teenagers this year. Why?)
"Ragnarök" is a retelling of the tale of Thor and his brother Loki that is in direct opposition to Marvel's take (There's a scene you have to see to believe, and you'll "get" this show's genius and put it on your own "Top Ten" list as well).
Plus, it's just a blast.
#3 The Always Solid: "Better Call Saul" (AMC) — Saul Goodman (Bob Odenkirk) and Kim Wexler's (Rhea Seehorn) relationship takes an unexpected turn this year, and once again it finds itself on the Top Ten list. This show is consistently the best thing on television.
#4 The Dumbest Decision By Netflix in 2020: "Teenage Bounty Hunters" (Netflix) — Netflix stupidly canceled this show after just one season (leaving us with a tremendous cliffhanger) and fans went nuts as it was the funniest thing on television.
The two leads have a kind of Tim Conway/Don Knotts chemistry that's only found once in a blue "Moonlighting." Wow, did Netflix misjudge the show's potential.
#5 The Tulsa Massacre Rises from the Ashes: "Lovecraft Country" (HBO) — This show is about race relations in the '50s and it tied into perfectly what's happening today. Yet the show was about so much more. It's an emancipation proclamation that People of Color can be geeks and nerds.
Science fiction belongs to all of us.
Lovecraft was a noted racist, and yet his work has shaped the horror genre as much as Poe, Shelley, and Stoker combined. It's that same razor's edge we all find ourselves: loving the ideas, despising the racism.
This show liberated his key ideas from their racist foundation and universalized them in order to introduce them to broader audience. What's more, it's just plain fun.
Many will stay away from this show fearing a sermon about race, but "Lovecraft Country" was as fun and adventurous as the old original "Star Trek" television show and Indiana Jones movies.
#6 Finally Done Right: "His Dark Materials" (HBO) — While, "Lovecraft Country" focused on race, "His Dark Materials" sets its sights a bit higher… how (all) our souls are stripped from us by organized religion, government and industry.
I loved the books and this show has managed to capture that same magic via great acting, interesting world building, and legit consequences for the protagonists. I'm genuinely interested in what season three will be like and how they're going to tackle the war between God and the Angels.
#7 Why Isn't This Show More Talked About: "Hanna" (Amazon Prime) — I love both the movie and the show, and while totally different animals, the show is worth watching. It can be thought of as, "Jason Bourne meets The Horse Whisperer." If that's too cryptic try, "James Bond meets Charlotte's Web." Whatever the combo you should be watching this series.
#8 L.A. Is the Best World Building: "Perry Mason" (HBO) — I'm a sucker for shows set in another time, like "The Alienist" and "Babylon Berlin," which let you escape into history. HBO's "Perry Mason" is set during the 1930s and while the murder mystery is grizzly and involves an infant (which at times could be overwhelming) the world building is perfection.
You really feel like you're in 1930s L.A. (If you're a fan of the video game franchise "LA Noir" this show is for you.)
"Perry Mason" is uneven at times but captures the grittiness of the era and fleshes out a new series for HBO. I didn't watch the original TV show it's based on, or the books, so it was all new to me and worth the time investment.
#9 Ripped From the Headlines: "Utopia" (Amazon Prime) — I guess we're fortunate that the U.S. version of this British show isn't more popular as we head into vaccination season. It's about a virus being released on purpose so a nefarious illuminati can then vaccinate people with an even deadlier virus.
Fun stuff for the age of COVID-19, to be sure, but it's a really good show. I watched the U.S. version first, got hooked, and then watched the British version. Both rock, but be warned as neither are for the faint of heart or those struggling in the current pandemic.
#10 Subversion At Its Best: "The Boys" (Amazon Prime) — I'll confess something here… I'm not a fan of Disney, Marvel or superheroes in general. One reason I loved "Ragnarök" so much was because of how un-Disney it is.
"The Boys" takes that to a whole other level and then another level beyond that. It's subversive in the best sense and if you're like me that the only genre you hate more than superhero is heist… this show is for you.
The Next Best Ten: Worthy & Watchable
#11 "Sex Education" (Netflix) — Between this and, "Big Mouth" Netflix has the gap in sex education left by church, state and pornography pretty much covered, plus it's hilarious.
#12 "Rick and Morty" (Cartoon Network) — The second half of season four garnered an Emmy win (and deservedly so) but hopefully they'll never split a season like this again.
#13 "Industry" (HBO Max) — This show gives me panic attacks and I literally experienced PTSD (trauma I didn't know I had from my time in corporate) with the whole "font mistake" episode. It's a workplace show with unlikable characters who have endless amounts of joyless, dead-eye sex with partners they're only mildly interested in (I guess that's sexual liberation). The show presents a bleak picture of Gen Z and Millennials in the workforce, and yet I couldn't stop watching.
#14 "Snowpiercer" (FX) — The apocalyptic series is based on a movie that many liked but few saw, and so I didn't know what to expect. Star Jennifer Connolly again proves she's an unbelievable talent and admittedly the train itself hooked me.
#15 "Midnight Gospel" (Netflix) — This seems low for the show given that I ran through each episode three or four times. Ultimately, the great discussions and interesting animation are jammed together in ways that while intentionally trying to confuse and disassociate end up not serving the viewer.
#16 "Raised By Wolves" (HBO MAX) — I feel like Ridley Scott has had two "Alien" movies ("Prometheus" and "Covenant") and now a television show to fully address the theme of "man versus machine."
He still can't stick the landing.
I enjoyed "Wolves" and laughed at it at other times. Still, I walked away unsure if I needed to see a season two.
#17 "The Queen's Gambit" (Netflix) — It's a beautiful show full of style and interesting characters and yet in the end I was like… "Well it's Chess and we need to be focused on Go!"
#18 "The Crown" (Netflix) — This show always feels like homework in that it's historically accurate, so much so that the drama seems both dry and predetermined. It's still interesting to watch when I'm in the mood.
#19 "Warrior Nun" (Netflix) — Buffy meets Hell Boy. This show is poised to have a stellar second season if they take the regulators off and let this show run wild like the source material.
#20 "The Barrier" (Netflix) — There is nothing revelatory about this show. The ground has been fully covered by better shows like "Utopia," but the family featured here is intriguing. They made me miss Spain and the sense of fabric the communities and families have there.
The Next Fifteen: Just So-So Television Shows
#21 "Killing Eve" (AMC) — Not the best season but enjoyable.
#22 "Altered Carbon" (Netflix) — It's too expensive to warrant a third season, apparently. I get that, but it's a shame as it was a very good show.
#23 "Big Mouth" (Netflix) — Not as funny as previous seasons but maybe the best in terms of life lessons. At its best, "Big Mouth" helps parents up their game.
#24 "Ares" (Netflix) — A tasty little bit of horror from the Netherlands.
#25 "Umbrella Academy" (Netflix) — I'm not sure why I watch this show, but it's done well and boasts interesting characters.
#26 "Truth Seekers" (Prime) — Long wait and highly anticipated and only marginally delivered.
#27 "The Alienist" (FX) — It was the year of dead infants on the small screen ("The Alienist," "Perry Mason," "Penny Dreadful: City of Angels"). This show continued the theme without being exceptional, and yet the world building in 1890s New York is endlessly fascinating.
#28 "Westworld" (HBO) — A very confused and boring season. This show had a lot of potential and then it ate itself.
#29 "The Flight Attendant" (HBO MAX) — Kaley Cuoco finds herself in an international murder mystery that is one half silly, one half overwrought drama and one half pure entertainment.
#30 My #1 Guilty Pleasure This Year: "Into the Night" (Netflix) — This is like a great '80s film ("Weird Science," "Night of the Comet") turned into a television show. It's the ultimate game of "The Sky Is Lava."
#31 "Locke & Key" (Netflix) — The show offers really interesting ideas and yet it's easy to walk away from for some reason. Nothing presented here seems immediate or important.
#32 "Cursed" (Netflix) — The Arthurian Legends are my favorite, so I found this telling interesting. The show should be higher up on this list, but was out-competed on many levels.
#33 "Billions" (Showtime) — A great show seasons 1–3 that now has truly lost itself. It probably should've ended already, yet Showtime holds on longer than it should with too many of its shows.
#34 "I Hate Suzi" (HBO Max) — Billie Piper reminds me of my high school love and all the drama that follows her around and so I liked it on that level. It's still a so-so show that is really more of a concept than an actual series.
#35 "Biohackers" (Netflix) — The end has a great twist if you're patient enough to wait for it.
Meh
#36 "Young Wallander" (Netflix)
#37 "Ozark" (Netflix)
#38 "The Outsider" (HBO)
#39 "White Lines" (Netflix)
#40 "Barbarians" (Netflix)
#41 "The Plot Against America" (HBO)
#42 "The Undoing" (HBO)
#43 "I'm Not Okay With This" (Netflix)
#44 "Freud" (Netflix)
#45 "Valhalla Murders" (Netflix)
The Worst Show of 2020
"Ratched" (Netflix) — The best thing you can say about this show was the thought and talent that went into the look and feel… if they only had spent half as much energy on the plot. Truly awful. So awful that it might find a cult following in three decades but probably not.
Don't feel too bad about "Ratched" at least I watched it all the way through… these are the shows that I stopped watching altogether:
The 2020 Drop List
"Messiah" — s1e2
"Avenue 5" — s1e3
"Hunters" — s1e2
"Homeland" — s8e2
"Curb Your Enthusiasm" — s10e3
"Run" — s1e1
"Penny Dreadful: City of Angel"s — s1e3
"Dead to Me" — s2 e2
"Tales From the Loop" — s1e4
"October Faction" — s1e6
"Narcos: Mexico" — s2e3
"This Is Who We Are" — s1e2
"Archer" — s9e3
"TWD: The World Beyond" — s1e1
"Gangs of London" — s1e1
"Emily in Paris" — s1e3
"The Good Lord Bird" — s1e2
"The Haunting of Bly Manor" — s1e6
"Soulmates" — s1e1
"The Third Day" — s1e4