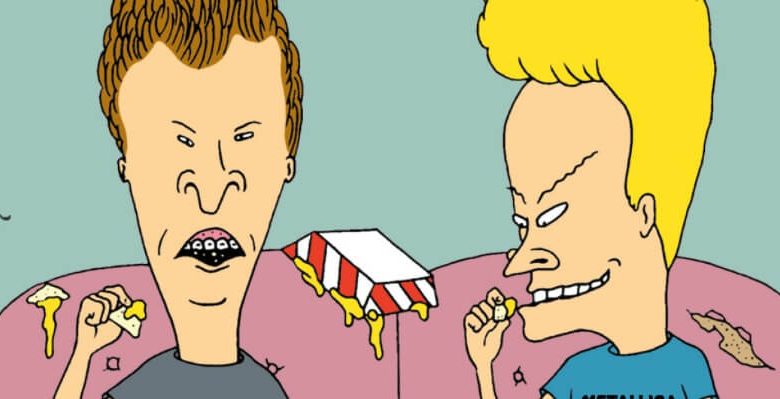 The book "Our Dumb Century: The Onion Presents 100 Years of Headlines from America's Finest News Source"
 nailed the "Beavis and Butt-head" phenomenon with a single headline.
"New MTV Show About Idiots Who Watch MTV Big Hit Among Idiots Who Watch MTV."
Back when MTV still had a side that catered to hesher burnouts, Mike Judge's "Beavis and Butt-Head" encapsulated early '90s parental fears of what consuming Music Television would do to the minds of their children.
Burger Kings! - Beavis And Butthead | MTV
The show featured two unsupervised metalhead teenagers snickering through hilariously anti-social behavior that seemed to entertain impressionable children from my generation while horrifying most parents. That horror and hilarity is once again available in a set from MTV, "Beavis & Butt-Head: The Complete Collection
."
The animated show gave us an early example of the satire Judge would come to be known for with films like "Office Space" and "Idiocracy." However, the show's true genius lay in its music video commentaries exposing the silly art-house pretentions of many pop promos.
Case in point: check out the Rush music video for "Stick It Out" on the set.
FAST FACT: Mike Judge began his animation career after buying a $200 Bolex camera and bringing his early vision of "Office Space" to life.
Their commentaries also added extra dimensions of humor to cheekily bizarre underground acts such as Gwar and Monster Magnet. Those groups owe a good chunk of their notoriety to the show (Gwar even appeared in the Beavis and Butt-Head video games on consoles such as the Genesis and the Super Nintendo).
The title of this new video set advertises itself as a "complete collection." The term "complete" is misleading. A more apt description would be "The Best of Beavis and Butt-Head."
Inside, you will not find all 222 episodes, along with every music video commentary. I still have to go to YouTube to see their brilliant dissection of David Vincent's vocals on Morbid Angel's "God of Emptiness."
This collection simply includes the three previously released volumes of Judge-curated episodes and music videos, along with the film "Beavis and Butt-Head Do America."
Beavis and Butt-Head Do America - Trailer
The set also includes 12 of the 22 episodes from the show's 2011 MTV revival. Considering all those episodes are available on the "Beavis and Butt-Head Volume 4" release, this collection isn't even "complete" by the standards of what has already been available separately.
If you've bought everything from this series that has come to DVD prior to this release, there is no reason to buy this set, unless you're desperate to save shelf space.
RELATED: How 'Anomalisa' Trumps Pixar for Adult Audiences
A truly "complete" collection has yet to be released. However, this is a slick, modestly priced little set for those who have not yet added the previous releases to their shelves.
The 12-DVD "Beavis & Butt-Head: The Complete Collection
" features a crush of bonus material including "Taint of Greatness: The Journey of Beavis and Butt-Head" Parts 1-3, VMA appearances, a Thanksgiving Special with Kurt Loder, the 1994-1996 Butt-Bowls, MTV 20th Anniversary Special, the original, un-cut "Frog Baseball," and a 2011 Comic-Con panel featuring Judge and moderator Johnny Knoxville.