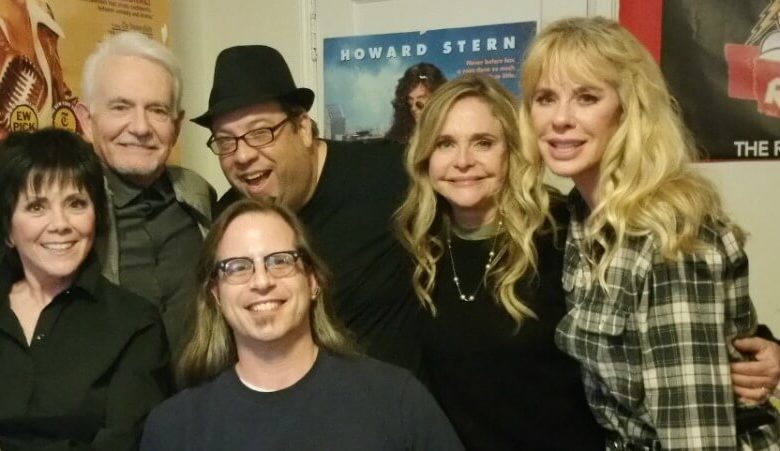 For seven seasons and nearly 200 episodes, "Three's Company" proved to be one of the funniest sitcoms of the modern era.
Still loved around the world, the reruns continue to air on the Antenna cable TV network – which is showing a tribute marathon March 18 to celebrate the sitcom's 40th anniversary.
Three's Company 40th Anniversary Cast Reunion for Antenna TV
As part of that marathon, four of the key members of the "Three's Company" cast – Priscilla Barnes (Terri), Joyce DeWitt (Janet), Richard Kline (Larry) and Jenilee Harrison (Cindy) reunited for a TV special that will air along with the Antenna marathon.
Later, they headed over to the Radio Titans podcast studio in Los Angeles to tell even wilder stories in an uncensored, hilarious episode of Barnes' new podcast series "BarneStorming with Priscilla Barnes."
Fans who want the real scoop on what went on behind the scenes of the legendary sitcom in uncut glory can tune in to hear their wildest anecdotes. That includes favorite tales of bloopers and practical jokes, as well as surprising real stories from their offstage lives.
FAST FACT" "Three's Company" got its inspiration from the British TV comedy "Man About the House."
Adding to the unique spirit of the show is the fact that the Titans studio is located in the famous Gaylord Apartments. That means the "Three's Company" gang came and knocked on the door of an apartment to share tales about the most famous show ever made about apartment-living shenanigans.
That's a fact that Barnes makes fun of weekly as she engages in humorously revealing conversations with her friends from across showbiz.
Her first three "BarneStorming" episodes have included fascinating stories from writer/actor Shawn Schepps (writer of the hit movies "Drumline" and "Encino Man"), cult-fave director Fred Olen Ray, and legendary rock-album designer John Kosh, who's worked with everyone from the Beatles to U2.
Listen to ""THREE'S COMPANY" 40TH ANNIVERSARY CAST REUNION! : BARNESTORMING EP. 4 (03/10/17)" on Spreaker.
But in this very special new fourth episode, Barnes offers a fun-filled ride through stories including:
"Three's Company"'s craziest bloopers and practical jokes, including the time John Ritter caused an explosively funny reaction when he scared everyone on set by popping out of a prop coffin.
The cast's frequent clashes with the producers they wound up dubbing "The Three Stooges."
How DeWitt believes that her beloved late costar, John Ritter, still communicates with her from the afterlife at significant life moments through mysteriously appearing pennies.
Harrison's fascinating story of going on a couple of dates with controversial actor Robert Blake, then calling it off when she saw some red flags years before he was charged (and ultimately acquitted) with the murder of his eventual wife.
How Harrison went from being completely unrecognized by the show's set and studio team on her first day on the job to enjoying the perks of success, as well as her funny first time meeting DeWitt.
Fast-paced and funny, "BarneStorming" offers great conversations with some of the most interesting people in showbiz. Listen in anytime at its Radio Titans/Spreaker homepage.
---
Carl Kozlowski is founder and Chief Creative Officer at Radio Titans and host/cohost of its shows "Grown-Ass Men," "Pajama Party," "The Koz Effect" and "Kozversations," plus Chief Guest Booker. He's a previous winner of the world-famous Laugh Factory's "America's Funniest Reporter" contest.