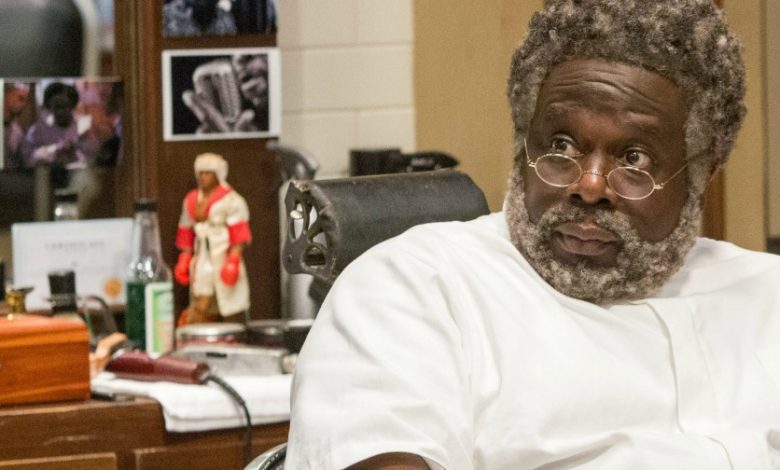 "Barbershop: The Next Cut."
Confused? The popular franchise continues with a huge shout out to President Barack Obama, but its latest film doles out GOP talking points with alacrity.
Once more we're hanging out with Calvin and company, a gregarious group of barbers bantering about dating, love and politics. Only this time the gang violence saturating their beloved Chicago is hitting too close to the home.
That yields a mixed bag, dramatically speaking. But the characters evoke a can-do spirit that's as uplifting as some of their best jokes.
Barbershop: The Next Cut - Official Trailer 2 [HD]
Ice Cube's Calvin appears at peace when the franchise resumes. He's teamed up with a local beauty parlor to help fend off the recession, and the gender blend has the customers filing in.
The same harmony isn't reflected in their south side neighborhood. Gang violence is escalating, and Calvin no longer can keep it out of the barbershop.
That's not his biggest concern.
His teen son is being courted by a local gang, and Calvin will do whatever it takes to stop that from happening.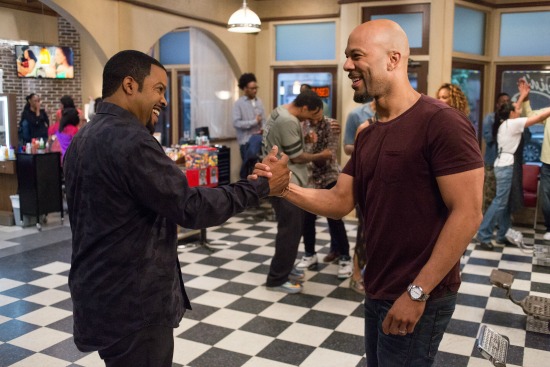 Despite some ugly dialogue, "The Next Cut" offers mostly uplift through the pain. And some messages that you won't believe coming out of a Hollywood film.
The barbers complain they can't wait for the government to help them out any longer. They cling to their spouses and marriage as an institution. They talk up two-parent families as a strength, not an aberration.
The politically incorrect banter doesn't stop there.
RELATED: Is Comedy Tide Turning Against PC Handcuffs?
One stylist asks what President Obama has truly done for black Americans. Other opinions are more predictable, like Common's character name-checking Michael Brown and Trayvon Martin as signs of the modern black man's plight.
One factor clearly absent – how the "Ferguson Effect" has led to more crime in Chicago. But a movie like "Barbershop" can only be so bold.
That's a lot on any movie's plate, and to squeeze it all in the screenwriters (Kenya Barris and Tracy Oliver) give the story's sub plots short shrift.
Common can't stop flirting with the curvaceous Draya (pop star Nicky Minaj), causing his wife (Eve) an endless source of irritation. Calvin's teen son hears the siren song of a local gang, just as his pappy is trying to end gang violence. Only J.B. Smoove transcends cardboard cutouts as "One Stop," the slick barber who can handle any situation.
The transitions from wacky conversations to gun play in the 'hood aren't always smooth. But how the main characters rally on their city's behalf isn't just endearing. It's inspiring.
So is how the franchise continues to play loving attention the craft of cutting hair. It's simple, elegant and adds enough detail to make the shop feel like a genuine part of Chicago's landscape.
The movies make natural black hairstyles something not to be conditioned away but adored.
How often do we see that on screen?
DID YOU KNOW: 'The Next Cut' director Malcolm Lee, cousin of Spike Lee, began making films at the age of 12.
Best of all, "Barbershop" lets everyone have their say without condemnation or insults. They may get teased, no doubt, but that's where it ends. It's the kind of anything goes discussion that real life often forbids in our PC age.
And then there's Eddie, who remains Cedric the Entertainer's signature role. He doesn't need tart lines for a laugh, although he gets some all the same. His every gesture, modeled on a sassy senior caricature, is a hoot.
"Barbershop: The Next Cut" doesn't offer cookie-cutter solutions to gang violence. Nor does it suggest a few punch lines can bring people together. It does remind us that the best weapons against violence might be found within the intact family unit.