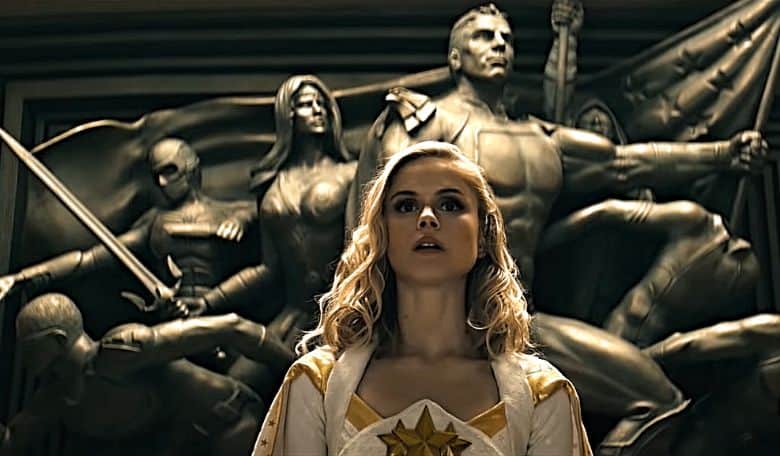 There's a reason Samantha Bee recently savaged Gov. Ron DeSantis as "worse than Trump."
The far-left host fears a DeSantis run for the White House in 2024. It's why fellow late night propagandists like Seth Meyers and Jimmy Kimmel smacked the Florida governor around in recent weeks.
We're seeing something similar over at Amazon Prime.
The streaming platform's superhero series "The Boys" upends the beloved genre. The first two seasons dabbled in political matters between the comic book reinvention, mocking patriotism, Christianity and white supremacy. The stories focused primarily on entertaining viewers, though, a mission that proved mostly successful.
The Boys Season 2 - Official Trailer | Amazon Prime Video
Marketing for the show's third season targets a new "enemy," one who might be familiar to cable news watchers.
Fox News host Tucker Carlson.
Vought International is the corporation behind Homelander and his super minions on the series. They appear to be do-gooders in the "Avengers" mold, but they're really part of the company's sinister schemes. Homelander, brilliantly played by Antony Starr, is a cold-blooded killer.
Amazon concocted a Twitter account for the twisted corporation, a sly way of teasing the show's third season.
Amazon has released the first episode of the 'Vought News Network', which will cover the events of 'The Boys' between Seasons 2 and 3. Thoughts?

— Lights, Camera, Pod (@LightsCameraPod) July 7, 2021
It's a snarky clip that doubles as an attack on the Fox News superstar, played in the clips by actor Matthew Edison. Carlson draws huge ratings for his network, and that may only grow following his allegations that the Biden administration's NSA is spying on him.
Turns out Carlson wasn't making it all up.
Tucker Carlson Discusses Report Confirming NSA Spyinghttps://t.co/g50E6dQz2L

— Bongino Report (@BonginoReport) July 8, 2021
Still, the host is a reliably conservative voice, which makes him a punching bag for the usual suspects like Late Night TV, "Saturday Night Live" and Hollywood at large.
Now, "The Boys" is piling on.
The show's creators say the Carlson stand-in isn't just for marketing purposes. He'll also appear in season 3 of the series, still awaiting an official release date. Showrunner showrunner Eric Kripke revealed as much in recent press interviews.
"Since the very start of The Boys, we've seen Vought's propaganda arm—I mean, news channel," Kripke said. "We'll be digging deeper into those fair and balanced patriots next season," Kripke says.
We'll have to see how nuanced the attacks on Carson prove in season 3. Early indications are it won't be subtle, or remotely kind. Kripke's snarky "fair and balanced" quip mocks the Fox News' motto. Plus, the show's social media maven has no problem using profanity against Carlson.
There's a patriot selling bedding in the new @VoughtIntl ad ahead of the next season of "The Boys" pic.twitter.com/FAWgEDZZTh

— Greg Pollowitz (@GPollowitz) July 7, 2021
Season 3 may also mock Trump acolyte Mike Lindell. The MyPillow founder is pro-Trump, pro-life and believes the 2020 presidential election was stolen. The Lindell doppelganger is part of the new marketing tease, but it's unclear if he'll appear in the show's upcoming episodes.
It's one thing to use art to comment on society or even share satirical swipes about current events. It's quite different, though, to leverage social media with childish attacks that offer little in the way of substantive commentary.
hosted by Vought's very own F*cker Carlson

— The Boys (@TheBoysTV) July 7, 2021

It's crude, and it could cost the show.
Right-leaning viewers are understandably exhausted at being attacked for their beliefs across the Hollywood landscape. Show after show, movie after movie, targets them in ways that rarely happens to liberal audiences.
At some point enough will indeed be enough.
The streaming landscape is massive and growing, and even a powerful title like "The Boys" could struggle to repeat its past successes. Will show fans who happen to lean to the Right use this as an excuse to boycott the series? Or have they become so numb to infantile slights that they'll swallow hard and keep watching the show's "Supes" in action?