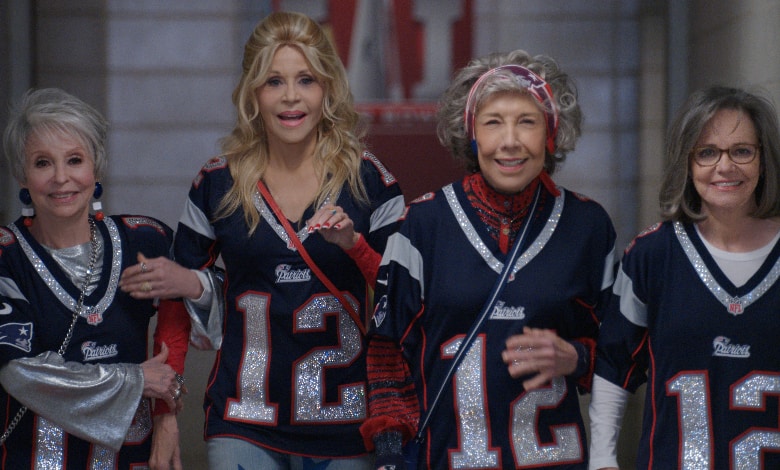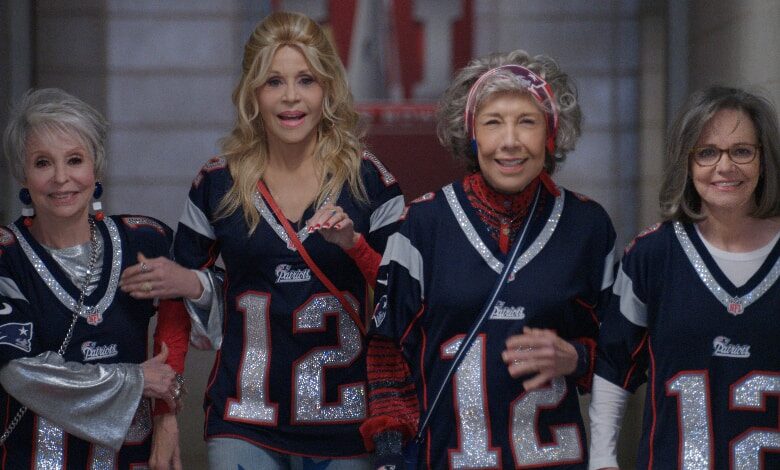 When a film is "inspired by real events" you know there's some serious tinkering with the truth.
That's never been more obvious than with "80 for Brady," a comedy that leans into its feel-good premise.
Oh, so hard.
Four scrappy seniors watch NFL great Tom Brady go for his fifth Super Bowl ring.
Along the way, they defy their age and prove star power can supercharge sitcom shtick. And there's a great deal of TV-level groans between the sweet asides. It helps that "Brady" assembles four pros in the very best sense of the phrase to make it all go down smoothly.
80 FOR BRADY Trailer (2023)
Betty (Sally Field), Lou (Lily Tomlin), Trish (Jane Fonda) and Maura (Rita Moreno) ritualistically watch every Patriots game with their gridiron hero, QB Tom Brady. He's handsome and talented, and his gridiron grit inspired Lou during her cancer battle.
Now, the quartet does everything it can to help Tom win, even if that means re-staging minor accidents if they preceded a Patriots' win. These are grown women, mind you, and the laughs generated by their shtick aren't worth the embarrassment.
So when Team Brady scores another invitation to the Super Bowl they apply to a local talk show contest to snag four tickets. The hosts in question, played by Rob Corrdry and Alex Moffatt, generate no smiles, let alone laughs.
What a missed opportunity given the raucous nature of sports radio and the passion of your average Pats' fan.
View this post on Instagram
The gals snag their tickets to Houston and Super Bowl LI, but more obstacles stand in their way, including a hunky ex-athlete (Harry Hamlin) and a potentially ominous medical note Lou refuses to read.
Each of the friends represents a "type," from Fonda's aging glamour girl to Field's nerdy, put-upon wife. The stars make the most of their simplistic back stories, even if their combined acting chops can't make their sports passion pop off the screen.
They're more convincing as pals willing to stick together through thick and thin, and that matters more.
You'll chuckle a time or two at the shenanigans, although whoever thought installing Guy Fieri in the film should have their pay docked.
Billy Porter fares better as a poker player with a heart of gold. His presence alongside these Golden Girls boosts the fun factor.
Billy Porter Gushes Over Working w/ Rita Moreno In '80 For Brady'
Wish fulfillment is front and center, even more than your average "Sex and the City" yarn. The film wants to be taken seriously, at least on the surface, but the surreal segments fall clunkily into place and take you out of the sisterhood in action.
"80 for Brady" seems prime for woke asides, if not overt speeches considering the film's pedigree. Fonda's presence is your first clue. The second? The screenplay hails from Sarah Haskins and Emily Halpern of "Booksmart" fame.
Nothing doing. The bonding is what matters most, and on that level "80 for Brady" is … good (enough)!
HiT or Miss: "80 for Brady" packs smiles and groans, but the feisty leads and Tom Brady's all-American legacy make amends for its flaws.