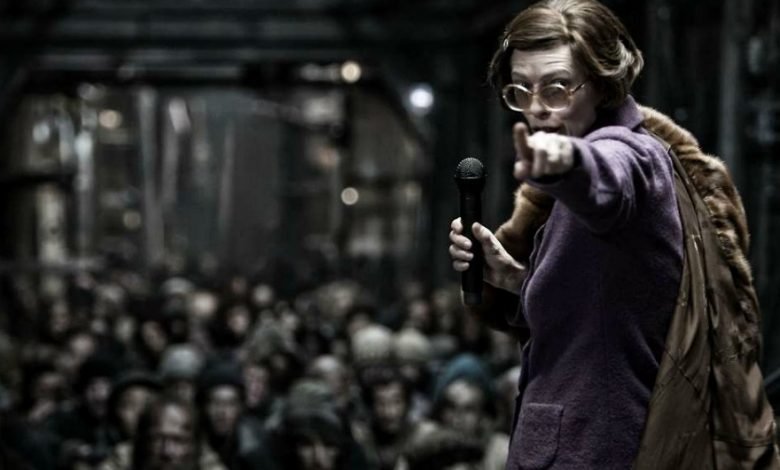 Streaming technology has been a bonanza for this dad. Sometimes I even have time to watch an entire movie by myself.
It's not often. Put it in the "blue moon" category. Streaming services help during those lunar blips.
Platforms like Netflix, Hulu, PlutoTV and Amazon Prime offer a crush of content for the little ones. You don't need a critic to recommend G-rated fare like "Curious George," "Caillou" (shudder…) or "Scooby Doo!" But since I review movies for my day gig, I wanted to steer fellow dads toward some quality films available now for streaming.
You won't find "Beaches" or "Steel Magnolias" here, which could make it "problematic" in some people's eyes. Still, the following suggestions will make dads enjoy their rare leisure time.
For Dads Who Love Thrillers…
"Blue Ruin" – How can a movie this good fly so low under the radar? While you're puzzling your puzzler over that one, watch a 2013 film that takes the tired vigilante genre for a spin.
BLUE RUIN - Official Trailer
A tortured man (Macon Blair) wants to kill the thug who murdered his parents. Only nothing that follows is what you expect. A taut, terrific thriller than never wavers in its intensity, "Blue Ruin" may be the best movie you've never heard of.
The film's director, Jeremy Saulnier, went on to create "Green Room" and "Hold the Dark," two intriguing but inferior films. His second, "Blue Ruin," remains his masterpiece.
For Dads Who Love Horror Movies with a Twist …
"Housebound" is a horror-comedy from New Zealand. Excited yet? Well, you should be. It's arguably the best comedy-horror mashup since "Shaun of the Dead."
Morgana O'Reilly stars as a trouble maker who endures the ultimate punishment. She's forced to move back in with her parents. Little does she realize her old home is haunted, and the ghosts are coming out to play.
This dad has a soft spot for elusive horror-comedy gems. They're so rare we're still talking up 1981's "An American Werewolf in London" as the genre's standard bearer. "Housebound" is its spiritual successor.
For Dads Who Love Sci-Fi…
"Snowpiercer" is the best global warming alarmism film ever made. How many did I lose with that pronouncement? No matter where you stand on Al Gore's cause celebre, this science fiction romp is a hoot and a half.
Snowpiercer Official US Release Trailer #1 (2014) - Chris Evans Movie HD
Chris Evans stars as a rebel battling a system ruling over the earth's dwindling survivors. A last-gasp effort to smite global warming backfired, turning the planet into one large ice cube. Now, the survivors live on a train that endlessly circles the globe, safe from the frigid outdoors but not class warfare run amok.
Yes, the ending is too bleary for its own good, but up until then you'll enjoy furious action and some jaw-dropping sequences. You may never eat (black) Jello again, either. And check out Tilda Swinton's latest disappearing trick of a performance.
The long-delayed "Snowpiercer" TV series has some might large shoes to fill.
For Dads Who Love Quirkie Fare…
"Bernie" proves that Jack Black isn't a one-smirk pony. The comic actor digs deep into the real-life tale of a mortician who charms an entire town – including a grouchy widow (Shirley MacLaine). What follows is too wacky to be true, but oh, it is.
Bernie Official Trailer #1 - Jack Black, Richard Linklater Movie (2012) HD
Black is mesmerizing, but so too is Matthew McConaughey in a small role as well as the eternally fascinating MacLaine.
For Dads Who Love Pitch Black Comedies…
We lost Robin Williams more than five year ago, which makes watching this coal-black story an even darker experience. It's worth it all the same.
Williams plays a sad sack whose son kills himself in an embarrassing fashion. Dad attempts to cover up the sordid details, but ends up becoming a literary sensation in the process. Pathetic? Sure. Funny? In a bleak, soul-crushing way.
World's Greatest Dad (2009) Official Trailer #1 - Robin Williams Movie HD
Williams is so good you wonder why the film didn't receive a speck of Oscar buzz. Life isn't fair, but "Dad" illuminates society in profound ways.
For Dads Who Want to Raise Their Sons Right…
"Shane" deserves to be name checked in every "greatest western" list. It's much more than that, though.
Sure, the phrase, "Come back, Shane!" is enough to spill some tears. The story of a reluctant gunslinger called back into duty doubles as a primer on manhood.
Alan Ladd's Shane has a lesson or two to teach the Starretts, from their gruff patriarch (Van Heflin) to little Joey (Brandon De Wilde). It won't be easy, and sacrifices must be made. Still, this humble family matures in profound ways thanks to Shane's arrival.
For Dads Who Want to Spend Time with … Gene Hackman;
Every Dad has a favorite Gene Hackman movie. It could be "The French Connection" … or "Superman" or even "Hoosiers."
For me, it's "Full Moon in Blue Water." And it's not even close.
Full Moon In Blue Water Trailer 1988
Hackman stars as Floyd, the owner of a Texas gulf restaurant in disrepair. The same can be said of his character. Floyd's wife went missing without a trace, and ever since he's struggled to get his life back on track. What's worse? He's ignoring a local bus driver (Teri Garr) who clearly pines for him.
Add a dementia-addled father-in-law (Burgess Meredith) and a trouble-prone local (Elias Koteas) and Floyd has more than his hands full.
"Full Moon in Blue Water" is the kind of film you get lost in on a rainy summer day. It's a showcase for Hackman's enduring star power, something we've missed since his acting retirement. The drama also delivers if you're a sucker for redemption stories teeming with texture and soul.