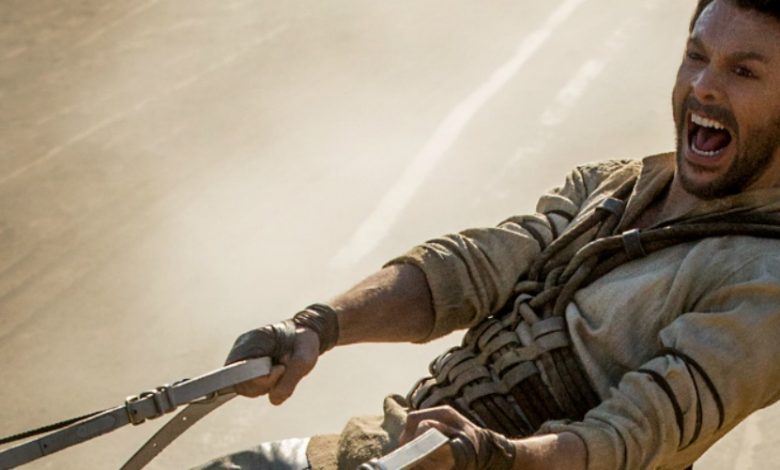 Trot out a new "Total Recall" or "Fright Night," and you're tinkering with frolicking films that can't help but show their age.
Remaking "Ben-Hur" suggests something far more daunting … and creatively dangerous.
The 1959 film gave us a chariot race for the ages, an epic performance by Charlton Heston and 11 (yes, 11) Oscar wins. That's not to mention the film's spiritual component.
BEN-HUR Trailer (2016) - Paramount Pictures
The new "Ben-Hur," hitting theaters Aug. 12, has enormous shoes to fill. Here are five initial takeaways from the just-released trailer:
And … Action! – The trailer clearly isn't pushing our spiritual buttons first and foremost. That may come later. This sneak peek focuses on action, plain and simple. The hand-to-hand combat. Deadly sword play. And, of course, the chariot race. It's easy to consider the trailer as yet another summer blockbuster tease given the quick edits and blistering action.
"Wanted 2?" – Director Timur Bekmambetov is best known for the Angelina Jolie vehicle "Wanted." That film concentrated on surreal camera angles and clever compositions to keep us engaged. Bekmambetov's "Ben-Hur" appears similarly inventive. Will it all add up to a captivating movie experience, or simply flash over substance?
Freeman = Gravitas – Once upon a time faith-based films featured Hollywood's biggest stars. Today, despite the growing economic clout of movies like "Heaven is for Real" and "God's Not Dead," A-listers generally avoid these projects. Just ask Brad Pitt. So the sight of Morgan Freeman in a critical role shows the project means business. It also reveals an Oscar winner like Freeman understands this remake isn't a quickie cash-in.
A Star (or two) Is Born? – The film offers meaty roles for two actors who appear poised for bigger features. Jack Huston, who stars as Judah Ben-Hur, is best known for his work on HBO's "Boardwalk Empire." Toby Kebbell thought he had his breakthrough role as the villain in last summer's "Fantastic Four." That film flopped in spectacular fashion. In addition to "Ben-Hur" Kebbell has "Warcraft" and "Kong Island" coming soon, so the combination of high profile roles could result in an invitation to the A-list.
Not 'Noah' – Director Darren Aronofsky's "Noah" angered many with its creative interpretations of the source material. As a result, the box office results fell off sharply after a big opening weekend. That likely won't happen again with the new "Ben-Hur." Why? Scan the film's credits. The remake is being produced by Mark Burnett and Roma Downey, the Christian couple who also brought "The Bible" to the small screen. Their fidelity to their faith drives their projects. It's hard to imagine anything different will happen here – even if it doesn't measure up to Heston's version.
Of course, this isn't the first "Ben-Hur" remake. The 1959 classic is actually the third telling of the tale, coming after versions in 1907 and 1925.
Here is the new film's official synopsis:
BEN-HUR is the epic story of Judah Ben-Hur (Jack Huston), a prince falsely accused of treason by his adopted brother Messala (Toby Kebbell), an officer in the Roman army. Stripped of his title, separated from his family and the woman he loves (Nazanin Boniadi), Judah is forced into slavery. After years at sea, Judah returns to his homeland to seek revenge, but finds redemption. Based on Lew Wallace's timeless novel, Ben-Hur: A Tale of the Christ. Also starring Morgan Freeman and Rodrigo Santoro.
Director: Timur Bekmambetov
Cast: Jack Huston, Toby Kebbell, Morgan Freeman, Rodrigo Santoro, Nazanin Boniadi, Ayelet Zurer, and Sofia Black D'Elia