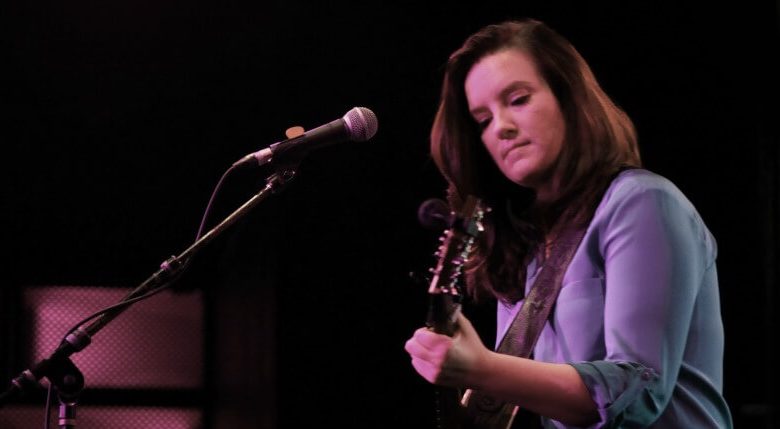 My father asked me that while we watched a great PBS documentary on The Highwaymen. The supergroup featured Johnny Cash, Willie Nelson, Kris Kristofferson and Waylon Jennings.
It's a common and an understandable complaint. Where did all the traditional country singers go?
Although it's safe to say there will never be another Cash or Nelson, some singers are still making music that's a lot like those icons. They're taking old sounds—everything from classic bluegrass, folk, and Americana to what singer Margo Price calls the "girl group doo-wop drum beat"—and making them their own.
Margo Price: SXSW 2016 | NPR MUSIC FRONT ROW
They're fearlessly exploring the gritty topics that a lot of modern mainstream country won't touch. Their worldview may not always be as transcendent as that of Johnny Cash—their lyrics tend to call out to God only in the most extreme need. Otherwise, most tend to stay stuck on the hard things of Earth. But their music is honest, thoughtful, full of catchy and compelling melodies, and well worth a listen.
Here are four traditional country singers who have released new music this year.
Margo Price, "Midwest Farmers Daughter
" – Price has been a familiar voice in Nashville for a while, yet her career is just now starting to pick up steam. (With songs like "This Town Gets Around," an unsparing look at the female experience in the music industry, perhaps it's no wonder.) With the release of her first album and an appearance on "Saturday Night Live," she's been brought to the attention of a wider audience, as she deserves to be.
Margo Price - Since You Put Me Down (Live on SNL)
Price's voice is sweet and girlish—think of a twangy Bernadette Peters—but her songs are neither. Without flinching, she sings about her own foibles, mistakes, and losses—the powerful "Hands of Time" covers both the loss of her family's farm when she was a child, and the loss of her own child—and the contrast between her winsome sound and her bleak lyrics is strangely compelling.
The Cactus Blossoms, "You're Dreaming
" – Brothers Jack Torrey and Page Burkum are frequently compared to the Everly Brothers, and for good reason.
The Cactus Blossoms - Stoplight Kisses (Official Music Video)
Their voices, their harmonies, and their overall sound are strongly reminiscent of that classic duo, both in slow ballads like the title tune and in more up-tempo numbers, like lead single "Stoplight Kisses." Yet their lyrics are more experimental, even existential. My own favorite track on the album is the jittery, hard-driving "Change Your Ways or Die," which, as the title suggests, gets downright apocalyptic.
Brandy Clark, "Big Day In A Small Town
" – Clark's sophomore release, like 2013's "12 Stories," showcases her strong vocals and straight talk. Lead single "Girl Next Door" is a classic example: "Baby, if you want the girl next door," Clark sings defiantly, "then go next door"—because she herself will never be anything but "the perfect mess."
Brandy Clark - Girl Next Door [Official Music Video'
Her main focus is the grim underbelly of rural and small-town life (other song titles include "Broke" and "Three Kids No Husband"), the messy, poverty-stricken side of existence that's ignored by Luke Bryan, Jason Aldean, and the rest of the "bro country" crowd in their anthems about pickup trucks and moonlit drinking parties. Clark has updated and filled out her sound a bit since 12 Stories, but this album is still more country than Bryan's entire oeuvre.
Dori Freeman, "Dori Freeman
" – This 24-year-old Appalachian singer-songwriter got herself discovered when she Facebook messaged musician and producer Teddy Thompson and asked him to listen to her song "Lullaby." It was a fortuitous discovery.
Dori Freeman - You Say (Official Video)
Freeman's spare, rootsy sound evokes comparisons to everyone from The Carter Family to Tennessee Ernie Ford (the haunting a cappella song "Ain't Nobody" has echoes of "Sixteen Tons"), but her lyrics, tinged with melancholy, and the purity of her voice are all her own. "Darlin', I can't/Stop thinking of you/Like a dog in the hot night/I'm howlin' for you," she sings in "You Say," one of many songs that combine stark honesty with memorable imagery.
Like the other traditional country singers mentioned here, Freeman is taking the best of a proud past and carrying it forward.
---
Gina Dalfonzo is editor of BreakPoint and Dickensblog