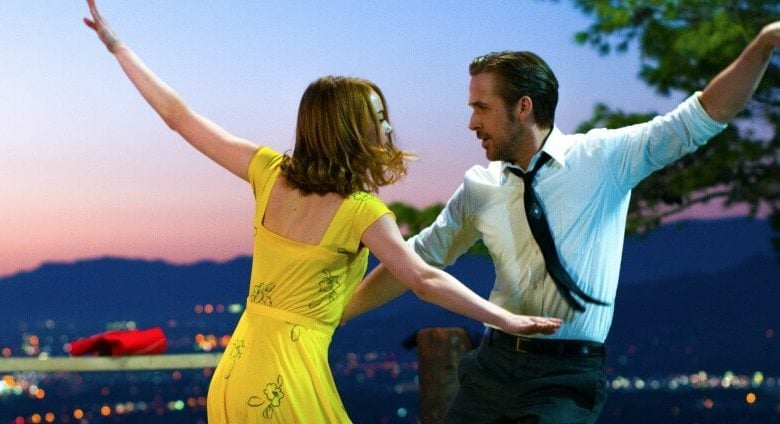 Television had some stiff competition over the last 12 months.
Yes, the small screen is now the best place for compelling drama. Hollywood's box office obsessions changed the way storytellers operate. Movies are now about superheroes, reboots and brand recognition.
That doesn't always yield generic fare, though. And some filmmakers continue to make the most of the medium. It's why the 2016 film lineup proved so refreshing, so unexpected.
This critic normally struggles to find 10 movies worthy of such a list. This time around, I had to snip a few worthy films away.
"La La Land" – The movie musical makes a modest comeback every few years, but it doesn't "take." Who knows the effect "La La Land" will have on the industry. For now, enjoy a sumptuous film experience powered by old-fashioned romance and virtuoso storytelling.
"Hacksaw Ridge" – Welcome back, Mel. Whatever personal demons haunt Mel Gibson don't detract from his directorial prowess. He's a brilliant filmmaker, and only such a soul could transform the complicated tale of a conscientious objector and turn it into a bravura war epic.
"Sully" – Clint Eastwood. Tom Hanks. A true American hero simply doing his job. In other hands "Sully" might have been cloying, sentimental or just plain predictable. Eastwood injects the story with unexpected grace notes and the kind of all-American zest we desperately need these days.
"Eye in the Sky" – How do you tackle a thorny issue like drone warfare? You give every side in the debate a voice and hire the very best actors to bring it to life. You'll mourn that this is Alan Rickman's final big screen bow. Otherwise, this is exactly what we need from Hollywood's screenwriters.
"Patriot's Day" – What a year for director Peter Berg. He delivered not one but two films dedicated to blue collar Americans staring down the very worst conditions. His ability to tap into that rust belt dignity is unparalleled. And while "Deepwater Horizon" was excellent, his "Patriot's Day" is a stunner. No pearl clutching here, mind you. This is the tale of good-hearted Americans, flawed but familiar, taking care of each other following a cowardly attack on the Boston City Marathon.
"Captain America: Civil War" – Yes, popcorn movies belong on Top 10 lists. Especially when they deliver precisely what audiences crave today – smart, slick superhero stories with real world relevance. Quick quiz – was any 2016 action sequence more exhilarating than the superhero melee here?
"Sing Street" – Few filmmakers capture the joyous intersection of music and movies better than John Carney. He does it again here, recalling the hope, synth rock and impossibly silly styles from the '80s. You'll fall in love with these Irish teens and wish you were 16 all over again.
"Hell or High Water" – How many movies stick the landing? You can count them on one hand after an incident in shop class. Not here. This "Hell" gets segued by some obvious metaphors, but otherwise it's a master class in storytelling. Sharp characters. Killer dialogue. And a surreal sense of time and place secured in every scene.
"Moana" –  Disney makes it look so easy. It's not, of course. Every one of the studio's modern animation classics required years of hard work, sacrifice and impeccable research. Here, the results are obvious – instantly hummable songs, great new characters and a story that exemplifies a proud culture without succumbing to soapbox riffs.
"The Infiltrator" – What happened? One of the year's best movies got a collective shrug from film critics and audiences alike. Bryan Cranston is stunning as an undercover agent trying to expose a drug lord. Few films served up more white knuckle tension, with Cranston proving he's one of our very best actors in scene after scene.
Honorable Mention: "Rogue One: A Star Wars Story," "Nocturnal Animals," "The Birth of a Nation," "Hush" and "Zootopia."