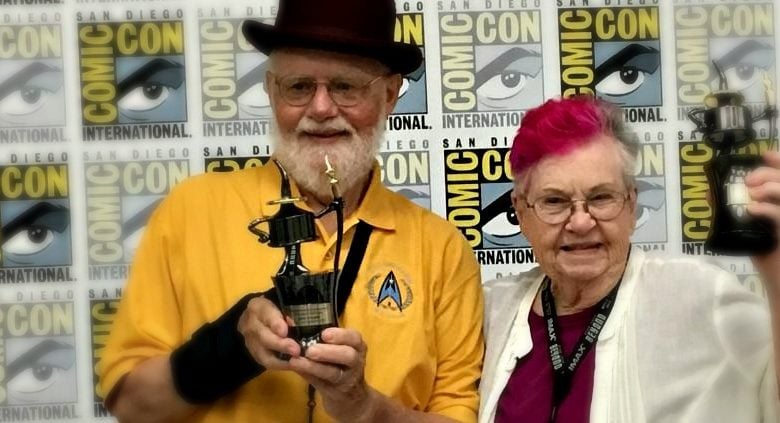 The pair spearheaded the campaign to save the original "Star Trek" in the late 1960s. While their grassroots efforts only delayed the inevitable cancellation, the show ran for three seasons – just long enough to make it into syndication.
In nearly 50 years, the show has never been out of syndication.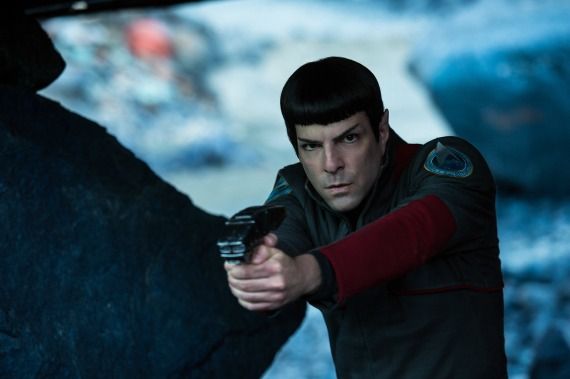 But if Bjo Trimble had gotten her way back in 1966, she might never have come to the show's defense – and it may have been lost forever.
She was putting together a fashion show for a Cleveland science fiction convention when she was asked to include three extra entries for a Hollywood producer. Strapped for time, she asked who it was. She wasn't impressed when the answer came back: Gene Roddenberry.
RELATED: Walter Koenig Explains the Shatner Hate
"I never heard of him. Go away," she recounted to a panel Friday at this year's San Diego Comic-Con. "Twenty minutes later, that silver-tongued devil got his three costumes into my costume show."
During that event, Rodenberry showed two episodes of the series, including the pilot, "The Cage." It was before the series made it to air, so the show has an immediate impact on the crowd.
"The fans did go wild in the sense that this was one of the first grown-up science fiction show they had ever seen," Bjo Trimble said.
Sci-Fi for Grown Ups
Others, like "Voyage to the Bottom of the Sea" and "Lost in Space," started out appealing to adults, she said. Each soon deteriorated into kids shows. They were worried that the same fate would befall "Star Trek."
"We had our reservations, but everyone was polite about it" Bjo Trimble said.
After meeting with Roddenberry at the studio, the couple soon became the series' unofficial cheerleaders.
Although some studio executives felt the show could get by as a western in space, Roddenberry wanted to hire genre writers to script the show. Suddenly, Theodore Sturgeon, Harlan Ellison and Frederic Brown were writing for "Trek."
"Gene had this marvelous idea," Bjo Trimble said. "Why don't be buy stories from science fiction writers? Duh!"
With "Trek" in trouble from the beginning due to high production costs, Roddenberry needed all the allies he could get. When NBC wanted to cancel the show, the Trimbles launched the first of several "save our show" campaigns.
They employed a hand-cranked mimeograph machine and burned through three letter folders. They were never paid for their efforts, but accepted donations of stamps and time.
Star Trek Beyond | Trailer #2 | Paramount Pictures International
They addressed the Comic-Con faithful the very weekend the latest "Trek" adventure, "Star Trek Beyond," hit theaters.
They clearly earned their spot in "Star Trek" lore.