More people saw a pooping unicorn video than Zach Galifianakis' last movie.
That may sound embarrassing to the "Hangover" standout. It's merely a sign of the times.
Movie flops can't match the viewing power of the best viral videos. And boy, did that Squatty Potty clip starring a pooping unicorn break the Internet.
Squatty Potty is a plastic step that helps people assume a crouching position when they have a bowel movement. Or, as the marketing goes, it's the "stool for better stools."
The original Squatty Potty commercial, created by the Utah-based Harmon Brothers, racked up more than 50 million views on Facebook and YouTube in the weeks following its 2015 release. To date, it's amassed more than 120 views. The commercial featured a unicorn's fecal movements as a whimsical way to address our bodily functions.
The spot wasn't inappropriate for young viewers, despite the potential for R-rated mayhem. it was just good, clean fun.
So perhaps it was only natural that the sequel would inspire a red carpet premiere.
Cast members, local improv stars and families alike gathered in Provo, Utah Nov. 9 for the release of "Slay Your Poo-Stink with the Golden Fart of a Mystic Unicorn."
The sequel introduced a new product line from Team Squatty Potty, a series of sprays dubbed "Unicorn Gold" meant to reduce the odious smell from your average bowel movement.
Sound silly? That's the point.
The original commercial sent the company's sales soaring. Adweek.com reported the video boosted online Squatty Potty sales by 600 percent last year.
Not bad for a stuffed unicorn.
The Harmon Brothers understand comedy's clout as well as any advertising firm. They spend months working on their campaigns, poring over the product in question and rewriting the gags as needed. They hire very funny performers for the critical roles, too.
The results? Slick videos packed with big-league laughs.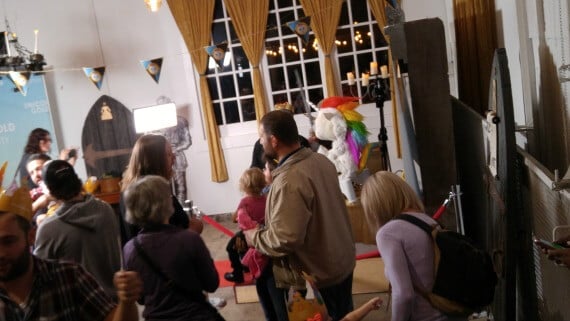 That's one reason why the Nov. 9 party filled an auditorium the day after a heated presidential election.
The event, hosted by Studio C sketch star Stacey Harkey, featured a golden throne and toilet along with the now-famous pooping unicorn.
Children lined up to have their picture taken with said unicorn while sitting on the "throne." So did their parents. Ice cream treats kept the kiddies entertained. Party goers donned paper crowns and "I Pooped Today" buttons.
Talk about marketing muscle.
Harmon Brothers throw one fine party, but that's simply part of their process. The company's 15 social media spots have earned more than 300 million views so far. And you wonder why broadcast networks and Netflix alike are chasing down YouTube stars to appear in their latest shows.
It's too soon to say if the new commercial clip will ring up sales, or eyeballs, like its predecessor. Sequels often fail to pack the original's punch.
The new spot has more than 16,000 views after roughly a day online at YouTube. Not bad for a flatulent unicorn.